Of particular note, three students—Antopia, Chaj Ulloa, and Pepper—all hail from the first cohort of the ESTEEMED Program (Enhancing Science, Technology, Engineering, and Math Educational Diversity) and the UTSA Honors College. ESTEEMED, a NIH/federally-funded program directed by Gail Taylor, trains first-year and second-year students to develop as scholars in biomedical research and pursue a Ph.D. in the biomedical sciences. Antopia, Chaj Ulloa, and Pepper are all sophomores, who competed against juniors in the competition.
Taylor, associate director of STEM initiatives and research training specialist at UTSA, related her excitement for the group. "I am extremely proud of our ESTEEMED trainees and grateful to the National Institutes of Health for awarding the ESTEEMED grant to UTSA," she said. "Josh, Mariah and Tristan arrived at UTSA, dove into their academics and research projects, and their efforts have been recognized. UTSA is a terrific place for undergraduates to obtain research experience even early in their studies, and I also appreciate the efforts of their research mentors." 
---
---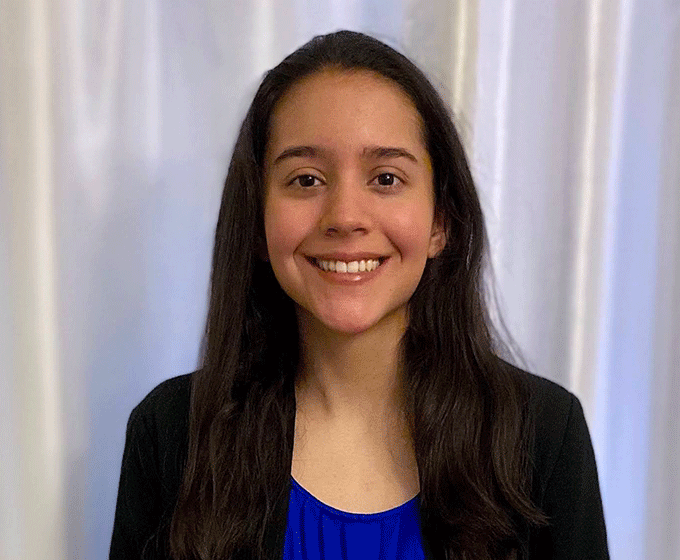 Mariah Antopia
Antopia is a sophomore biology major in the ESTEEMED program conducting neurobiology research under the mentorship of Jenny Hsieh, professor and director of the Brain Health Consortium and Semmes Foundation Chair Cell Biology. Her research, which she presented in her application, focused on a bioinformatics approach to studying SARS-CoV-2 and its potential neurodevelopmental impact on the human fetal brain. After she completes her B.S. degree in biology, she plans to pursue a Ph.D. in cellular and molecular biology to research gene mutations that cause nervous system disorders.
"The most exciting aspect of being involved in my research thus far is knowing that I am able to contribute a small piece of information to a larger body of knowledge. Every day in the lab is like trying to find one missing piece of a complex puzzle, but once you find the piece you have been looking so long for, there is so much satisfaction," Antopia said. "Throughout my time as an undergraduate researcher, I have learned that research takes lots of time, dedication, and discipline in order to achieve the desired results. The overarching lessons that I have learned from research I have been able apply to my academics as well as daily aspects of my life."
---
---
Joshua Chaj Ulloa
Chaj Ulloa is a sophomore chemical engineer in the ESTEEMED Program. In his application, he discussed how his academic program in chemical engineering at UTSA has an amazing specialization subprogram in bioengineering, which provides a unique foundation to prepare him for a future doctoral program where he will research chemical and biological aspects of cardiovascular diseases towards novel engineering of medical devices. Chaj Ulloa currently works with biomedical engineering professor Jing Yong Ye to lay the groundwork for the use of photonic-crystal biosensors to provide early detection of heart attacks.
"As a first generation Hispanic student, receiving the Barry Goldwater Scholarship has solidified my desire to pursue a career in the biomedical research field," Chaj Ulloa said. "With this award, I have proven to myself that I am capable of succeeding in this field and making these dreams of mine a reality."
Prior to arriving to UTSA, Chaj Ulloa did research in high school on cardiovascular diseases, which has affected his family as well as so many in Hispanic populations. Outside of his research, he is currently designing a public awareness campaign service project, for which he was named a United Nations Association Millennium Fellow and UTSA's Campus Director this year.   
---
---
Tristan Pepper
Pepper is a second year student in the UTSA Top Scholar Program and ESTEEMED Program. He is a biomedical engineering major who has conducted the majority of his research in the Regenerative Medicine and Device Innovation Lab under the direction of Teja Guda, associate professor of biomedical engineering and Jacobson Distinguished Professor of Innovation and Entrepreneurship. Pepper seeks to pursue a career that puts him at the forefront of medical device design.
"It is truly an amazing feeling when you can leverage the information you have learned throughout your academic career to generate real world outcomes aimed to solve solutions that challenge the medical community," Pepper said. "Academic research has opened many doors in my life, one of which is that it has bestowed within me the confidence to pursue a Ph.D. after my undergraduate career. Working in the lab has allowed me to gain a deeper understanding of much of the content I learn in my courses and it has allowed me to use my passion for science to give back to my community."
---
---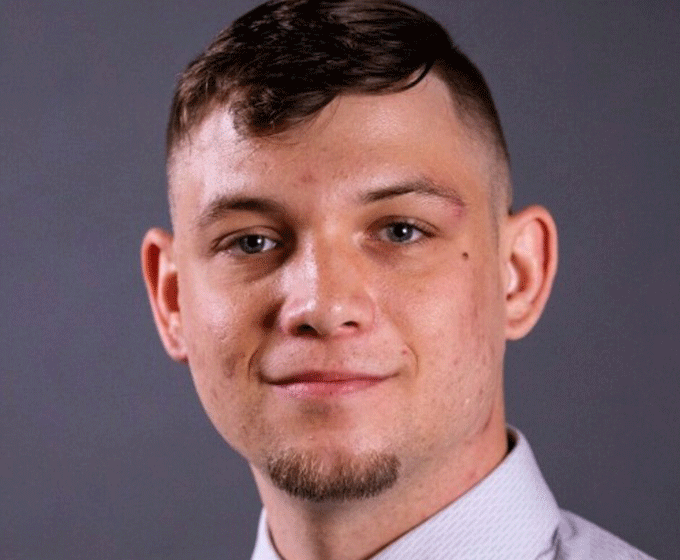 Adam Hooker
Hooker is the first electrical engineering student to win the Goldwater Scholar award at UTSA. He is also the first transfer student from UTSA to win the award. Last year, the Goldwater Foundation increased accessibility for the scholarship, allowing universities to nominate a fifth student, as long as they transferred from a two-year or four-year institution:
"I am incredibly thankful for tremendous amount of support I received from my mentors and those close to me. As the first electrical engineering student from UTSA to be awarded the prestigious title of Barry Goldwater Scholar, I am humbled," Hooker said. "The award will have my name on it but the ones that deserve acknowledgement are the mentors and those close to me. To everyone who helped me through this, thank you. My hope is to give back to my community through research and help increase STEM engagement by participating in outreach programs for young future leaders."
Hooker conducts research in two separate labs at UTSA: The Controls and Engineering Lab with electrical and computer engineering professor Yufang Jin, and with assistant electrical and computer engineering professor Miltos Alamaniotis on programming fuzzy algorithms to detect data injection attacks. From his introduction to research through the CIMA-Louis Stokes Alliance for Minority Participation Research Experience, Hooker has gone on to participate in a number of research programs at the Southwest Research Institute and will intern at NASA's Armstrong Flight Research Center this summer. Hooker's career goal is to develop systems that use artificial intelligence for nuclear physics applications, particularly for national security.
---
---
All students in this year's competition encountered roadblocks due to COVID-19 and the restrictions it placed on in-person research. Many had summer research programs canceled, and all adapted their current projects to conform to virtual environments or pursued new areas of focus that could be conducted in a safely distanced environment.
Despite these obstacles, this was an extremely productive and creative time for the four scholars, as each picked up new skills. Chaj Ulloa worked with his mentor Ye to co-author a book chapter. Antopia found an affinity for computational research, which she had not done before her in-person research was disrupted. This ability to remain resilient and adapt to challenges runs across the 2021 Goldwater Scholar class and was part of the criteria for their selection.   
UTSA nominated five students to compete nationally according to their academic excellence, research experience, and intellect demonstrated through a research essay. Also competing was Ivana Chen, who researches hypersonic wind tunnels with Christopher Combs, Dee Howard Endowed Assistant Professor of Mechanical Engineering. She plans to pursue a Ph.D. in aerospace engineering and will be participating in an internship this summer with the aerospace division of Rolls-Royce at NASA's Stennis Space Center.