The wind tunnel was one of Combs' first priorities when he was recruited to develop an aerospace program at the university. He had to design the wind tunnel to fit in a specific long, rectangular room. The highly-polished, stainless-steel pipe device takes up almost the entire 50-foot-long laboratory space.
"As the air flows through the pipe, it enters a nozzle that is contoured to give us a shape to expand as needed, all the way to Mach 7," Combs said. "You have high pressure on one side, low pressure on the other side. It's separated by a metal diaphragm that bursts at a specified pressure. All that air then flows into a very large vacuum dump tank."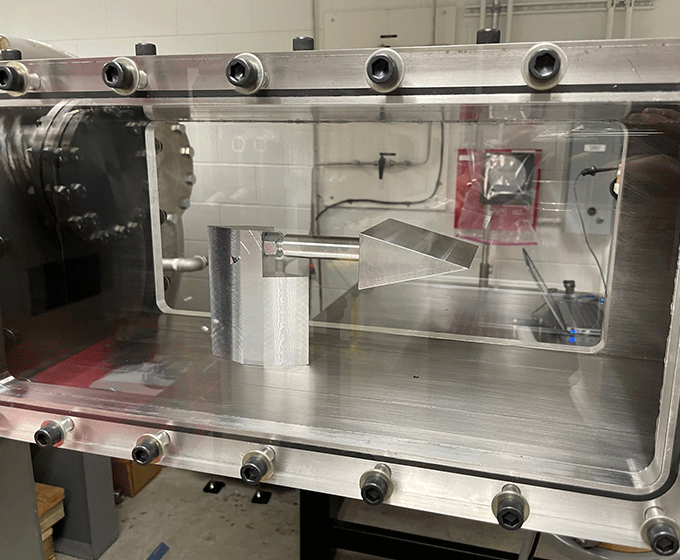 As the air passes through the test section, it's basically undetectable to the human eye. Combs records experiments with a very high-speed camera capable of capturing up to 2 million frames per second. A laser detection device is sometimes added to help zero in on the results. The facility is not limited to testing with air, as other gases can also be used to simulate extraterrestrial conditions such as those found on Mars.
"We can measure just about anything you want. We can find a way to do it," Combs said. "We can do velocity, temperature, pressure, density, concentration. There are ways to make all of those measurements in our lab and get any kind of key quantity."
Combs and his team typically test the hypersonic impact on aerospace-related items such as rockets, missiles, high-speed aircraft, high-speed engine inlets, propulsion systems and more. Many of the scenarios measure the extreme conditions that sections of a spacecraft experience as they enter the Earth's atmosphere.
"In our lab, we can measure characteristics of flow around a particular shape, the aerodynamics and how it's going to perform to better understand what's going on," Combs said. "The data we collect can help improve computational models so that vehicle designers can eventually use predictive tools to streamline the design process."
The Mach 7 Wind Tunnel is another excellent example of experiential learning that UTSA takes pride in offering. Combs' students are highly involved in setting up and executing the experiments. Mechanical engineering doctoral student Eugene Hoffman came to UTSA in part because of the opportunity to help build and conduct tests with the new wind tunnel. The education he and his fellow students are gaining in the lab gives them an advantage when they graduate.
"We're giving students excellent opportunities to be working hands-on running a hypersonic wind tunnel facility themselves, making the measurements, designing the experiments, and performing the diagnostics with the high-tech equipment we have," Combs said. "There's a big gap right now in the hypersonic workforce that the U.S. is trying to fill. There's not a lot of people out there that have that expertise. We're putting these students in a position to be highly competitive for some really cool jobs that are out there right now."
Combs said the $1.5 million investment in the Mach 7 facility makes UTSA increasingly competitive to secure projects from Department of Defense, NASA and other governmental agencies. The lab is also efficiently designed to conduct multiple tests per day with low overhead costs. This makes it an attractive place for aerospace-related businesses to test and validate various models under extreme hypersonic test conditions.