The 167,000-square-foot, six-story structure on 506 Dolorosa St. in downtown San Antonio will anchor UTSA to the city's prospering high-tech corridor and serve as a catalyst for workforce development and job creation. The SDS is the first of its kind in Texas and is a key component in UTSA's mission to produce highly skilled professionals in data science and analytics as well as to advance economic development in San Antonio's urban core. It's estimated that 6,500 data science students will be trained there starting next year. The NSCC, which will be co-located with the SDS, will provide more than 81,000 square feet for innovation, laboratories and research.
"The new building is an investment in the virtuous cycle of job creation," said David Mongeau, founding director of the SDS. "Government and industry want adjacency to university talent and innovation. Universities want adjacency to government and industry to inform their teaching and discovery. Locating this building at the urban core help achieves that adjacency, bringing the data science and cyber expertise at UTSA closer to the employers and citizens in downtown San Antonio. As a result, access to education at the core improves, the local workforce grows, and new jobs are created. In turn, this results in new investment and keeps the cycle going."
The Cybersecurity Manufacturing Innovation Institute will be co-located within the facility as well as various collaborative efforts in forensics; visualization and analytics; network security, cyber training and workforce development; big data analytics and privacy; postquantum cryptography, cyber-physical systems and embedded security; cloud security; attack and threat modeling and mitigation; machine learning and artificial intelligence; and platform, software and hardware integrity.
---
---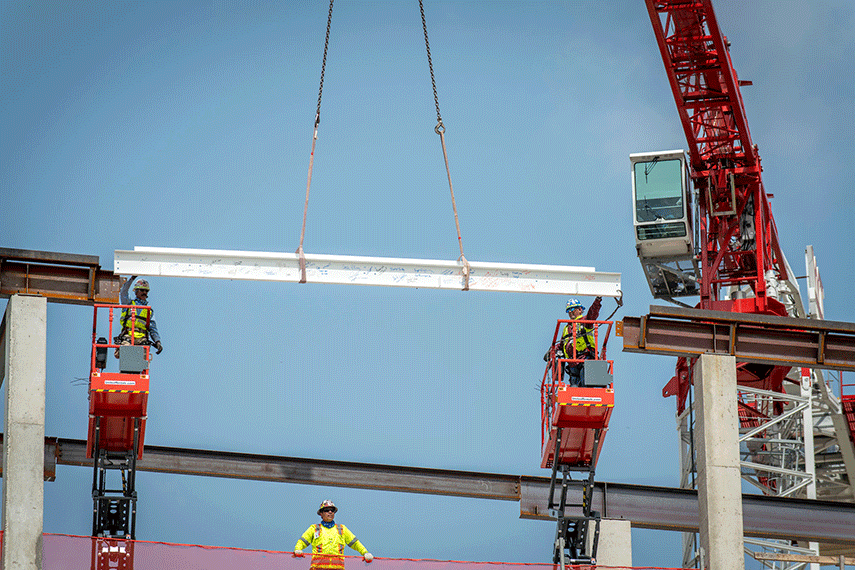 ---
---
The School of Data Science and National Security Collaboration Center Building expands on UTSA's various initiatives including its Classroom to Career initiative. It promotes commitment to experiential learning which facilitates a fuller understanding of the real-world applications of students' classroom learning. In addition, this new downtown facility supports the university's overall mission to fulfill its San Antonio Workforce Initiative which aims to increase the number and range of programs to help local workers to advance in their current jobs, and to enable those without a college degree to finish and successfully compete for better paying jobs or new careers.
"A key feature of the NSCC/SDS will be the ground floor, which features experiential learning exhibits and demonstrations by our federal, industry and academic partners," said Guy Walsh, executive director of the NSCC. "Our hope is for the SDS/NSCC to draw visitors from grades K-12, thus encouraging San Antonio and Texas youth to consider careers in STEM, cyber and data science."
Also present at today's beam signing ceremony were San Antonio Mayor Ron Nirenberg and Bexar County Judge Nelson W. Wolff.
"It's a quantum leap what's going on here," said Wolff. "Outside of D.C., we are the greatest collection of private companies of cyber work in the nation."
---
---
---
---
Fusing data science, cybersecurity and cyber manufacturing under one roof in San Antonio's tech sector will elevate UTSA as an innovative leader in addressing national security challenges. Already, San Antonio is known at Cyber City USA for its large presence of cybersecurity professionals outside Washington D.C. The new building will allow the region to maintain and grow this competitive edge.
"For 10 years we were waiting for downtown's momentum to take off. UTSA in downtown is that moment. It is putting San Antonio and Texas on the map for cybersecurity and information technology," said Nirenberg. "I look forward to signing the beam and most importantly seeing students walking inside the building very soon."
Construction on the building began in January 2021 and is expected to finish in July 2022.