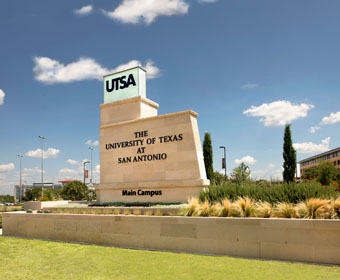 AUGUST 9, 2021 — Editor's note: The following message was sent today via email from President Taylor Eighmy to all faculty, staff and students:
We have been very intentional about our trajectory as a university, especially around our deep commitment to become an exemplary Hispanic thriving institution for our current and future students, our faculty and staff, our alumni and our community.
As a very young university that is just 52 years old, we do not yet have the multitude of traditions enjoyed by older, more established universities. However, during my time at UTSA over the last four years, I have learned that the traditions we do share are meaningful and cherished: the mariachis performing at Commencement, Roadrunner Days, Dia en la Sombrilla (formerly Fiesta UTSA), our alma mater, our fight song and the "Birds Up" sign.
Recently, though, concerns have been raised about our use of the "Come and Take It" flag and motto as part of our Athletics program, and specifically the signage in our new Roadrunner Athletics Center of Excellence, which opened on campus on August 4.
This tradition began in 2011, the inaugural season of Roadrunners Football, when the flag was first introduced. Two years later, after giving his approval of the flag, City of Gonzales, Texas Mayor Bobby Logan carried it onto the field ahead of the team at the start of a game.
Then, in 2016, in a more formal show of support for our Division I football program, waving the flag at every home game became a fourth-quarter rallying cry, a tradition that has been embraced by many students, alumni and fans. From the beginning, "Come and Take It" imagery has been widely used in social media, in Athletics' promotional materials, and on its website.
The history of Texas is steeped in the tradition of the "Come and Take It" image. However, the image can have sharply different meanings for different people. Recently, this imagery has been associated with some political movements and causes. It has even made its way into political protests on the grounds of the Texas State Capitol.
For these and other reasons, there are concerns that this tradition may no longer reflect its originally intended purpose of rallying football fans and is not reflective of our university, our founding mission and our collective values.
As the world evolves and we continue our trajectory as a Hispanic thriving institution, I want to challenge us to take what we do best—addressing issues by examining historical context, generating new knowledge and engaging in civil discourse—to develop thoughtful solutions with our students, faculty, staff, alumni and our community.
As we look at some of our traditions, we should ask these sorts of questions: In what context were they developed? Do they still align with who we are, who we serve and where our bright future is taking us? Are there opportunities to begin new traditions and perhaps retire others that do not reflect that future? How might we best develop and introduce new ways to show our university pride? How might we lead by example by using this issue as a teachable moment for our Roadrunner community?
When the new academic year begins in two weeks, I will be establishing a task force to explore these questions and help shape our future traditions. This task force will be comprised of students, faculty, staff, alumni and members of our community. More information about the effort will be shared in the days ahead, and I will ask the task force to provide a report about our traditions later this fall.
In the interim, the Come and Take It imagery in the entryway of our new athletics center will include a highly visible sign that describes the origin of the imagery, the intention of the tradition and the concerns from within our community about its historical and recent context.
I am very appreciative to those who have shared their concerns about the Come and Take It tradition. I am also mindful that this rather recent tradition is deeply meaningful to many of those who support our football program. Working across our institution and community, we can reaffirm current traditions that align with our path forward and create new traditions—ones that accurately reflect our social and cultural history in a way that uplifts our entire community.
I look forward to this opportunity and our shared commitment to doing the right thing.