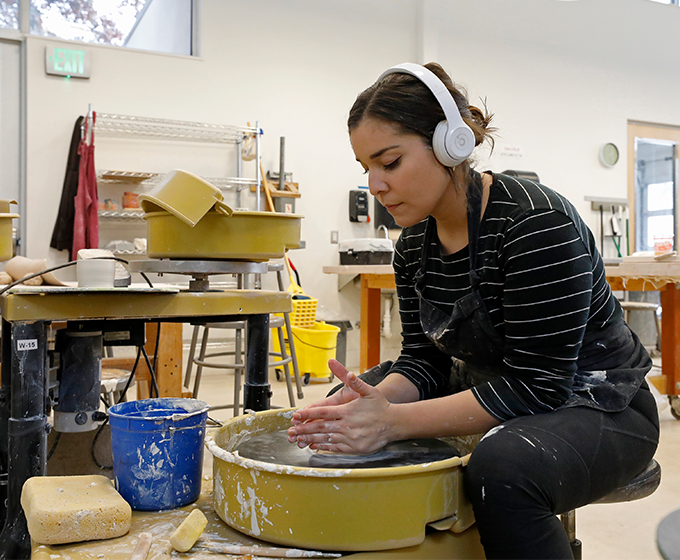 AUGUST 23, 2021 — The Southwest School of Art (SSA) and The University of Texas at San Antonio (UTSA) today announced their intention to bring SSA's arts programs, assets and resources into an expanded new UTSA school focused on advancing the arts.
Inherent in this new school is a shared commitment by both institutions to further support the long-term continuity of arts education in San Antonio.
"For many years, UTSA and Southwest School of Art have benefited from a strong relationship and a variety of connections," said SSA President Paula Owen. "This new partnership responds to the societal need for creative problem solvers with multiple skills who readily adapt to the velocity of change in the 21st century."
---
"We are deeply committed to collectively ensuring that this new school is truly interdisciplinary and continues to be a catalyst."
---
---
The new school will be organized under the UTSA College of Liberal and Fine Arts, enabling the integration of SSA's prestigious Bachelor of Fine Arts program, expanded community offerings and partnerships, and preservation of SSA's historic assets. The second phase of an ongoing visioning process within the college will further refine the many opportunities to create a remarkable interdisciplinary school.
A letter of intent to proceed toward a master agreement has been signed by both SSA and UTSA to be considered by both governing boards in November. That action will formally guide the transition toward commencement of the new school in Fall 2022.
"This is a strategic opportunity for both institutions. San Antonio is the cultural heart of Texas and we are deeply committed to collectively ensuring that this new school is truly interdisciplinary and continues to be a catalyst, a protector and a voice for creative ideas, collaborations and energy," said UTSA President Taylor Eighmy.
UTSA and SSA have a long-standing and shared commitment to expand arts education, learning and public engagement in the San Antonio community. Building on that commitment, this collaborative effort will spur cultural and economic growth through the effective use of resources, increase community engagement, generate cross-disciplinary and cross-cultural exchange, and elevate creative literacy through an expansion of teaching and studio space.
The schools are already connected in several ways. Many SSA faculty are UTSA graduates, and UTSA faculty show their creative works in SSA galleries. Several SSA graduates have enrolled in UTSA's Master of Fine Arts program.
The collaboration will also enable the new school to capitalize on the growing use of technology in the digital arts space, leveraging UTSA's downtown investment and adjacency with the School of Data Science. Through an arts curriculum that includes both traditional and contemporary history, methods, materials and concepts, the two institutions will expand the new school's visual communication capabilities and offerings to further attract prospective students.
Additionally, UTSA will continue the historic role SSA plays in the San Antonio community by providing community classes, events, lectures, exhibitions and partnerships with local leaders and organizations. Each year, SSA serves over 4,000 local students and another 5,000 youth in schools and social service agencies through its community outreach programs.
In addition to printmaking, painting and ceramics, SSA has unique studios and equipment for small metals and jewelry, papermaking and book arts, fibers and weaving, darkroom photography, and sculptural techniques such as 3-D printing, welding and digital design machinery. It is also known nationally for its outstanding facilities and for its exhibitions and ancillary programs featuring regional, national and international artists.
To date, 36 students have graduated from SSA's Bachelor of Fine Arts degree program, which began in 2014. Currently, SSA has 31 degree-seeking students and eight arts faculty.
The UTSA Department of Art and Art History provides professional training of the highest quality to prepare undergraduate and graduate students to greatly impact the Texas and national art communities through exhibitions, publications and curatorial projects. The department currently serves 419 enrolled students and 17 faculty members in three bachelor's programs, two master's programs and two minors.
These curricula are complemented by interdisciplinary and cross-disciplinary collaborations in the UTSA College of Liberal and Fine Arts, which employs 275 faculty members and offers more than 43 degree and certificate programs to nearly 4,700 students. Each year, the college's arts and music programming reach an estimated audience of 70,000 viewers.
The new school will be anchored at the SSA Campus, which occupies several buildings in downtown San Antonio, including the former Ursuline Convent & Academy, which was built in 1851 along the San Antonio River. The site promotes education and enrichment in close proximity to numerous downtown cultural and arts centers, including the Tobin Center for the Performing Arts.
To honor the vision of the founders of SSA, UTSA will maintain SSA's name and brand in future naming of the new school to continue the legacy of the SSA campus for future generations.
UTSA will preserve SSA's historic buildings, grounds and programs, its named spaces including galleries, and its world-class studios and buildings including Club Giraud. The two institutions will also work together to smoothly transition operations to UTSA and the UT System while retaining SSA's vital relationships with students, faculty, staff, alumni, donors and the community.
---
EXPLORE FURTHER
---
SSA students will have the opportunity to formally transfer their enrollment to UTSA once the merger and acquisition are completed.
Additionally, an advisory council will be established to advance and support the new arts school and its programming. SSA Board of Trustees members will be invited to participate in that council.