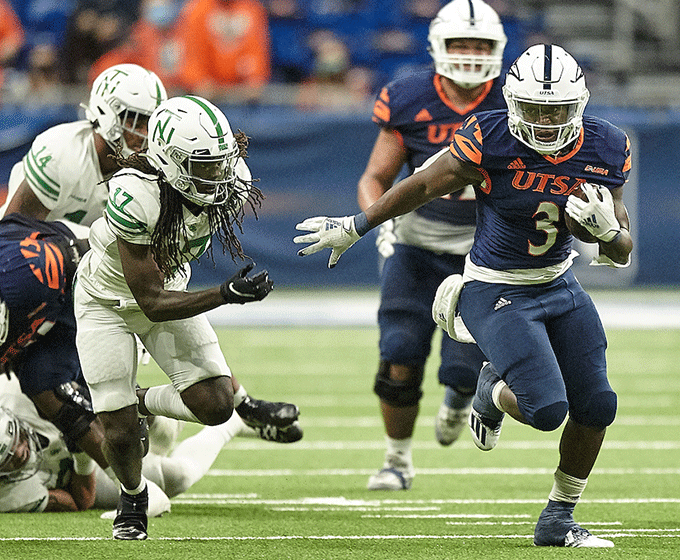 SEPTEMBER 15, 2021 — Looking to build off of two impressive performances, UTSA Football will welcome its first conference opponent to the Alamodome this weekend. The Roadrunners will square off against Middle Tennessee at 5 p.m. on Saturday, September 18, in a battle of Conference USA foes. After scoring a win over a Big Ten program in week one, UTSA (2-0) earned the first shutout in program history with a dominant 54-0 victory over Lamar in its last contest. Meanwhile, Middle Tennessee (1-1) comes to the dome following a loss last week at Virginia Tech.
The Roadrunners have won five consecutive regular season games dating back to the 2020 campaign. Last season, UTSA topped Middle Tennessee in a 37-35 thriller that was nationally televised on CBS Sports Network. Fans are encouraged to come to the Alamodome to support a promising UTSA team seeking a key victory over the Blue Raiders in its conference opener.
Roadrunner Nation is invited to show its school spirit this week and get amped for UTSA's upcoming football game through the following family-friendly activities:
---
GAME WEEK EXCITEMENT
---
Game Week Wednesday
11 a.m. to 2 p.m., Wednesday, Central Plaza, Main Campus
Join the Rowdy Crew, UTSA's very own student spirit organization, for Game Week Wednesday. Learn how to be a part of the full game day experience and have a chance to win Rowdy Crew merch to wear to the Alamodome for Saturday's game.
The Jeff Traylor Radio Show
7 p.m., Wednesday, The Sand Box, 7280 UTSA Blvd.

Fans are invited to join Coach Jeff Traylor and host Andy Everett each week for a one-hour radio show at the Sand Box, within walking distance of the UTSA Main Campus. All shows will be carried live in the San Antonio area on Ticket 760 AM or online at goUTSA.com and Ticket760.com. Roadrunner fans may also tune in via the free iHeartRadio and The Varsity Network apps. Additionally, fans can watch the show each week on Facebook Live via the UTSA Athletics Facebook page and call in with questions by dialing (210) 736-9760.
The Jeff Traylor Radio Show will continue at the same time each Wednesday throughout the season (subject to change).
---
PRE-GAME
---
Rowdy Town
2 p.m., Saturday, H-E-B Plaza (north side of the Alamodome)

Roadrunner fans of all ages can take part in free pregame festivities at Rowdy Town, including interactive games, displays, food and beverages.
UTSA Alumni Association's Roadrunner Nation Tailgate
2 p.m., Saturday, The Espee (formerly Sunset Station), 1174 E. Commerce St.

The UTSA Alumni Association invites fans to the official Roadrunner Nation Tailgate to get rowdy with prizes, food and an open bar. RSVP with your Alumni Association membership before the game to get free tailgate admission. Not a member? Friends of UTSA can either purchase a membership for free entrance or pay $20 at the gate. Be sure to bring your digital membership card for quick and easy tailgate admission. RSVP for the tailgate at the UTSA Alumni Association website.

Spirit Walk
2:45 p.m., Saturday, Alamodome, Roadrunner Alley (between Lots B and C)

This is an exciting tradition for fans to get the team pumped up for the game. Join the Spirit of San Antonio Marching Band and UTSA spirit squads as they accompany the team down Roadrunner Alley and into the Alamodome two hours before each home game. Fans can line the walkway between the Alamodome parking lots B and C to cheer on the team.
UTSA Indoor Student Tailgate
3:30 to 4:45 p.m., Saturday, Alamodome, Hall of Fame Club (north end of Club level)
The UTSA Indoor Student Tailgate is the new gathering spot for students inside the Alamodome on game day. Free food and beverages will be available (while supplies last). Door prizes include concession vouchers and UTSA apparel.
---
GOING TO THE GAME
---
Get Your Tickets
Current UTSA students receive free admission to all home games by downloading tickets via their Account Manager. Students may also purchase up to four guest tickets at $10 each.
Tickets for the general public can be purchased through Ticketmaster. Tickets for Saturday's game start at $10. Season ticket prices start at $75 per seat and there are two season ticket pricing plans for less than $100. Additionally, there are "all-inclusive" options that provide access to the new Touchdown Club located in the north end zone.
For walk-up sales, the Alamodome Southwest Box Office will open at 10 a.m. Saturday and all other Alamodome box offices will open at 2:30 p.m. Customer service windows are located at the northeast and southeast box offices. 
Game Day Parking and Tailgating

Parking in Alamodome Lots A, B and C is limited to fans who already have purchased permits. A limited number of disabled parking spaces are available on a first-come, first-served basis. Alamodome Lots A, B and C will open 6.5 hours before kickoff for those who have valid parking passes. Please do NOT enter the lots prior or staff will ask you to vacate your spot(s) and re-enter once the lots are open. 

Paid parking is available in the parking lot next to the Henry B. Gonzalez Convention Center at the corner of Montana Street and Tower of the Americas Way. UTSA students, faculty and staff may park in any unmarked spaces with a valid UTSA parking permit on Saturdays at the Downtown Campus under I-35.
Tailgating is back in the Alamodome parking lots this season. Alamodome parking lots will open at 10:30 a.m. this Saturday. Visit UTSA Athletics online for more information about parking passes, RV passes, ADA passes and tailgating guidelines in the Alamodome parking lots.
Getting to the Game
Students may park at the UTSA Main Campus and catch a UTSA shuttle to the game at the North Paseo Bus Oval, just outside of the North Paseo Building. Shuttles will begin service to the Alamodome at 2 p.m. The last shuttle will depart campus at 4:30 p.m. Students will be dropped off and picked up at Alamodome Lot D.
UTSA shuttles will leave the Alamodome to return to the Main Campus at the start of the fourth quarter. The last shuttle will depart from Alamodome Lot D one hour after the end of the game.
Rideshare
Feel free to use a rideshare of your choice to get to the Alamodome.
Need some UTSA gear?
Fans can buy the latest UTSA apparel and accessories from Rowdy Campus Store, which will be set up in Lot C near Roadrunner Alley. Merchandise sales counters are also located inside the Alamodome on the Plaza and Club Level concourses.
Alamodome Entry
Masks are highly encouraged for all visitors and staff inside the Alamodome. Anyone experiencing COVID-like symptoms is encouraged to refrain from attending.
To encourage physical distancing and to minimize larger crowds in the main entrances in the concourses, a gate plan has been created to disseminate the crowds throughout the various entrances to the Alamodome. Unvaccinated guests are required to practice physical distancing, including standing at least six feet away from other groups of people not traveling with them while standing in lines, and avoiding the elevators.
Fans should also be aware of the Alamodome clear bag policy, including a list of the approved bags.
Alamodome doors will open to the public 90 minutes before kickoff. Fans are encouraged to be in their seats 15 minutes before kickoff for the pregame festivities on the field featuring the Spirit of San Antonio Marching Band.
---
WATCH. TWEET. CELEBRATE.
---
Can't make it? Watch or listen live!
Saturday's game will air on the ESPN+ digital network and via the ESPN app. ESPN+ is a streaming service that costs $7 per month or $70 per year, and a subscription is required to watch.
The contest will air live on Ticket 760 AM in the San Antonio area and on SiriusXM app channel 984. Everett (play-by-play), Jay Riley (analyst) and Pat Evans (reporter) will call all the action. The pregame show will begin at 3 p.m. and there will be a 45-minute postgame show. The radio broadcast also can be heard online at Ticket760.com and via the iHeartRadio and The Varsity Network apps.
Game Day Traditions and Social Media

Get into game mode by brushing up on UTSA game traditions and other important information. Stay engaged with fellow Roadrunners by sharing your UTSA game day experiences on social media using #UTSA, #BirdsUp, #GoRunners and #DefendTheDome. Also, follow UTSA Football and UTSA Athletics on Twitter.
Campus Experience

During the football season, the Monument lights and Student Union Tower lights will glow blue and orange during home game weeks. After a win, the lights turn orange in celebration for the rest of the weekend.