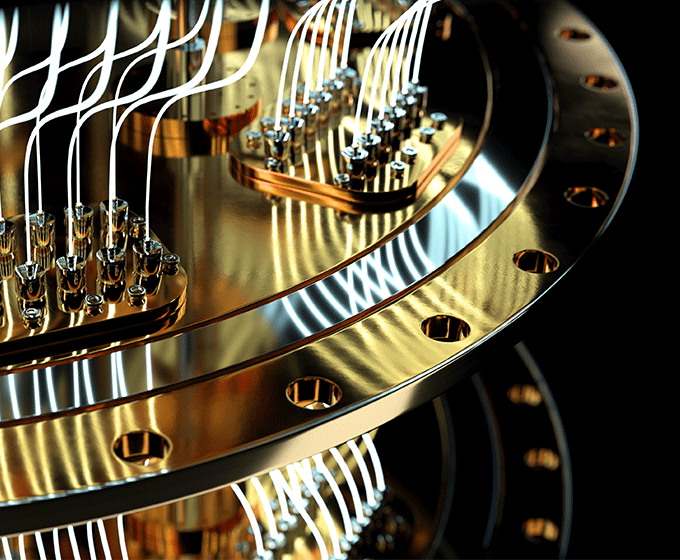 OCTOBER 18, 2021 — Three renowned research partners from academia, industry, and nonprofit are hosting a joint symposium this week focused on the current and future state of artificial intelligence (AI) and quantum computing that's open and free to all.
The MATRIX AI Consortium, housed at The University of Texas at San Antonio, BigBear.ai, and the Maryland Innovation & Security Institute (MISI) will host the conference live and virtually.
The conference's program will focus on the current state of AI and quantum computing with discussions about the potential impact of the convergence of these two transformational technologies.
"MATRIX has been offering a series of transdisciplinary AI seminars and workshops since its inception," said Dhireesha Kudithipudi, founding director of the MATRIX AI Consortium. "In this offering, we feature how AI systems are inextricably linked to its societal impacts with respect to matters of fairness, privacy, bias, and energy constraints. We also present how the interplay with quantum computing can impact emerging computing systems."
"Organizations across the public and private sectors are drowning in data, and the amount of data created over the next three years is expected to exceed the data created over the last 30 years," explained Reggie Brothers, chief executive officer of BigBear.ai. "AI-powered tools augment the human decision-making process, and the convergence of quantum computing and AI will meaningfully strengthen those tools and expand the potential for leaders to harness the power of their information and achieve decision dominance. BigBear.ai is thrilled to partner with UTSA and MISI to explore what the future holds as these two important technologies converge."
"AI and quantum and its future role in the defense and competitive advantages to our society are foundational to the work MISI Mission Accelerators, DreamPort and MindScape, are focused on," added Armando Seay, co-founder and director of the Maryland Innovation & Security Institute. "Our nation has trailed in making the investments needed to ensure supremacy in the AI and quantum race, but this is changing and organizations such as MISI and its partners across academia, industry and the leading partners of the U.S. are pivotal to the work our organization has and continues to engage in on behalf of our stakeholders. We are happy to engage in this effort in doing our part to support the continued advancement, collective thinking and information-sharing needed to support this very important national and global challenge."
Keynote speakers include Sebastian Risi, associate professor from the IT University of Copenhagen, whose research is focused on computational evolution, deep learning and crowdsourcing with applications in robotics, video games, design and art; Michael Hayduk, deputy director of the Information Directorate at the Air Force Research Laboratory, where he plays a key role in overseeing an annual budget of over $1.8 billion and leads the activities of more than 1,200 scientists, engineers, administrative and support personnel; and Zachary Chase Lipton, assistant professor of operations research and machine learning at Carnegie Mellon University, whose research is focused on machine learning algorithms and for healthcare, empirical deep learning, natural language processing and causal inference and discovery.
More than two dozen panelists and moderators will participate in the program, including representatives from the Army Research Laboratory, BigBear.ai, CACI International Inc., the Cybersecurity Manufacturing Innovation Institute (CyManII), the Department of Energy, Honeywell Quantum Systems, MITRE Corporation, Oak Ridge National Laboratory, Pacific Northwest National Laboratory, Rochester Institute of Technology, Sandia National Laboratories, University of Massachusetts Amherst, UT Austin and UTSA. See the full line-up of speakers.
AI and quantum computing are transformational technologies that will fundamentally change how all people observe, interpret and interact with the world of data that surrounds everyone on a daily basis. AI is becoming ubiquitous, as shown by a recent wave of advancements driven by technical achievements that include GPUs and high-performance computational platforms that process massive volumes of data faster and with steadily improving accuracy. Quantum computing is still in its early stages of development, but a steady stream of breakthroughs and innovations has been observed, coupled with a significant investment in the technology needed to bring quantum supremacy—or the ability of a quantum computer to outperform their classical counterparts.
Quantum computing has the potential to add significant power to AI technology, overcoming the limitations that restrict the functionality of AI inherent in classical computers. Quantum computers perform calculations based on the probability of an object's state before it is measured. Compared to classic computers, which are based on binary values (1s and 0s), the quantum computer has the potential to process exponentially more data. This has tremendous potential to impact AI, which relies on processing huge amounts of complex datasets to develop new algorithms that allow for better learning, reasoning and understanding.