More than 30 companies and organizations served as project sponsors, providing resources and materials for the students to develop their concepts. H-E-B is sponsoring five Tech Symposium teams focused on research and designing efficiencies. Electrical and computer engineering majors Gustavo Leon, Pedro Lopez, Lydia Tadese and Johnson Nguyen are part of Dream Team. They worked together to engineer a method to improve the scan and print process for barcodes.
"Being able to work with UTSA and H-E-B on this project was thrilling, honestly," Nguyen said. "Our two H-E-B mentors shared with us very valuable tips and technical training. So, it was it was just amazing to get this experience." 
"Our team learned a lot about how software and hardware work together. This gave me more confidence about exploring different career choices," Leon added. "I wasn't really sure about looking into software engineering jobs but after my experience on this project that's an area I'm exploring."
---
---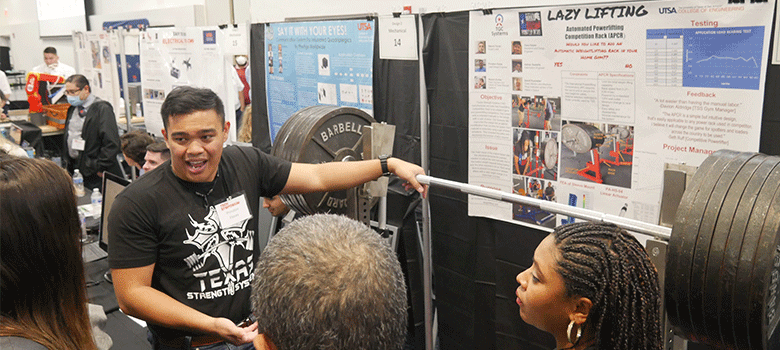 Prinzton Flores with Team TGC Systems demonstrates the group's Lazy Lifting concept for an automated powerweight competition rack.
---
---
The UTSA Makerspace, located in the university's Science and Engineering Building, is a second home for senior design students. Each team spends an average of 800 hours in the state-of-the-art facility, using tools and shared knowledge to complete their senior design projects.
"You see some teams in over the weekend, 'til midnight working on their machines, trying to iron out the kinks and things like that," said Don Petersen, director of engineering, innovation, and design at the Makerspace. "It's very rewarding for them. But it's so rewarding for the professors and mentors to see them succeed."
That includes Petersen who witnesses firsthand the pride and hard work students put into delivering a quality product for this big day.
"I'm really proud of them, you know," he added. "It's fulfilling for me personally and I'm really happy for them. You get to see them persevere and show off their work at the Tech Symposium."