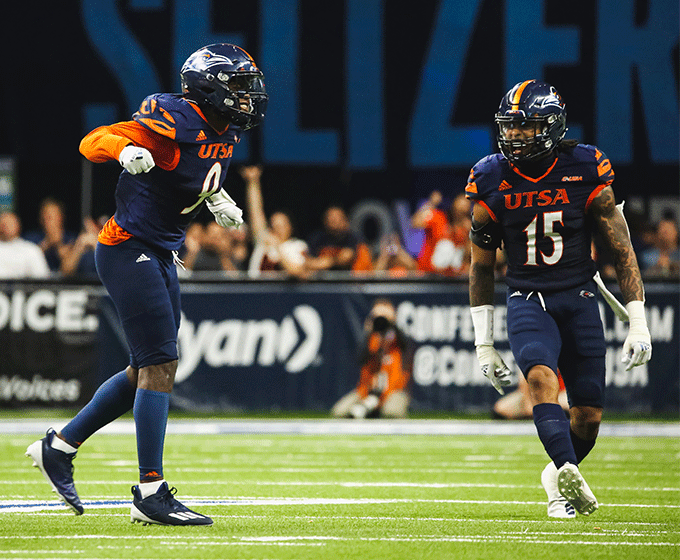 DECEMBER 5, 2021 — No. 24-ranked and Conference USA champion UTSA will make its second straight and third overall bowl appearance when it faces San Diego State in the Tropical Smoothie Cafe Frisco Bowl on Tuesday, December 21. Kickoff is set for 6:30 p.m. at Toyota Stadium in Frisco and the game will be televised nationally on ESPN. 
"We are excited to have two outstanding teams participate in the 2021 Tropical Smoothie Cafe Frisco Bowl, the SDSU Aztecs and the UTSA Roadrunners" said Sean Johnson, Tropical Smoothie Cafe Frisco Bowl Executive Director. "We are looking forward to hosting this great matchup and to welcoming the teams and their passionate fan bases to Frisco, Texas for an exciting week of bowl events and a fantastic game at Toyota Stadium."
The Roadrunners improved to 12-1 on the season with a 49-41 victory over Western Kentucky in the C-USA Championship Game last Friday night in front of 41,148 fans at the Alamodome. Under the direction of second-year head coach Jeff Traylor, UTSA opened the 2021 season with 11 consecutive wins, have been ranked as high as No. 15 and captured the program's first conference championship.
The Aztecs, led by head coach Brady Hoke, are 11-2 on the year after dropping a 46-13 decision to Utah State in the Mountain West Conference Championship Game on Saturday in Carson, California. San Diego State, which is receiving votes in both major polls, reeled off seven straight victories to start the season including beating Pac-12 Conference champion Utah.
This will mark the first meeting between UTSA, which will be the designated visiting team, and San Diego State and the second time in three bowl appearances that the Roadrunners will play a team from the Mountain West Conference.
UTSA played in its first bowl game in just its sixth season — tying an NCAA startup program record — against New Mexico at the Gildan New Mexico Bowl in Albuquerque. The Lobos built a 10-point lead and held on for a 23-20 win on a cold and windy afternoon on Dec. 17, 2016, at University Stadium.
The Roadrunners nearly completed a comeback against No. 16 Louisiana in the 2020 SERVPRO First Responder Bowl last Dec. 26 at Gerald J. Ford Stadium in Dallas. UTSA rallied from a 24-7 deficit to tie the game, only to see the Ragin' Cajuns score a late touchdown and escape with a 31-24 victory.
UTSA originally was selected to play in the Frisco Bowl last year but ended up switching to the First Responder Bowl after the Frisco Bowl was cancelled due to COVID-19 protocols within the SMU program.
A link for UTSA fans to purchase bowl tickets will be available soon. Purchasing through this unique link allows you to sit in the UTSA sections with fellow Roadrunners fans and financially supports UTSA Athletics. Purchasing tickets through a different source does not benefit UTSA Athletics. All Frisco Bowl tickets will be mobile through the AXS Tickets app.
Fans that placed a pre-order for Frisco Bowl tickets through the UTSA Ticket Office do not need to do anything at this time. UTSA Athletics will send more information directly to them via email this week about their pre-ordered tickets.
Current UTSA students will receive information soon about purchasing tickets in student sections at the Frisco Bowl.
The Tropical Smoothie Cafe Frisco Bowl is one of 18 college football bowl games owned and operated by ESPN Events in 2021.