DECEMBER 22, 2021 — It was a season that began with a definitive upset on a warm night in Champaign and ended with a monumental victory worthy of chilled bottles of champagne. It was a thrilling three-month ride in which UTSA Football captured the hearts, minds and Saturday plans of thousands across San Antonio—not to mention the attention of national sports pundits and the program's first conference championship trophy. It was, simply put, a remarkable campaign that made being a Roadrunner mean just a little more.
In many ways, the 2021 season felt like the realization of a dream that university leaders had for the program back in 2009, when founding head coach Larry Coker would shuffle the lone UTSA helmet and a makeshift jersey to community events to raise awareness for the Roadrunners' inaugural season in 2011. UTSA had a vision to assert itself as San Antonio's football team. Under the guidance of current head coach Jeff Traylor and his "210 Triangle of Toughness," that vision became 20/20 in 2021.
In this article, UTSA Today looks back at the moments that made the 2021 UTSA Football season so magical while fundamentally strengthening the bond between the Roadrunners and the 210.
---
---
The UTSA defense swarms Illinois running back Mike Epstein in the Roadrunners' season-opening 37-30 win over the Fighting Illini on September 4.
---
An eye-opening season opener
Heading into the 2021 season, UTSA had only notched one win in program history against a team from the "Power Five" conferences—a colloquial term for the ACC, Big Ten, Big 12, Pac-12 and SEC. Needless to say, there were doubts that UTSA could go on the road and defeat an Illinois squad from the Big Ten that had looked impressive in its season-opening win over Nebraska the week before. But the Roadrunners' offense overwhelmed the Fighting Illini, racking up 497 total yards en route to an emphatic 37-30 victory in Champaign on September 4. Despite multiple comeback efforts from Illinois, UTSA never trailed throughout the contest.
The game was televised on the Big Ten Network, so a national audience—many of whom had never heard of UTSA—tuned in to find not just a plucky Roadrunners squad capable of an upset but one that was confident they would pick up the win. The Associated Press game recap summed it up best: "As impressive as UTSA was on Saturday in beating Illinois 37-30, you'd never guess the Roadrunners' football program is only a decade old. Or that it was UTSA's first time facing a Big Ten opponent."
---
---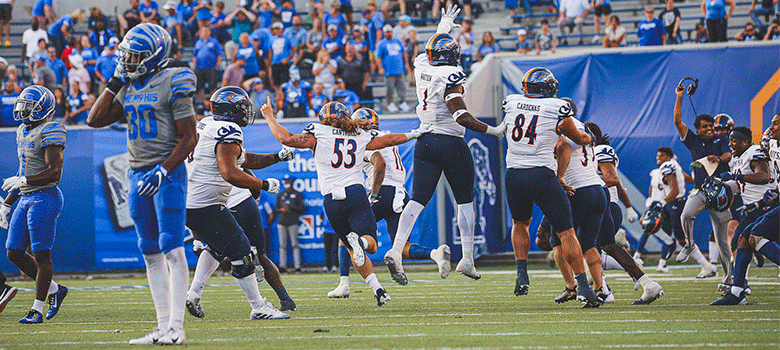 UTSA players rush the field after Hunter Duplessis' game-winning field goal delivered the Roadrunners to a 31-28 victory over Memphis on September 25.
---
The revival in Memphis
Roadrunner fans knew that a September 25 trip to Memphis would be one of UTSA's toughest tests of the season. Both teams boasted 3-0 records heading into the game, and the Tigers had knocked off a very good Mississippi State squad the previous week. Early on in this battle of undefeated teams, it appeared the test would be too tough for UTSA. Memphis raced out to a 21-0 lead in the first quarter as loyalists wearing orange and blue in the stands looked shellshocked. But the Roadrunners on the field didn't flinch. They just kept chipping away.
Running back Sincere McCormick scored three of UTSA's four touchdowns to lead a sensational comeback. His final plunge into the end zone tied the game at 28-28 in the fourth quarter. After a stellar defensive stop, the Roadrunners drove into Memphis territory to set up kicker Hunter Duplessis for a game-winning field goal as time expired. Final: UTSA 31, Memphis 28. As jubilation ensued on the Liberty Bowl turf, a new realization washed over the folks watching back in San Antonio: A special season was in the making.
---
---
UTSA quarterback Frank Harris and teammates celebrate after scoring a touchdown in a 45-16 win over Louisiana Tech on October 23.
---
Routs and recognition
After close wins over Illinois and Memphis, and two more nail-biters against UNLV and a high-powered Western Kentucky team, the 6-0 Roadrunners resoundingly put to rest any notion that they were "winning lucky" over their next three contests. UTSA hammered Rice in its October 16 Homecoming showdown by a score of 45-0. It was a performance so impressive that poll voters could no longer ignore the Roadrunners. They made their first appearance in the Associated Press Top 25 the next day, checking in at No. 24.
UTSA would earn its first ranking in the USA Today Coaches Top 25 the following week after another stellar outing. Quarterback Frank Harris and wide receiver Zakhari Franklin ignited the Roadrunners as they blazed past Louisiana Tech 45-16 to earn the program's first win in Ruston. The victory set up a highly anticipated showdown at 6-2 UTEP on November 6 that would be nationally televised on ESPN2. But the Roadrunners quickly removed all drama from what many thought would be a close game, jumping out to a big first-half lead in a 44-23 triumph. During this stretch, UTSA was firing on all cylinders and had established itself as the team to beat in Conference USA.
---
---
Weeks before leading the Roadrunners to a Conference USA Championship, head coach Jeff Traylor and UTSA agreed to a contract extentsion through 2031.
---
Commitment to Coach Traylor
With a nationally ranked program in the midst of a legendary season and rumors swirling about Texas Tech's head coaching vacancy, UTSA and Traylor signed a contract extension through 2031 valued at $28 million. Traylor's annual salary would average $2.8 million, in addition to potential bonuses, and the university would increase the salary pool for assistant coaches and support staff. It was a commitment that not only indicated that UTSA Football had arrived, but that it would be here to stay as the university made its upcoming move to the American Athletic Conference.
"He is an outstanding leader, a culture builder and a molder of young men," UTSA Vice President for Intercollegiate Athletics Lisa Campos said at the time. "He has brought unprecedented national exposure and acclaim to both our institution and the San Antonio community. He's taken UTSA Football to new heights in a short amount of time and this contract extension shows our commitment to him and his staff to continue to build and sustain this program for years to come."
---
---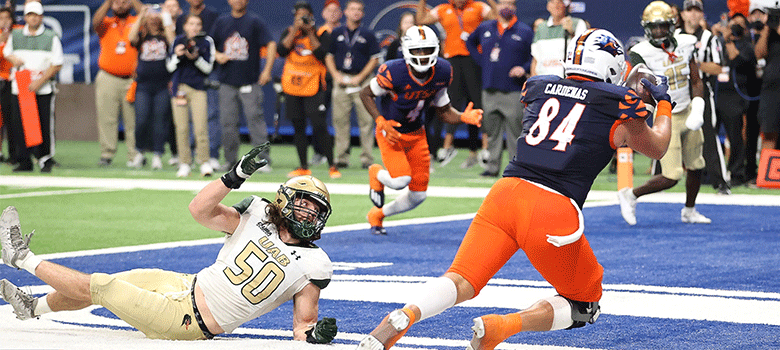 Tight end Oscar Cardenas grasps a touchdown pass in the final seconds that would give UTSA a 34-31 victory over UAB before a deafening Alamdome crowd.
---
Elation in the Alamodome
The November 20 clash between UTSA and UAB at the Alamodome was memorable, to say the least. Bring up this game to Roadrunner fans and they still get goosebumps. The Blazers had won Conference USA's West Division in 2018, 2019 and 2020, and if the Roadrunners wanted to claim the 2021 division title, they had to go through the defending champs. For four quarters, UAB would take lead after lead only to see the Roadrunners erase them. When UAB, clinging to a 31-27 lead, conjured a defensive stand with less than two minutes remaining, all hope seemed lost. But UTSA made its own miraculous defensive stand to give the ball back to the offense with one minute left on the clock.
Harris masterfully (and swiftly) executed four clutch plays to lead the Roadrunners from their own 15-yard line to the UAB 1-yard line. With seven seconds left, Harris grabbed an errant snap off the turf, sprinted to his left and lobbed a pass into the endzone that was tipped by a UAB defender before falling into the waiting hands of tight end Oscar Cardenas—sparking the loudest roar heard in the Alamodome since the Spurs' 1999 run to an NBA championship. UTSA had not only won its 11th game of the season through what seemed like divine intervention, but it had also punched its ticket to the Conference USA Championship Game.
---
---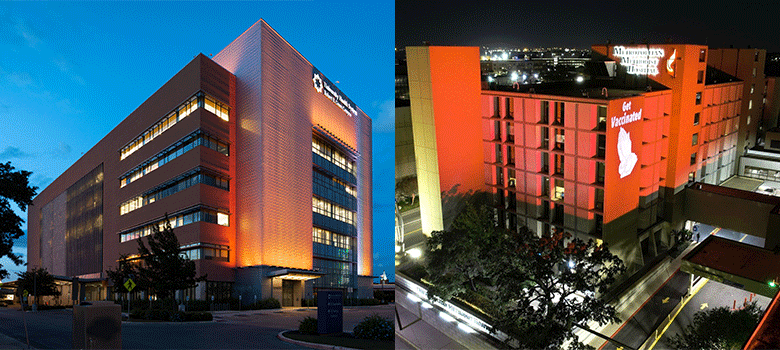 The University Health System Robert B. Green Campus and Metroploitan Methodist Hospital displayed orange lights to support the Roadrunners.
---
Alamo City aglow in orange
Though North Texas would end UTSA's undefeated run the following Saturday, San Antonio's enchantment with UTSA Football continued to grow in the lead-up to the Conference USA Championship Game at the Alamodome on December 3. For four nights, landmarks, monuments and businesses across the city displayed orange lights to acknowledge UTSA's incredible season and support the team's conference championship aspirations. The City of San Antonio and Centro San Antonio coordinated the grassroots effort.
And the community came through in a big, big way. From major institutions like Frost Tower, Metropolitan Methodist Hospital and the San Antonio Zoo to eateries like Shipley Do-Nuts and Smokey Mo's, the Alamo City was aglow in Roadrunner orange at a time when red and green holiday lights would typically greet onlookers. It was a sight those who hold UTSA in their hearts will cherish for years to come.
---
---
Safety Jahmal Sam snags an interception as time expires to clinch UTSA's 49-41 triumph over WKU in the 2021 Conference USA Championship Game.
---
A title for the 210
From the bustling tailgate outside the Alamodome beforehand to the joyous on-field celebration afterward, only one word could accurately describe the scene at the 2021 Conference USA Championship Game: pandemonium. Over 41,000 people—nearly all UTSA fans—packed the dome for the high-scoring duel with East Division champ Western Kentucky. It was the third-largest crowd to watch a UTSA game at the Alamodome and the largest attendance for the C-USA Championship Game since 2007. And, boy, were they loud—so loud that Western Kentucky committed three false start penalties due to communication issues.
After giving up a touchdown in the first minute, UTSA asserted control for the rest of the first half and took a 28-13 lead into halftime. The Roadrunners came out of halftime on fire, scoring on a touchdown pass from Harris to Franklin, collecting a fumble on special teams, and getting a third rushing touchdown from McCormick to expand the lead to 42-13. WKU quarterback Bailey Zappe, however, would orchestrate a furious comeback to close the gap to 49-41 late in the game. With one second left, Zappe heaved one final pass toward the endzone that was intercepted by UTSA safety Jahmal Sam. Fans immediately stormed the Alamodome field in delirium as the Roadrunners celebrated their first conference championship ever.
In the postgame trophy presentation, Traylor, holding back a flood of emotions, made it clear just how profound an impact the team, the season and the city's support really had on him. "We did it for the city of San Antonio," he said before throwing up the 'Birds Up' hand sign, adding, "That's what it's about—the 210, baby. The 210."