But before battling bacteria, Ozturk's undergraduate students sharpened their skills with a micropipette, a tool used to transfer a measured volume of liquid. To prepare for their work studying the reaction of bacterial cultures to honey, the students first practiced their precision and accuracy with the tool by transferring food coloring dye.
"It's a learning process," Ozturk told one student as they measured microliters of colored dye.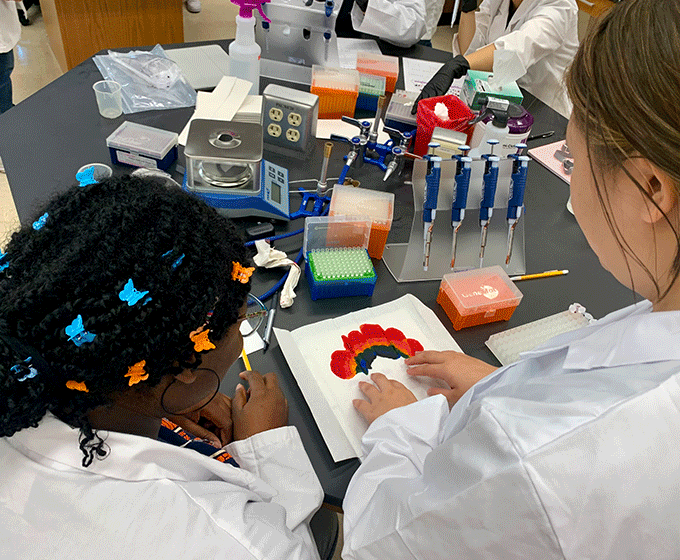 These students skillfully "pipette the rainbow."
With its anti-inflammatory, anti-bacterial, antioxidant and anti-aging properties, honey is effective as a treatment for many ailments and conditions. Honey can soothe inflammation resulting from intestinal and gum diseases. It protects cells from free radicals that cause illnesses and helps replenish them to a healthier state. With no side effects, Ozturk points out that honey can also serve as an aid to treating mouth sores suffered by cancer patients undergoing chemotherapy.
Ozturk, who regularly visits beekeepers and attends bee conventions, is collecting honey samples from San Antonio and other regions of Texas. He's searching for the leading medical-grade honey that can help heal infected wounds and prevail against antimicrobial resistance—when bacteria develop the ability to defeat the drugs designed to kill them.
"Not every honey has the same potential for every bacterium," Ozturk explained. "Buckwheat, for example, has one of the highest potentials of healing properties but there's still medicinal activity in the lighter colored honeys."
Having moved on from colored dyes, Ozturk's students are becoming acquainted with bacteria. Carefully transferring a bacteria liquid culture into an agar plate, Nhi Ho, a sophomore studying microbiology, said she chose Ozturk's course for its interesting topic and because it provided her with a hands-on research opportunity as an undergraduate student.
The Medicinal Properties of Honey course is among a host of new research opportunities offered by the integrative biology department's Course-Based Undergraduate Research Experiences (CUREs) partnerships. CUREs offer several key features that traditional lab and field courses may lack, such as having students conduct original research that is of interest to stakeholders outside of the classroom and ensuring that students are involved in the iterative research process, repeatedly problem-solving and troubleshooting as needed and generating new questions and research directions. These research experiences include everything from uncovering novel viruses, decoding genetic pathways, discovering new sources of antibiotics and more.