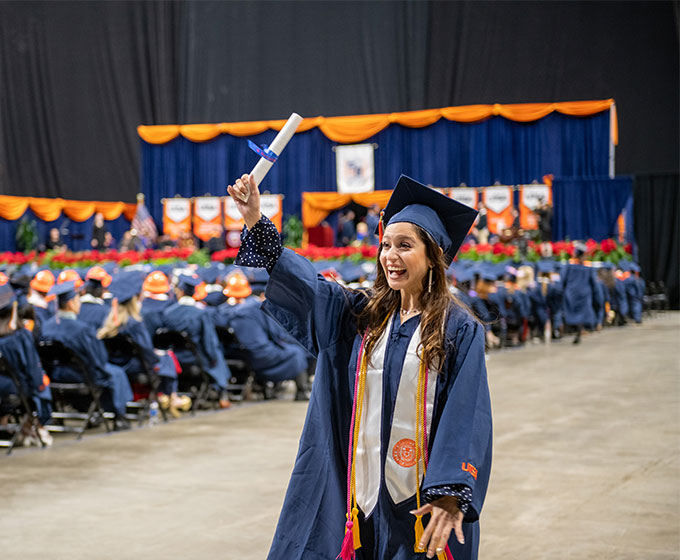 OCTOBER 20, 2022 — UTSA placed in the top 10 list of public colleges and universities in Texas for the best return on investment (ROI) provided to students, according to Washington, D.C.-based think tank Bipartisan Policy Center.
The Center conducted the study to provide an analysis of the estimated average lifetime earnings a student would expect following degree completion at a given school. UTSA earned the No. 8 spot on the Center's report with its estimated $348,591 return on investment (ROI) a student can expect over time.
"A college education is a long-term investment in our community's future," said Kimberly Andrews, UTSA provost and senior vice president of academic affairs.  "At UTSA, our commitment to our students is to prepare them for lifelong success—from earning their degree to landing the job that will lead to a fulfilling, lifelong career and prosperity."
Using data from the College Scorecard and American Community Survey (ACS), conducted by the U.S. Census Bureau, the Center analyzed 3,099 U.S. institutions.
The report analyzed three models to estimate lifetime earnings. The baseline model consists of the estimated lifetime college earnings premium minus the net price of attendance. Using the baseline model, the Center estimates UTSA's lifetime ROI of enrollment to be $768,202.
Using the intermediate model, the estimated lifetime ROI for UTSA was $252,556. This figure represents adjustments for such factors as the delayed payoff of college over time and the relevant labor market, where the college's main campus is defined as the labor market. 
The Center's full model estimate sets UTSA's lifetime ROI at $348,591. The figure represents the adjustments from the intermediate model as well as an adjustment for per-student taxpayer costs of supporting colleges and an increase for institutions that enroll a large number of women and underrepresented minorities. According to the Center, this accounts for the labor market discrimination students may experience after leaving their universities.
The Center hopes that this report and the formula it has created, the ROI calculator, will lead to better regulation for higher education institutions and serve as a valuable tool for students and their families.
Understanding college ROI can not only be valuable to prospective students and their families, but in theory, it could also help Congress better target student aid and reduce future student debt, according to the Bipartisan Policy Center.