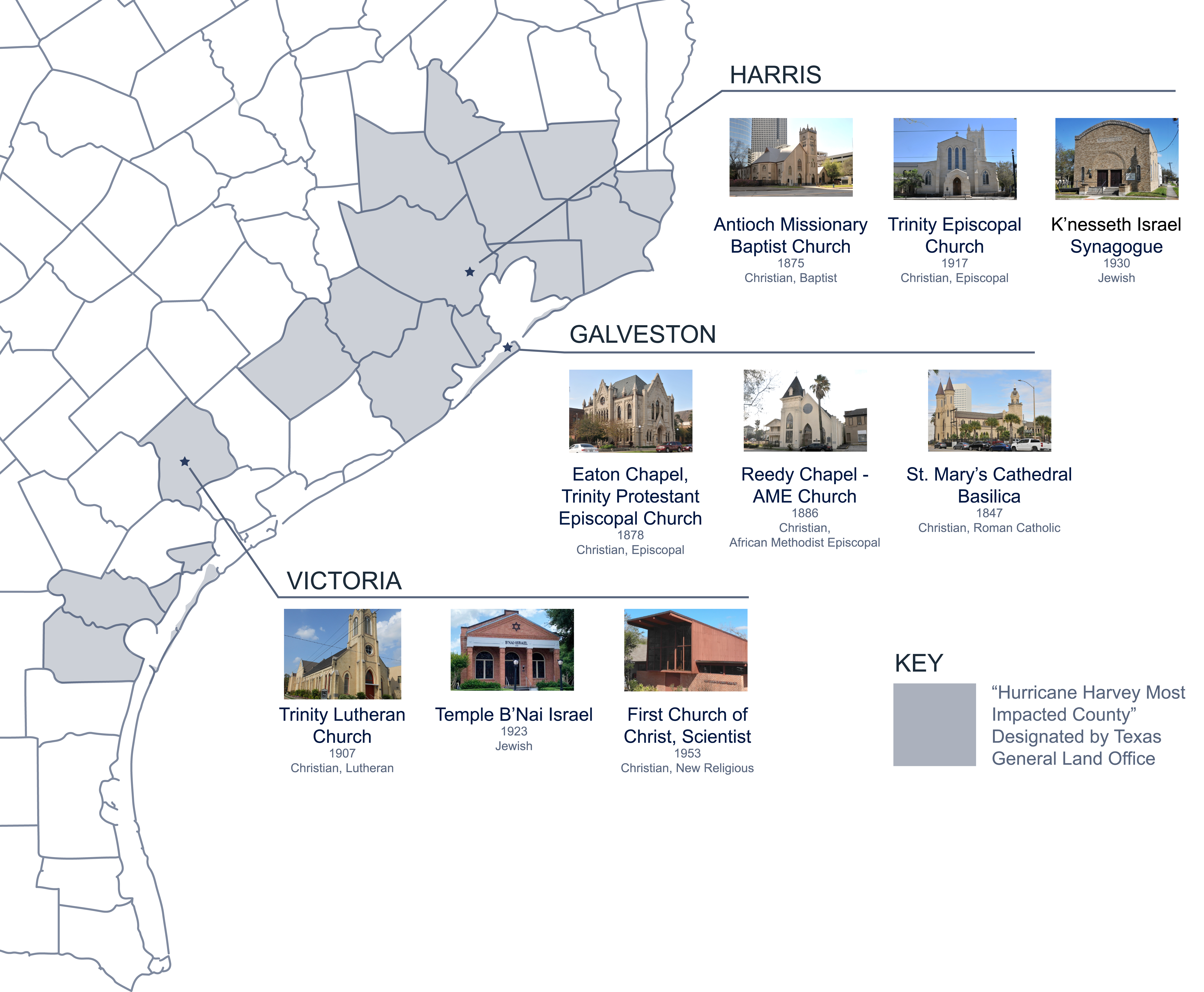 These nine religious facilities along the Gulf Coast are part of the Resilience Roadmap case study.
Nine religious facilities throughout Galveston, Harris and Victoria counties that had previously sustained hurricane damage were chosen for the case study. They are all either on the National Register of Historic Places or eligible to be. The properties also provide service to their communities beyond religious needs. With experts anticipating weather to grow more severe in the coming years, historical buildings face a unique challenge: how to improve a structure's ability to withstand disaster while maintaining its historic character.
"Faith-based groups are often at the forefront in providing help during a crisis, but we need to first ensure their buildings can weather the storm," William Dupont, Conservation Society of San Antonio Endowed Professor and director of UTSA's Center for Cultural Sustainability, said.
The center, which is part of the Margie and Bill Klesse College of Engineering and Integrated Design, is an interdisciplinary collaboration exploring the continuity of the cultural systems of human existence. Cultural sustainability includes consideration, understanding and respect for heritage—identities and values that bind people to places.
Dupont believes it's important to not only protect buildings for the haven they provide their communities in times of distress, but to also conserve each property for the rich history it represents.
Case studies include:
Baytown's K'nesseth Israel, which was formed by Russian immigrants in the late 1920s.


Midtown Houston's Trinity Episcopal Church, which dates to 1917–1921.


Antioch Missionary Baptist Church, built in 1875, in Downtown Houston is the city's oldest African American church.


Galveston's St. Mary Cathedral Basilica, which dates to the 1840s and has been called, "the mother church of the Catholic Church in Texas."


Reedy Chapel, dating back to 1848, in Galveston. The chapel was one of the sites where the Emancipation Proclamation was read.


Eaton Memorial Chapel, which dates to 1857, in Galveston.


The mid-century modern First Church of Christ, Scientist in Victoria.


Victoria's Temple B'Nai Israel, which dates to 1923.


Trinity Evangelical Lutheran Church, built between 1907 and 1908 in Victoria.
Dupont and a team of architects, engineers, and preservationists from UTSA, Eastern Michigan University, Wentworth Institute of Technology in Boston and Istanbul Technical University, along with the Philadelphia-based nonprofit Partners for Sacred Places, collaborated on the project. Funding for research was provided by emergency supplemental funding from the Historic Preservation Fund, administered by the National Park Service, U.S. Department of the Interior, and the Texas Historical Commission.
The RPI was developed by the UTSA team after a six-month data collection process that involved making field visits to each of the nine locations. Using their collective expertise, the researchers carefully examined each building and made notes of any issues such as cracks or leaky roofs. The team used a thermal camera to measure heat from the walls and collected and analyzed soil samples. A structural analysis took place using SAP2000 software to gauge how well each building would perform in high winds and/or extensive flooding.
Results of UTSA research will be shared among the case studies and other faith-based groups and serve as a model for similar disaster and resilience planning efforts across the nation.