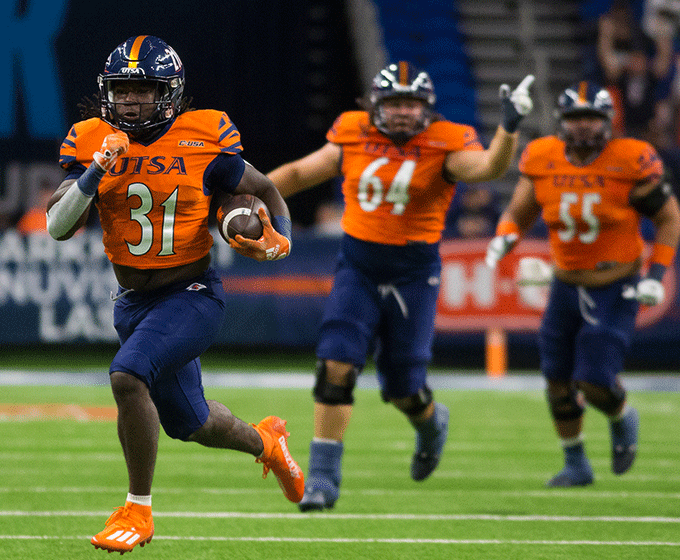 NOVEMBER 23, 2022 — The No. 25 UTSA Roadrunners look to become the first Conference USA team since 2017 to finish the regular season undefeated in conference competition, when they host the UTEP Miners at 2:30 p.m. on Saturday, November 26, at the Alamodome. Saturday's matchup is not only the regular season finale but also marks Senior Day and UTSA's annual Fan Appreciation Game.
UTSA (9-2 overall, 7-0 in C-USA) secured first place and the regular season title in Conference USA by way of a 41-7 victory at Rice last Saturday. On a cold, rainy afternoon in Houston, quarterback Frank Harris put together a sizzling hot performance against the Owls. Harris threw for 103 yards and two passing touchdowns and ran for an additional 124 yards and three rushing touchdowns before heading to the bench in the third quarter for some much-deserved rest.
Harris was able to end his day early because the UTSA defense absolutely put the clamps down on Rice. The Roadrunners forced three turnovers in the game, with brothers Dadrian and Donyai Taylor each recovering a fumble and Clifford Chattman hauling in an interception. The Roadrunners' defense is firing on all cylinders as the season winds down, forcing eight turnovers and allowing a total of only 14 points in its last two contests.
Most importantly, UTSA's latest victory gave the Roadrunners the right to host the Conference USA Championship Game at 6:30 p.m. on Friday, December 2, at the Alamodome. UTSA's opponent will either be North Texas or Western Kentucky. The Mean Green need only a home win over Rice or a Western Kentucky loss to make the C-USA Championship Game. The Hilltoppers would need to defeat Florida Atlantic and hope for a Rice victory to make their way into the title game.
Although UTSA has already secured its spot in the conference championship game, the Roadrunners still have a lot to play for Saturday against UTEP. UTSA just entered the USA Today AFCA Coaches Poll at No. 25 and would very likely move up the rankings with another victory. This is crucial because UTSA still has a chance to play in a highly coveted New Year's Six bowl game. After the conference championship games, the highest-ranked team from the "Group of Five" conferences earns the privilege to play in one of these six esteemed bowls, and UTSA is firmly in the mix alongside Tulane (9-2), Cincinnati (9-2), Coastal Carolina (9-1) and UCF (8-3).
UTEP (5-6 overall, 3-4 in C-USA) will also be highly motivated for Saturday's game. The Miners must beat UTSA to become eligible for a postseason bowl game. UTEP is coming off its own impressive showing, defeating FIU 40-6 last Saturday in El Paso. The Miners are 1-4 in road games this year, so UTSA would benefit greatly from another loud, boisterous home-field advantage at the Alamodome.
There will be plenty of reasons for Roadrunner fans to pack the stadium on Saturday. Twenty-one players from UTSA's illustrious senior class—which includes prolific Roadrunners such as Harris, wide receivers Zakhari Franklin and De'Corian Clark, center Ahofitu Maka, cornerback Corey Mayfield Jr. and linebacker Trevor Harmanson—will be individually honored in a ceremony before the game. After the game has ended, fans will be allowed to enter the field using designated entrances to meet, take photos and get autographs from their favorite Roadrunners.
Roadrunner Nation is also invited to show its school spirit on Saturday at the following family-friendly events:
---
PRE-GAME
Fan Zone
11:30 a.m., H-E-B Plaza (north side of the Alamodome)

Roadrunner fans of all ages can take part in free pre-game festivities at Rowdy Town, including live music, an inflatable obstacle course, interactive games, displays, food samples and beverages.
UTSA Alumni Association's "Rowdy & Wild" Roadrunner Nation Tailgate
11:30 a.m., Hoefgen Lot (499 Hoefgen Ave.)
The UTSA Alumni Association invites fans to the official Roadrunner Nation Tailgate. Enjoy food, drinks, face painting, yard games and giveaways, along with visits from UTSA Cheer, the Spirit of San Antonio Marching Band and Rowdy the Roadrunner. This week's tailgate will also include special guests from the San Antonio Zoo: Yavari the Sloth and Hogan the Tamandua.
Several types of tickets are available for the Roadrunner Nation Tailgate. Blue tickets are $20 and come with a food ticket and a cash bar. Orange tickets are $45 and come with a food ticket and open bar privileges. Tickets are $10 for students aged 13-20, who receive a food ticket and a non-alcoholic drink. Children 12 and under are admitted for free, and discounts are given to UTSA Alumni Association members.

Spirit Walk
12:15 p.m., Alamodome, Roadrunner Alley (between Lots B and C)

This exciting tradition gets Roadrunner fans and the UTSA team pumped up for the game. Join the Spirit of San Antonio Marching Band and UTSA spirit squads as they accompany the team down Roadrunner Alley and into the Alamodome approximately two hours before each home game. Fans can line the walkway between the Alamodome parking lots B and C to cheer on the team.
---
GOING TO THE GAME
Tickets
Tickets are on sale by calling or texting 210-458-UTSA (8872) or visiting ticketmaster.com. UTSA has transitioned to digital tickets through Account Manager. All students currently enrolled at UTSA are eligible for free admission to all home football games. UTSA students may purchase up to four guest tickets for student-section seating.
For walk-up sales, the Alamodome's southwest box office will open at 10 a.m. Saturday and all other Alamodome box offices will open at noon. Customer service windows are located at the northeast and southeast box offices.
Game day parking and tailgating

Parking in Alamodome Lots A, B and C is limited to fans who already have purchased permits. A limited number of disabled parking spaces are available on a first-come, first-served basis. The lots will open at 8 a.m. for those who have valid parking passes. Please do NOT enter prior to 8 a.m. Staff will ask early entrants to vacate their spot(s) and re-enter once the lots are open. There are several paid public parking lots in the general vicinity of the Alamodome.
Visit UTSA Athletics online for more information and City of San Antonio tailgating guidelines. Student organization tailgating begins at 10:30 a.m.
Getting to the game
Students and their guests may park at the UTSA Main Campus and catch a UTSA shuttle to the game at the North Paseo Bus Oval, just outside of the North Paseo Building. Shuttles will begin service to the Alamodome at 11:30 a.m. The last shuttle to the game will depart campus at 2 p.m. To avoid possible delays, students and their guests are encouraged to catch a shuttle early in the departure window. Students will be dropped off and picked up at the Robert Thompson Transit Station at the Alamodome. Buses will begin return service back to UTSA at the start of the fourth quarter and the last shuttle bus from the Alamodome will depart one hour after the end of the game.
VIA has announced that it will serve UTSA home football games. VIA's Park & Ride Service offers roundtrip travel to the Alamodome for just $2.60. Service to all UTSA home games will be provided from the Crossroads Park & Ride, beginning three hours before game time, and return service will run for one hour after each game. The Park & Ride fare is $1.30 each way with discounted fares available for children, seniors, students and active-duty military. Pre-purchase tickets on VIA's goMobile+ app, available to download free on Apple and Android devices. Cash and credit cards are accepted on game day at the Crossroads Park & Ride location.
UTSA students can use their U-Pass for service to the game. VIAtrans customers and children under age 5 ride free. VIA bus passes are not valid for this service. VIA's day pass, 7-day pass, and 31-day pass are valid for special event service.
The drop-off and pick-up location for rideshare users is located in Parking Lot D next to the Henry B. Gonzalez Convention Center at the corner of Montana Street and Tower of Americas Way.
Alamodome entry
Please enter the stadium early to avoid long lines. Doors open to the public at 1 p.m. Fans should read the Alamodome clear bag policy before entering the stadium, including the list of approved bags. Speed lanes will be available at security checkpoints for those with no bags. Please have your keys, phone and wallet out before getting to the scanners. Please have your tickets out or loaded on your phone with the screen brightness turned all the way up before reaching the doors.
Student seating
Student seating is general admission within sections 122-131. To accommodate increased student attendance, sections 220-226 on the Club Level will also be open for student general admission seating. The Spirit of San Antonio band will occupy sections 127-128.
UTSA gear
Fans can buy the latest UTSA apparel and accessories from the Rowdy Campus Store, which will be set up in Lot B near Roadrunner Alley. Merchandise sales counters are also located inside the Alamodome on the Plaza Level concourses near sections 106 and 118.
---
WATCH. TWEET. CELEBRATE.
Television and radio broadcasts
Saturday's television broadcast will air on Stadium (CW 35 in San Antonio). Ari Wolfe will provide play-by-play commentary alongside analyst Bob Davie.
The radio broadcast will air live on Ticket 760 AM in the San Antonio area and on SiriusXM app channel 991. Andy Everett (play-by-play), Jay Riley (analyst) and Pat Evans (reporter) will call the action. The pregame show will begin at 12:30 p.m. and there will be a 45-minute postgame show. The radio broadcast can also be heard online at Ticket760.com and via the iHeartRadio and The Varsity Network apps.
Game day traditions and social media

First, get into game mode by brushing up on UTSA's traditions including the fight song and alma mater. Then, stay engaged with fellow Roadrunners by sharing your UTSA game day experiences on social media using the hashtags #UTSA, #LetsGo210 and #BirdsUp. All Roadrunner fans are encouraged to follow UTSA Football and UTSA Athletics on Twitter and UTSA on Twitter, Instagram, Facebook and TikTok.
Campus experience

During the football season, the Monument lights and Student Union Tower lights will glow blue and orange during home game weeks. After a win, the lights turn orange in celebration for the rest of the weekend.