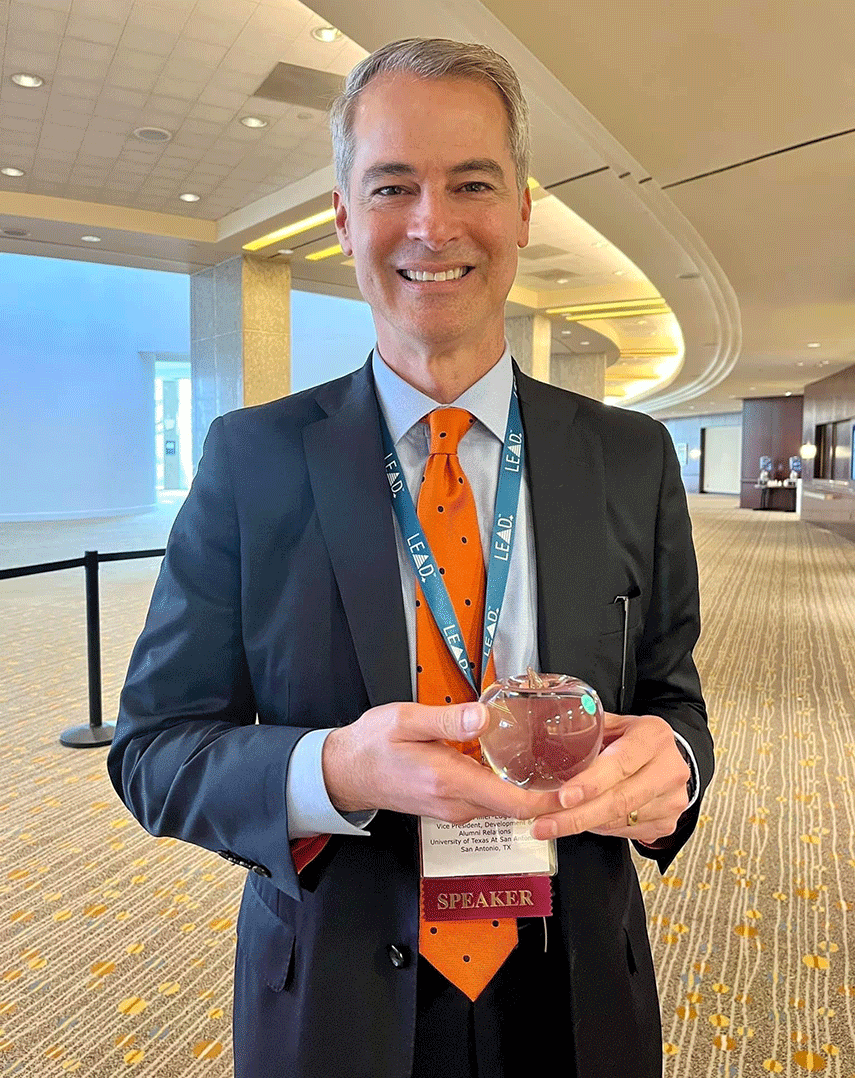 UTSA's Karl Miller-Lugo was awarded the CASE Crystal Apple Award.
The Crystal Apple Award highlights best practices in advancement and outstanding people who contribute to the growth and understanding of the advancement profession. The honor recognizes faculty members for their outstanding performance at 10 or more CASE international educational programs.
In his current role at UTSA, Miller-Lugo oversees a division comprised of University Development, Corporate and Foundation Engagement, Donor Relations, Alumni Engagement and the Alumni Association, and Operations and Advancement Services. He also serves as a member of the President's Cabinet and University Leadership Council. He engages donors in the San Antonio community and beyond, creating greater opportunities to support the university and foster a positive culture of philanthropy. 
"Karl's ability to cultivate community and industry leaders to invest, and to steward new supporters, has been invaluable as UTSA builds on its commitment to serve society by creating a positive impact on San Antonio's economic and workforce development," UTSA President Taylor Eighmy said. "We are fortunate, and immensely grateful, to have a leader like Karl who is sharing the story of UTSA's bold future and inspiring our community to support that vision."
Under Miller-Lugo's leadership at UTSA, the university publicly launched Be Bold: A Campaign for Our Future, the largest fundraising campaign in UTSA history. The campaign, which has been in what is known as the "silent phase" since 2017 is only halfway through and still has five years remaining. With over $311 million already raised by more than 39,000 supporters who have made over 116,000 gifts and pledges, the campaign is making exceptional progress. 
Miller-Lugo has remained committed to CASE through various volunteer roles. He served on the CASE Commission on Philanthropy from 2013 to 2016, co-chaired the District III Conference in 2006, co-chaired the District III/IV Conference in 2009 and co-chaired the District IV Conference in 2016. He was a member of the inaugural class of the Minority Advancement Institute in 2006 and served on the CASE Diversity Recruitment Advisory Group in 2015.
Since 2008, Miller-Lugo has also delivered multiple presentations to thousands of conference attendees.
"Karl has been one of CASE's most active volunteers for many years. From service on our Philanthropy Commission and District Conferences and Councils, to teaching at numerous CASE programs including our highly regarded Development for Deans conference, our Minority Advancement Institute, and our Summer Institute for Educational Fundraising, Karl is a stellar member of the profession and champion of education," said Sue Cunningham, president and CEO of CASE.
UTSA Senior Associate Vice President for Development David Onion has known and worked with Miller-Lugo for 15 years. "I am so pleased that Karl's long-time investment in CASE and his influence on development professionals across the country is being recognized and celebrated," Onion said. "He is an effective and productive servant leader whose investments back into to our community elevates not only the university and its development staff but inspires our donors. UTSA is fortunate to have this exceptional leader."
Prior to joining UTSA, Miller-Lugo was a vice president with the international fundraising consulting firm Bentz Whaley Flessner for four years, where he focused on campaign planning and management, major and principal gifts, advancement assessments and building processes for comprehensive fundraising strategy and accountability.
He also spent 10 years in various development leadership roles at the University of Texas at Austin, where he oversaw principal, major, and annual giving programs and led the successful completion of the $3 billion Campaign for Texas in partnership with campus chief development officers.
With 30 years in development and higher education, he has held senior leadership positions at public and private universities. He holds bachelor's degrees in Public Relations and Spanish from Western Kentucky University and an M.B.A. from the Gordon Ford College of Business at Western Kentucky University.
Karl Miller-Lugo is a native of Puerto Rico. He lived in Kentucky for 28 years and has lived in Texas for 16 years. His wife of 29 years, Jennifer, is program director for child and adolescent psychiatric services at the Austin State Hospital, and they have two children, Tristan Chase, 24, and Karlie McClain, 19.