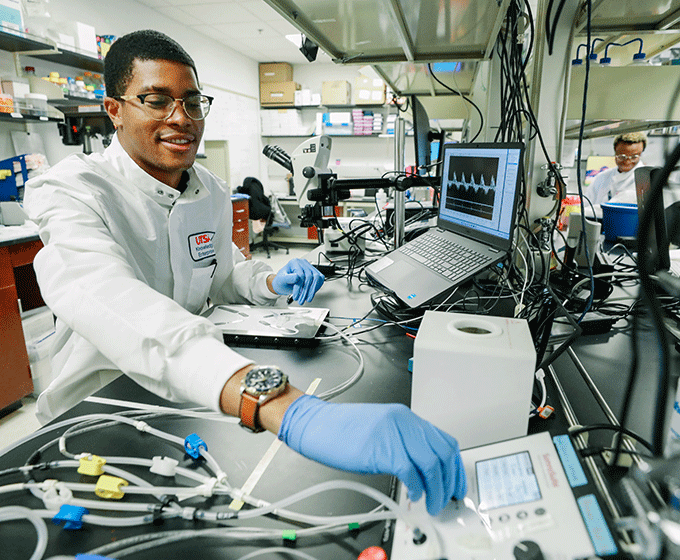 DECEMBER 20, 2022 — The UTSA Office of the Vice President for Research, Economic Development, and Knowledge Enterprise (REDKE) has created five new Research Interest Groups (RIGs) to provide a collaborative platform for UTSA researchers and the extended research community to work on emerging transdisciplinary fields in academia. The new groups build on the success of three inaugural RIGs launched over a year ago.
Most of the RIGs are driven by large, institutional research initiatives. Some of the established RIGs have representatives from the university's key cluster hiring programs alongside collaborating researchers such as UT Health San Antonio, the City of San Antonio, Morgan's Wonderland and Southwest Research Institute. The RIGs meet once a month and are self-governing with management support from REDKE.
"With more than 160 faculty researchers collaborating across eight distinct fields of research, the Research Interest Groups show how important transdisciplinary research is in addressing global grand challenges," said Siobhan Fleming, REDKE's senior director for research development. "Every college is represented in the RIGs, with members focused on obtaining funding to advance their research."
REDKE has convened five new research interest groups in the past year:
Climate & Global Sustainability: Led by Chris Packham, professor of astronomy, members of this RIG are interested in the intersection of the physical and human in the social realm, law and policy-related issues, the effect of climate change on communities and education, and monitoring and modeling. They are focused on applying for federal grants regarding climate. Researchers also present their ongoing projects at each monthly meeting.


Data Science: Led by David Mongeau, founding director of the UTSA School of Data Science, and Jianwei Niu, professor of computer science, the group provides a forum for UTSA researchers from across disciplines and the extended community to work collaboratively on emerging transdisciplinary fields in data science. In addition to their involvement in the opening of San Pedro I in January, the Data Science RIG team will participate in a spring Generation AI Summit, driven by the MITRE GenAI Team.


Internet of Things (IoT): Led by Dakai Zhu, professor of computer science, this RIG enables researchers from across different disciplines to work collaboratively on related projects from foundations in design and development of IoTs to their applications, including IoT design and optimization, IoT-enabled intelligent systems, and IoT-driven data analytics.
The members are organizing the Cyber-Physical Systems & Internet-of-Things Week, which would bring five worldwide top conferences—Hybrid Systems: Computation and Control, International Conference on Cyber-Physical Systems, Internet of Things Design and Implementation, Information Processing in Sensor Networks (IPSN), and the Real-Time and Embedded Technology and Applications Symposium—to UTSA in May 2023. Sponsorship options are available and interested parties should contact the RIG.
Disabilities: Led by Leslie Neely, professor of educational psychology, Erica Sosa, professor of public health and John Quarles, professor of computer science, members of this RIG are focused on investigating emerging technologies and transdisciplinary approaches to support people with disabilities. This group aims to collaborate with regional support services and nonprofit organizations in San Antonio and pursue research and funding opportunities. Recently, UTSA signed a memorandum of understanding (MOU) with the locally-based Multi-Assistance Center at Morgan's Wonderland, a unique, one-stop shop of health care and related services for individuals with special needs and disabilities. UTSA faculty help with outreach, research projects and engagement activities. Through their partnerships, the RIG recently applied for a large-scale federal grant to address barriers to employment for people with disabilities.
As a result of the R&D League symposium last year, members from the Disabilities RIG formed a collaborative team comprised of nine women from various organizations including the City of San Antonio, disabilitySA, UTSA, and the San Antonio Area Foundation. Led by Melanie Cawthorn, director of disABILITYsa, the team worked on an initial grant proposal. Emerging from that experience, Cawthorn and Neely applied for a year-long intensive training program in Community-Based Participatory Research (CBPR). The two researchers then applied their knowledge and were successful in securing a Texas Council for Developmental Disabilities (TCDD) grant to create curricula to equip people with disabilities how to actively participate in research. This one-year, $150,000 grant will be led by disABILITYsa with UTSA providing the research and evaluation support.
Community Solutions: Led by Adolfo Matamoros, professor of civil engineering, members focus on joint projects championed by and with the City of San Antonio's Office of Innovation to improve the quality of life for residents. UTSA faculty members work on research projects designed to improve the quality of life for city residents; pursue federal funding for these collaborative projects; and inform policy that can impact economic development and urban planning. The relationship was solidified with the signing of a memorandum of understanding (MOU) to create the R&D League back in 2020 with the university being a founding member.
UTSA's new RIGs build on REDKE's success with three inaugural teams that were launched over a year ago. Those inaugural research groups include:
Quantum Computation and Quantum Information: Led by Jeff Prevost, professor of electrical and computer engineering, the Quantum RIG is working on a $5 million National Science Foundation (NSF) award application for a project entitled, "Expanding Capacity in Quantum Information Science and Engineering (ExpandQISE)." The NSF funding will help UTSA quantum researchers expand their efforts into new areas, leading to both novel research and new course offerings. One particularly critical area where advances in quantum are expected to make a societal-level impact is in cryptography.


Human Performance: The Human Performance RIG enters its second year with a leadership change. Marzieh Hajiaghamemar, professor of biomedical engineering, has taken over the reins. Members of the Human Performance RIG have submitted proposals for internal funding from REDKE that will be announced in the new year.


Social and Environmental Challenges in Latin America (SECLA): Led by Jason Yaeger, professor of anthropology, the SECLA RIG had a successful first showcase on Earth Day earlier this year. SECLA members gave brief presentations on their current research in social and environmental challenges in Latin America. Valeria Meiller, professor of modern languages and literatures, showed her short film, "El Caso de la Carne/The Case of Meat." Jessica Eise, professor of communication, presented and discussed her book, "Colombian Coffee Farmers and the Fight to Adapt to Climate Change: Engaged Research in Action."