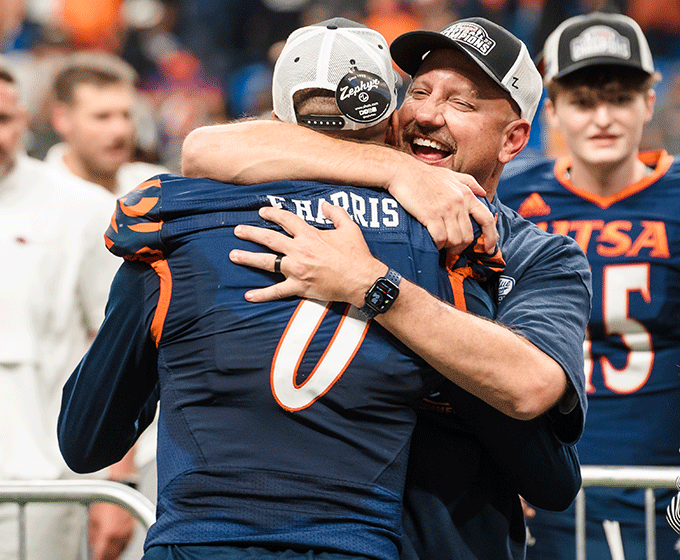 DECEMBER 3, 2022 — Frank Harris passed for 341 yards and four touchdowns and Clifford Chattman had an interception for a school-record fourth consecutive game, as the No. 23-ranked Roadrunners repeated as conference champions with a 48-27 victory in the Ryan Conference USA Championship Game on Friday night in front of 41,421 fans at the Alamodome.
With their 10th straight win, the Roadrunners ran their record to 11-2 on the season and successfully defended the program's first-ever conference title won last year. It also marked their second triumph over the Mean Green (7-6) this season and improved third-year head coach Jeff Traylor's UTSA record to 30-9.
Harris completed 32 of 37 passes, good for a C-USA Championship Game-record .865 completion percentage, nearly breaking his own program record in the process. The senior from Schertz Clemens High School tossed three of his touchdowns to Zakhari Franklin, who had 10 receptions for 144 yards while matching the school record for TD receptions in a game. Harris also rushed for 49 yards and a score to give him 390 yards of offense and five total scores. 
Meanwhile, Kevorian Barnes exploded for a career-high 175 rushing yards and a TD on 28 carries to pace a ground game that piled up 227 yards. The redshirt freshman from San Augustine averaged 6.2 yards per tote in logging his fourth 100-yard game of the year. 
Chattman shared the team lead in tackles with nine and added a pass breakup to go along with his fourth interception of the season, all coming in the last four games.  
Trevor Harmanson matched Chattman with nine stops, and Corey Mayfield Jr. registered six tackles and a PBU to tie the program record for passes defended in a season with 17, while also setting the program record for career games played with his 60th. Ken Robinson came up with his first career pick as UTSA forced a pair of UNT turnovers on the night. 
UTSA built a 31-13 lead in the third quarter on a 14-yard scoring connection from Harris to Franklin, only to see UNT storm back to within one score when Isaiah Johnson reached the end zone on a 1-yard run early in the fourth to make it 34-27. 
The Roadrunners quickly answered the call, as Harris hit a wide-open Franklin on a 39-yard TD pass to make it 41-27 with 11:09 remaining.
UTSA added to its lead with a 16-yard touchdown pass from Harris to Oscar Cardenas, who caught a career-best six balls for 84 yards, with a little more than four minutes left to play to seal the win.
Austin Aune passed for 194 yards and a TD, while Ikaika Ragsdale rushed for 108 yards and a score on 17 attempts to lead the Mean Green offense. KD Davis had a game-high 14 tackles for the UNT defense. 
UTSA marched 75 yards in seven plays to open the scoring on a 27-yard burst up the middle by Barnes. 
UNT answered with an 11-play, 70-yard drive that was capped by a 2-yard plunge by Ragsdale on a fourth-down-and-goal attempt. 
The Mean Green took a 10-7 lead early in the second stanza after Ethan Mooney put an end to a 14-play, 95-yard drive with a 22-yard field goal. 
The Roadrunners reclaimed the lead on an 11-yard quarterback keeper up the middle by Harris near the midway point of the second quarter and later extended it to 24-10 after a 42-yard field goal by Jared Sackett followed by a 32-yard TD catch by Franklin just before the intermission.
UTSA will await its bowl destination, which is expected to be announced on Sunday, December 4.