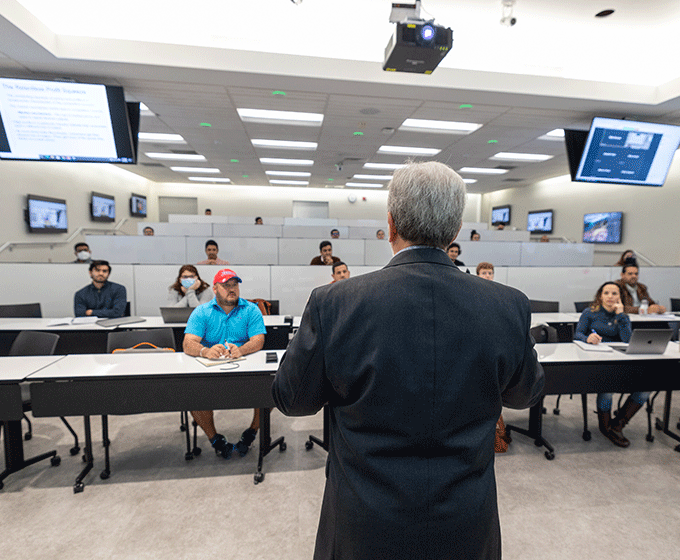 FEBRUARY 15, 2023 — The Carlos Alvarez College of Business' on-campus M.B.A. program has been named one of the best by The Princeton Review in its list of Best Business Schools for 2023.  
"This ranking reflects the quality of our program in comparison with other schools throughout the world," said Juan Manuel Sanchez, UTSA associate dean of graduate studies and research. "Students in our M.B.A. programs obtain critical business knowledge, leadership skills and a strategic mindset that helps propel them to the next level of their careers."  
The Princeton Review® is a leading tutoring, test prep and college admissions services company. 
The editors for the M.B.A. ranking weighed more than 60 data points in making their selection of the 243 top schools. Criteria included data from surveys the company conducted in 2021-2022 of administrators at schools offering on-campus M.B.A. programs as well as surveys over the past three academic years from students enrolled in the programs. Topics covered included academic offerings, faculty, career services and campus culture.
"All of the business schools that made our list for 2023 deliver exceptional business education and programs," said Rob Franek, editor-in-chief at The Princeton Review. "We commend them for their excellent academics, and we recommend them highly to prospective MBA applicants."  
The Princeton Review also includes information about each university from the perspective of the students.
UTSA, according to students, is a school "developing rapidly in the UT System, and the College of Business is one of the top schools in the South." The university has a "high reputation" for top-notch "finance and marketing courses," "generous scholarships" and "great professors."