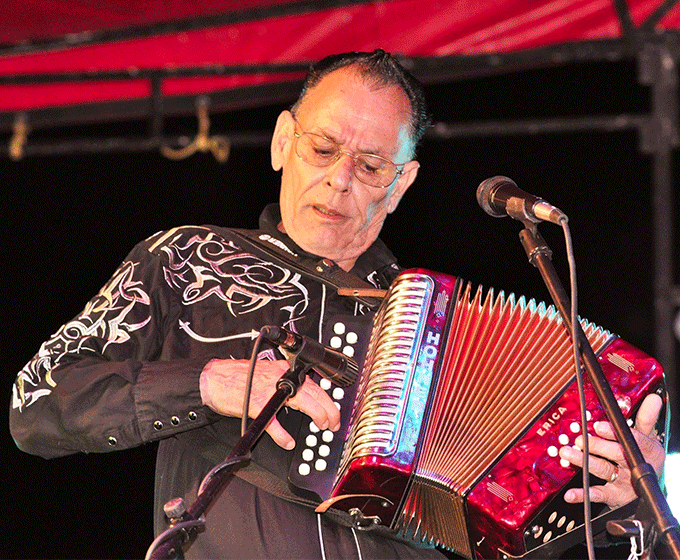 FEBRUARY 1, 2023 — San Antonio native Santiago Jiménez Jr., a Grammy-nominated American Folk musician, will join the UTSA School of Music's spring lineup as part of its guest concert series, En Vivo – In the Hall.
Jiménez Jr., will perform at 7:30 p.m. on Wednesday, February 8, in the Arts Building Recital Hall on the Main Campus. The concert is free and open to the public.
En Vivo will feature a night of conjunto music as Jiménez Jr. performs songs from his newest album, Still Kicking, and shares how each song was inspired. The selection of songs will capture an authentic San Antonio sound that harkens back to a period when conjunto music that was at its peak in the early 1960s. The concert will give the audience a look into the world of conjunto music and Mexican American culture that the Jiménez family has made historic contributions to.
"Music comes from the traditional Jimenez family...my grandfather, Don Patricio Jimenez, was a musician in the late 1800s and then papa started recording in Panama in 1928. Flaco started recording with my dad when he was 12 years old," Jiménez Jr. said. ["I told him [my dad], 'If you ever pass away, I'm going to keep your music alive.'" 
The Jiménez family has a legacy of music and actively contributes to Mexican American culture. Jiménez Jr.'s older brother Leonardo "Flaco" Jiménez is known to be one of the most famous Tejano accordionists. His father, Santiago Jiménez Sr. was inducted into the Tejano Music Awards Hall of Fame in 1993 and the Texas Conjunto Music Hall of Fame and Museum in 2003 for his contributions to Mexican American culture and conjunto music.