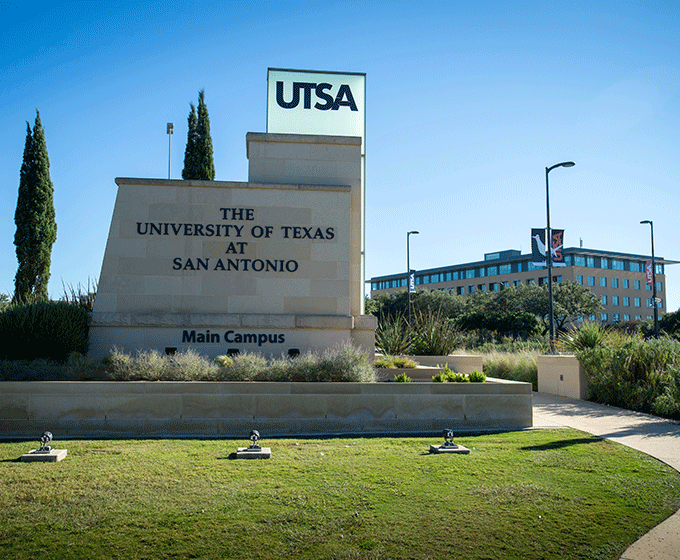 FEBRUARY 1, 2023 — UTSA Provost and Senior Vice President for Academic Affairs Kimberly Andrews Espy, chair of the search advisory committee for the Senior Vice President for Research & Economic Development, today announced upcoming campus visits by four finalist candidates. UTSA faculty, staff and students are invited to hear from each finalist at a series of open forums.
Reporting to the president and serving on the President's Cabinet, the Senior Leadership Team, the Provost's Academic Council and the University Leadership Council, the senior vice president serves as the chief research officer of the institution. In this role, the senior vice president leads UTSA Research, Economic Development, and Knowledge Enterprise (REDKE), providing vision, strategy, oversight and management of all aspects of the university's research operations and administration, centers and institutes, commercialization initiatives and economic development efforts, both on campus and in collaboration with external partners, including industry partners as well as local, state and federal agencies. As a strategic advisor to the president and provost, the senior vice president sets the vision and strategy for the university's research agenda and makes recommendations regarding research objectives, programs, policies and practices.
The senior vice president will lead an organization of more than 150 professional staff to provide the university community with the resources necessary to further develop UTSA's burgeoning knowledge enterprise, build upon areas of existing research excellence and create a campus environment that enables entrepreneurship, innovation, transdisciplinary collaboration and scholarly achievement.
The following forums will be held at the Main Campus and virtually. Information on the individual candidates and meeting links will be available online 24-48 hours in advance of each scheduled forum. UTSA authentication will be required to view all candidate information. Additionally, the search committee would like to receive feedback from faculty, staff and students who attend any of the candidate forums. A survey for each candidate will be posted immediately following their forum.
Candidate 1
Monday, February 6
2–3 p.m.
Main Building Auditorium, MB 0.104
Candidate 2
Wednesday, February 8
2–3 p.m.
Main Building Auditorium, MB 0.104
Link to virtual forum
Candidate 3
Monday, February 13
10:30–11:30 a.m.
Main Building Auditorium, MB 0.104
Link to virtual forum
Candidate 4
Monday, February 20
2–3 p.m.
Main Building Auditorium, MB 0.104
Link to virtual forum