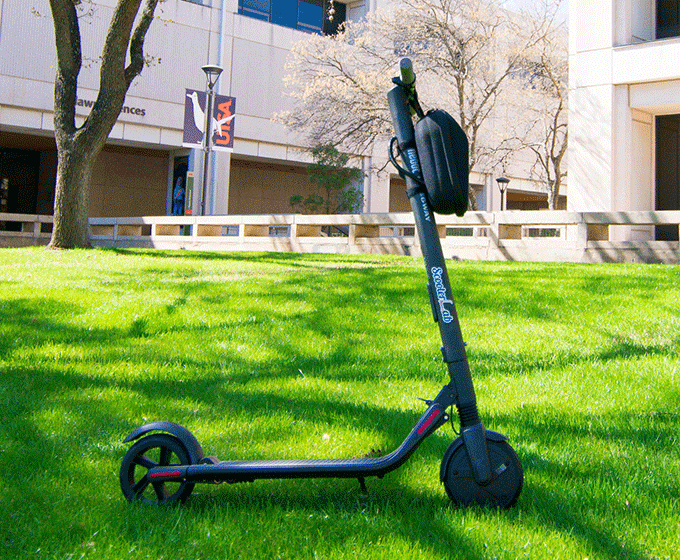 MARCH 2, 2023 — When a speedy campus scooter nearly collided with Murtuza Jadliwala, he had an epiphany. The micro-mobility form of transportation could be a vehicle for change.
Scooters carry people as well as sensors—sensors that can collect a wealth of data. This data is key to improving the quality of life. With that in mind, Jadliwala, an associate professor in the UTSA Department of Computer Science, created the ScooterLab, which has received a $1.7M grant from the National Science Foundation.
"This funding is critical for ScooterLab as it enables us to take this community research infrastructure from vision to reality," Jadliwala said. "We are hoping that our new research data collection infrastructure will enable exciting research."
The ScooterLab is an instrumental piece within the university, the MATRIX AI Consortium for Human Well-Being and the School of Data Science, as the data it gathers will facilitate multi-disciplinary research efforts. Data collected by the ScooterLab will spur micro-mobility and transportation related research as well as advance research in varying machine learning, computer vision and image processing, high-performance computing, big data analytics and privacy enhancing technologies.
Scooter sensors carry a wealth of data.
"Jadliwala, who is thrust co-lead for machine learning and deployment at the MATRIX AI Consortium, and his team are developing groundbreaking micro-mobility research infrastructure. It has the potential to transform the way we think about micro-mobility and create new opportunities for sustainable transportation solutions. This project is a testament of MATRIX researchers' quest to push the boundaries of what's possible to improve people's lives," said Dhireesha Kudithipudi, director of the MATRIX AI Consortium.
Funding will be used to deploy the first set of scooters on both the main and downtown campuses. The battery-operated fleet will include various sensors, remote communication enhancements and control capabilities to gather data related to the riders' mobility, context and environment.
An initial $100,000 NSF grant awarded in 2020 supported a one-year pilot program to develop the concept and build the technology and gauge community interest in such a data collection infrastructure.
Students at UTSA will be able to tap a small fleet of scooters for little to no cost. In exchange, students will agree to allow the ScooterLab to use data collected from their rides for research and other scientific purposes.