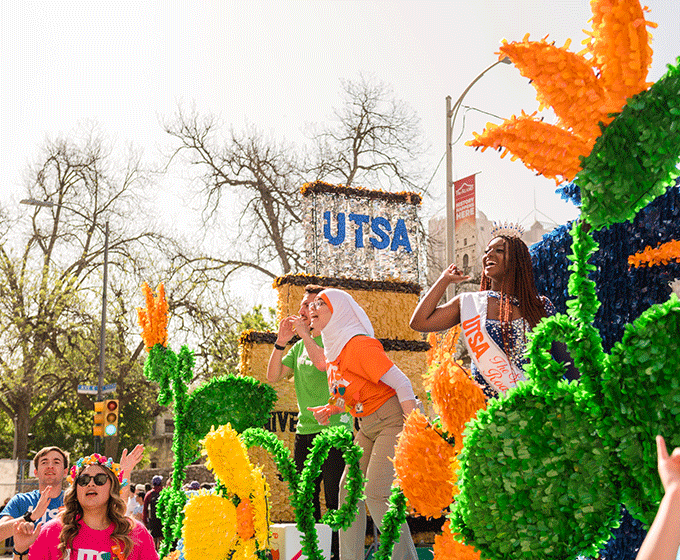 APRIL 28, 2023 — Today's the day that those in downtown San Antonio will be treated to a procession of performers, giant balloons, antique cars, military brigades and even a few standouts from the UTSA community—all taking part in the founding event of Fiesta San Antonio: The Battle of Flowers Parade.
Today's event marks the 132nd year of the parade. And leading this year's parade as the Grand Marshal is UTSA Football head coach Jeff Traylor, who was officially introduced as the 2023 Battle of Flowers Parade Grand Marshal in February. Traylor will lead the procession of floats and performers as the parade winds its way through the streets of downtown.
The festivities kick off at 9:30 a.m.
This year's parade will also feature a performance by UTSA's Spirit of San Antonio Marching Band and appearances by UTSA student leaders, including senior Erica McFarland, a mechanical engineering major, 2021-2022 Spirit of the Roadrunner recipient and McNair Scholar, who was named Queen of Soul for the 2023 Fiesta festivities. The queen and her court provide representation of the African-American community at Fiesta and various other civic activities throughout the year.
Traylor, SOSA and McFarland will join the 9,000 participants—including 2,000 members of area high school ROTC groups, 31 marching bands, 46 dazzling floats, equestrians and carriages—taking part in Battle of Flowers 2023.
This signature Fiesta event is one of the oldest parades in the U.S., and the only one produced entirely by women, all of whom are volunteers. The aptly titled Battler of Flowers Association supports educational, artistic, social and philanthropic achievements of San Antonio's youth. The parade offers nonprofit organizations the opportunity to raise funds for worthy causes with over 45,000 parade seats sold by charities along the parade route each year.
Traylor became UTSA's head football coach in December 2019. The two-time Conference USA Coach of the Year has led the Roadrunners to a 30-10 record in his first three years at the helm, already the most wins and best winning percentage by a coach in program history. He also guided UTSA to back-to-back C-USA championships and top-25 rankings in all three major polls in each of the last two seasons, as well as to bowl games for three years in a row.