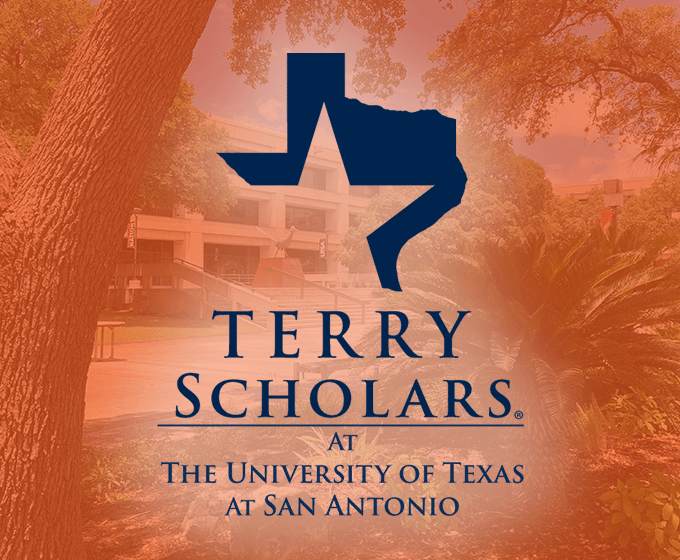 MAY 15, 2023 — UTSA announced today that 22 students from across Texas have been selected by the Terry Foundation® to be Terry Scholars® at UTSA. This competitive scholarship program is designed to help high achieving, motivated and community-minded students develop in the areas of scholarship, leadership, service and community.
Terry Scholars are distinguished by a deep rooted desire to enrich the general welfare of the community and an established record of leadership.
Created by Houston philanthropists Howard and Nancy Terry in 1986, the Terry Foundation is the largest private scholarship provider in Texas. Terry Scholarships are awarded at 13 Texas public universities. Terry Scholars are selected based on three criteria: academic achievement, demonstrated leadership, and financial need.
The Terry Scholarship is a last dollar scholarship that provides Texas high school seniors entering their first year in college with up to eight semesters of funding toward their first bachelor's degree. The scholars also receive funding to support a study abroad experience.
Additionally, Terry Scholars at UTSA participate in regular service projects and enjoy the camaraderie of being part of community of scholars whose lives are enriched by making a difference in their communities.
"Terry Scholars at UTSA have a record of getting involved and giving back to their communities in remarkable ways," said Kristi Meyer, assistant dean for special programs within the UTSA Honors College. "They come to UTSA with a deep desire to serve and leave with the knowledge, experiences, skills and confidence to focus that passion into careers and other efforts that make a lasting impact in Texas and beyond."
Fall 2023 Cohort of Terry Scholars at UTSA