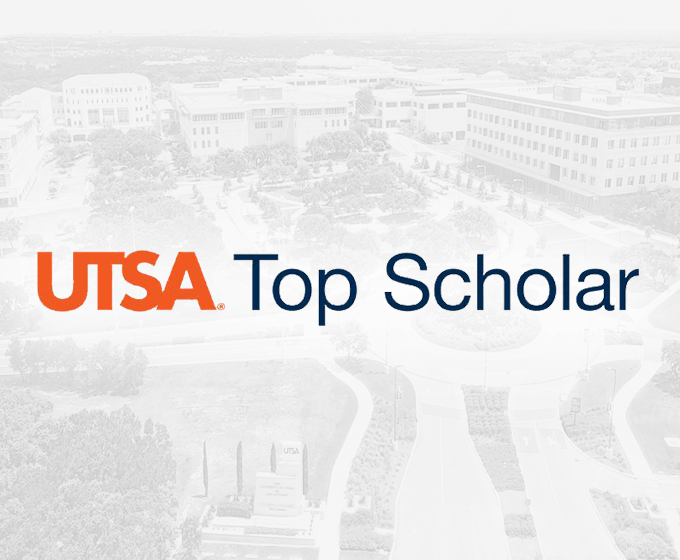 MAY 11, 2023 — UTSA announced today that 10 high-achieving Texans have been named to its Fall 2023 Top Scholar program, a competitive four-year program that combines a merit-based scholarship with personalized experiences in academics, leadership and community service.
These scholars were selected from a pool of more than 200 applicants which were narrowed down to 33 finalists who were invited to campus earlier this year. The 10 students who have committed to join the Top Scholar Roadrunner family this fall rank among the top 3% of their high school class and earned mean SAT/ACT scores of 1425/32, respectively.
Managed by the UTSA Honors College, the Top Scholar program is a community of best-in-class students who are intellectually curious and eager to pursue knowledge and achievement. The program focuses on knowledge, leadership and service and is recognized across Texas for developing award-winning and academically talented student leaders.
Each Top Scholar receives a comprehensive, last-dollar scholarship for up to four years (eight fall/spring semesters) that includes funding for tuition, fees, and room and board. The scholars also receive support for internships and study abroad programs.
Additionally, Top Scholars enjoy signature programming that may include interaction with senior university and community leaders, attendance at conferences and the opportunity to meet recognized scholars in their chosen fields, one-on-one advising and personalized career development, and participation in cultural and community service events.
"Over the last decade, the Top Scholar program has helped so many young scholars discover and channel their passions while developing into tomorrow's leaders," said Kristi Meyer, assistant dean for special programs within the UTSA Honors College. "In turn, our Top Scholars have contributed so much to the university and greater communities. They are highly motivated to make a difference in the world and are deeply engaged in their communities, and this incoming class is no exception. We are thrilled to welcome another terrific group of Top Scholars to UTSA this fall."
Fall 2023 UTSA Top Scholars Cohort