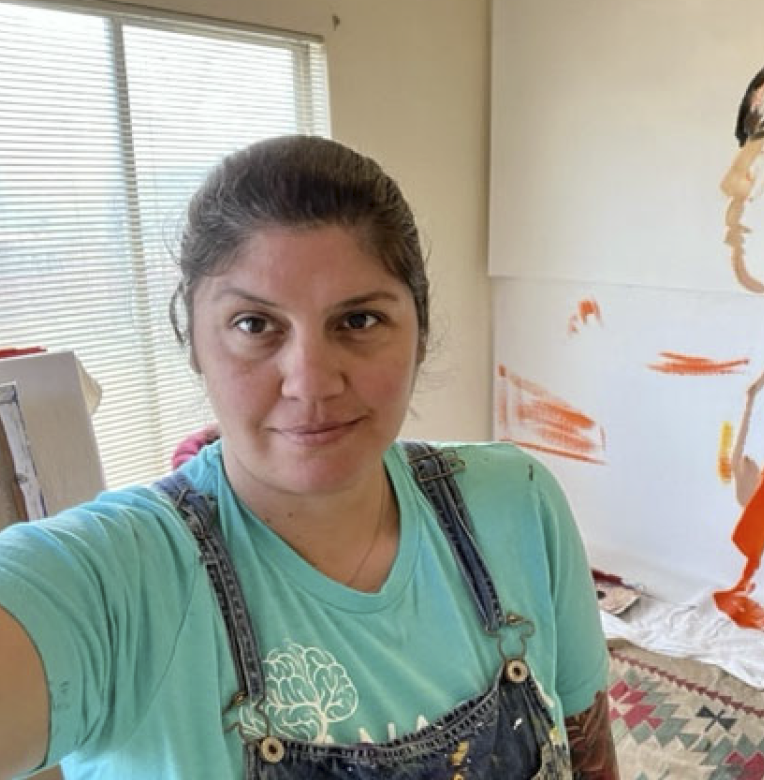 Cristina Sosa Noriega specializes in portraits and murals.
Noriega will install the first of the two murals on San Pedro I's west façade. A specialist in portraits, murals and public art, her mural will speak to San Pedro Creek's past and its ties to the future.
Noriega has created several art projects in San Antonio and South Texas. She is best known for her "My Loteria" series of 54 oil paintings, in which she re-created the images and symbols of the classic Mexican Loteria with the Tex-Mex symbols from her childhood. She is also the artist behind the winter-themed mural at the Southwest Loop 410 underpass at Villamain Rd., one of a series of four murals commissioned through the City of San Antonio's Public Art Program.
Last summer, Noriega painted the mural of Amerie Jo Garza, a student who was lost in the mass shooting at Robb Elementary, as part of the Healing Uvalde Mural Project.
Hogensen's mural will wrap around the northeast corner of San Pedro I, facing Dolorosa St. Its imagery will focus on San Pedro Creek's recent past.
Mark Hogensen combines irregular shapes and illusory form in his pieces.
A retired art professor from Palo Alto College, Hogensen employs heightened perspective and a bold palette, combining irregular shape and illusory form to create abstractions that appear to jump off the wall. Drawing parallels to architecture and landscape, his imagery evokes a sense of movement, encouraging the viewer to traverse pseudo-geometrical forms and drift amidst bulbous shapes. His art simultaneously draws on his background in architecture and construction.
UTSA worked closely with the City of San Antonio's Department of Arts & Culture to advance its public art mural project. The project began with a community engagement process that enabled the university and its partners to collaboratively define its scope, establish storytelling themes for the murals and issue an invitation for artists to submit their ideas. Centro San Antonio and the San Antonio River Authority were central to these discussions.
The university wanted the art to be educational, interpretive or tell a story focused on discovery, collaboration, new knowledge and science, a reflection of the programs housed in San Pedro I.
Members of the local community reviewed the concepts submitted by the artists prior to the final determination, which was made by five local judges.
"We enjoyed working alongside UTSA on the process to develop public art as part of the institution's downtown presence," said Krystal Jones, director of the City of San Antonio Department of Arts and Culture. "UTSA's dedication to involving the community is a great example of how public art can be incorporated into development in a thoughtful and intentional way."
Noriega's artwork is near completion and will be installed over several days, beginning on May 5. Hogensen's mural will be installed later in the year.
"San Antonio and UTSA are committed to working together to preserve the culture of our community," said Teresa Niño, UTSA vice president for university relations. "These new murals will be valuable additions that enhance our city and make it a beautiful place to live, learn, work and play."