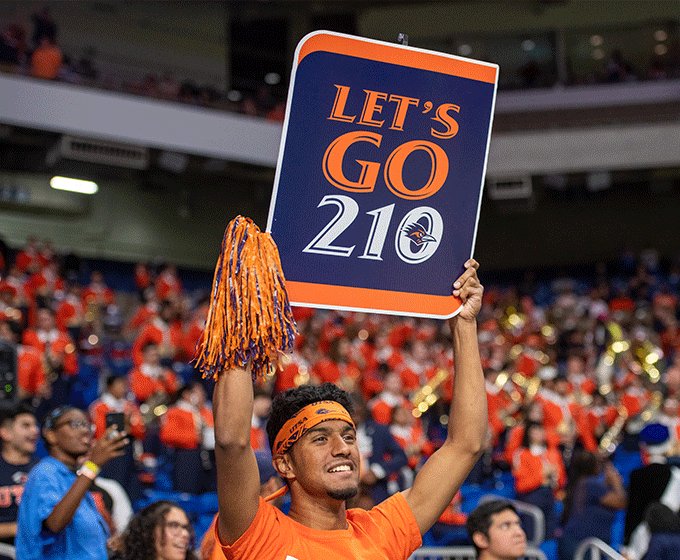 JUNE 8, 2023 — The American Athletic Conference on Thursday announced more kickoff times and network designations for the 2023 football schedule and UTSA's home opener against Texas State University has been selected for ESPN+ with a 2:30 p.m. kickoff on Saturday, September 9, at the Alamodome. 
The Roadrunners have won all four previous matchups with the Bobcats, including a 51-48 double-overtime thriller in the 2020 season opener, which marked the debut of UTSA Head Coach Jeff Traylor, who coached new Texas State Head Coach G.J. Kinne at Gilmer High School. 
This announcement comes one week after game times and TV networks were unveiled for the season opener at Houston, as well as Friday night matchups with Army West Point on September 15 and South Florida on November 17. 
The Roadrunners will kick off their 13th season of play and fourth under Traylor on Saturday, September 2, against Houston in a nationally televised contest on FS1. Kickoff is set for 6 p.m. in what will be the program's second visit to TDECU Stadium and the first since a 27-7 victory to open that facility on August 29, 2014. It will mark the fourth all-time meeting with the Cougars, who are moving to the Big 12 Conference this summer. 
The Roadrunners will welcome Army West Point to Military City USA on Friday, September 15, in a nationally televised game on ESPN. Kickoff is set for 6 p.m. at the Alamodome. UTSA pulled out a 41-38 road victory in overtime last season for its first win in a series led by the Black Knights, 2-1. 
UTSA will face USF for the first time on the gridiron in an ESPN2 broadcast slated for 8 p.m. Friday, November 17, at the Alamodome. 
The following week, which marks the final week of the 2023 regular season, will feature two Black Friday games, one at 11 a.m. CT on ESPN and one at 2:30 p.m. on ABC on Nov. 24. Two of four games currently slotted for Saturday, Nov. 25 — UTSA at Tulane, Memphis at Temple, Tulsa at East Carolina and UAB at North Texas — will move to those Black Friday windows in a selection that will be made by Oct. 9. 
The American Athletic Conference Football Championship Game will air on either ABC or ESPN at 3 p.m. CT on Saturday, Dec. 2. The top two teams in the final single-division regular-season standings will meet in the ninth American Athletic Conference Football Championship. 
Most of the remaining start times and television designations for the 2023 season will be made on a weekly basis throughout the season as part of the conference's 12-day selection process. For example, UTSA would be notified of its kickoff time and television network designation for the October 7 league opener at Temple on Monday, September 25. The most up-to-date schedule, with television designations, is available at TheAmerican.org. 
UTSA's other nonconference contest is set for Saturday, September 23, against Tennessee, which finished 11-2 and ranked No. 6 in both major polls in 2022. The first-ever meeting with the Volunteers will take place at Neyland Stadium in Knoxville. 
Following their lone idle week of the regular season, the Roadrunners will play their inaugural AAC contest on the road against Temple on October. 7. The first meeting with the Owls will take place at Lincoln Financial Field in Philadelphia. 
UTSA's first-ever home AAC game will come the following Saturday against a familiar foe, the UAB Blazers. The Roadrunners have come out on top in each of the past two meetings in the series, including a 44-38 double-overtime road triumph last November. 
The Roadrunners will travel to Boca Raton for an October 21 date with Florida Atlantic before returning home to host East Carolina on Oct. 28 for the two schools' first meeting on the gridiron. 
UTSA will travel to Denton to face North Texas on November 4 in a continuation of a series in which the Roadrunners hold a 6-5 edge after defeating the Mean Green twice this past fall, including a 48-27 victory that secured a second straight C-USA title. 
The Roadrunners will welcome Rice to San Antonio on November 11 in a renewal of a series that has seen UTSA win the last eight contests, including a 41-7 road decision this past November that clinched the C-USA regular season crown and a spot in the conference championship game. 
 The American welcomes UAB, Charlotte, Florida Atlantic, North Texas, Rice and UTSA to its ranks in 2023. They will join continuing members East Carolina, Memphis, Navy, South Florida, SMU, Temple, Tulane and Tulsa to comprise a conference that will continue to compete for perennial New Year's Six bowls and College Football Playoff appearances. 
Season tickets for the 2023 UTSA football home schedule are on sale now. Fans can call 210-458-UTSA (8872) or visit goUTSA.com/tickets to purchase their tickets.  
Season ticket prices start at $90 per seat. Payment plans for all season ticket packages are available.  
Current UTSA students receive free admission to all home games by downloading tickets via their Account Manager. 
Under the direction of two-time conference coach of the year Jeff Traylor, the Roadrunners are coming off an 11-3 campaign that saw them capture their second straight C-USA Championship and play in a bowl game for the third year in a row. UTSA has been ranked in the top 25 in each of the last two seasons and boasts a combined 23 wins over that span, the fourth-best total among all FBS teams behind only Georgia (29), Michigan (25) and Alabama (24).