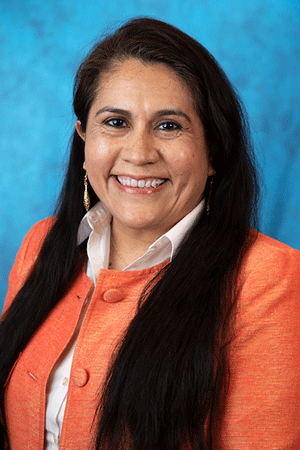 Araceli Martinez Ortiz
Araceli Martinez Ortiz, who serves as the director of PREP, joined UTSA in April 2022 as the Microsoft President's Endowed Professor and a professor of engineering education in the UTSA Department of Biomedical Engineering and Chemical Engineering. She is a leading voice in engineering education.
Born in Mexico City and raised in Detroit, Ortiz and her five siblings were immersed in STEM-focused educational experiences. During their childhood, they explored STEM through science and math clubs, pre-engineering Saturday and summer programs. As a teen, Ortiz participated in the Detroit Area Pre-College Engineering Program, a prestigious program much like PREP.
When it came time to apply to college, Ortiz received a scholarship to enroll at the University of Michigan, where she earned a bachelor's in industrial engineering. Additionally, she completed her master's degrees at Kettering University and Michigan State University, and she earned her doctoral degree in engineering education at Tufts University.
Ortiz has built a career spanning more than 30 years in engineering and in engineering education. To support her work, she has secured more than $40 million in funding from the National Science Foundation, the U.S. Department of Agriculture, the U.S. Department of Education and the National Aeronautics and Space Administration (NASA). She is now a professor and director of graduate programs in engineering education at UTSA.
"I grew up in Detroit, dreaming mostly of the fascinating places I learned about through my ferocious reading and in finding enterprising ways to help my family make a little bit more money to feel security and joy. Discovering how exciting engineering could be, how satisfying it was to solve technical problems and actually becoming an industrial engineer and later a professor of engineering changed my life," said Ortiz. "This career has broadened my technical and business expertise, it has provided a comfortable life and by interacting with so many people in my many projects, I have realized that how we invite, motivate and guide students in their educational journeys matters tremendously."
She added, "It is critical that more engineering educators value the diversity of experiences that students bring and that, as professors and teachers of engineering, we commit to doing the best job possible. We are not only preparing future generations of engineers; we are often also changing lives."
Retired mathematics professor Manuel P. Berriozábal founded the PREP program at UTSA in 1979 and, in its early days, sought funding from national, state, local and private sources to provide PREP to youth at no cost. Over the years, the program has grown to include more than 125 school districts across Texas.
Today, PREP has more than 50,000 Texas alumni, with over 65% of participants identifying as Hispanic and 53% as female. Equally as important, the program has become so well regarded that colleges and universities across the country have adopted the model. PREP now exists at 33 sites in 25 cities and seven states.
The PREP program's curricula, a four-leveled approach, draw on the cultural background and experiences of students to build their knowledge and awareness of STEM principles.
Level 1: Engineering Design, Logic and Algebraic Reasoning introduces students to the engineering design process, problem solving and an awareness of how STEM challenges impact their lives and communities.


Level 2: Engineering Physics and Integrated Algebra provides a greater focus on real-world engineering challenges, integrating core concepts such as electrostatics, energy and motion.


Level 3: Probability and Statistics/Technical Writing helps students develop knowledge and skills in basic probability theory, analytical statics, proper usage of technical language and reporting results.


Level 4: Innovations in Engineering challenges students to explore some of the latest trends in engineering science, with a focus on materials science and nanotechnology. Students in this advanced course have an opportunity to visit UTSA research laboratories.
An optional fifth year of PREP prepares students with an introduction to engineering research content and skills and the opportunity to serve as high school research interns for two additional weeks in the summer. PREP V students earn a stipend and a marketable addition to their resume. This also qualifies most students for unique PREP Alumni scholarships, should they choose to apply and be admitted to the Margie and Bill Klesse College of Engineering and Integrated Design (Klesse College) when it comes time to go to college.
"The PREP program offers a comprehensive, engaging and inclusive STEM program for students throughout the San Antonio area," said Eric Brey, interim dean of the Klesse College. "Through the program, students gain knowledge of the impact of STEM on their lives and communities, develop a deeper sense of appreciation for STEM and become more confident in their own abilities and voices."