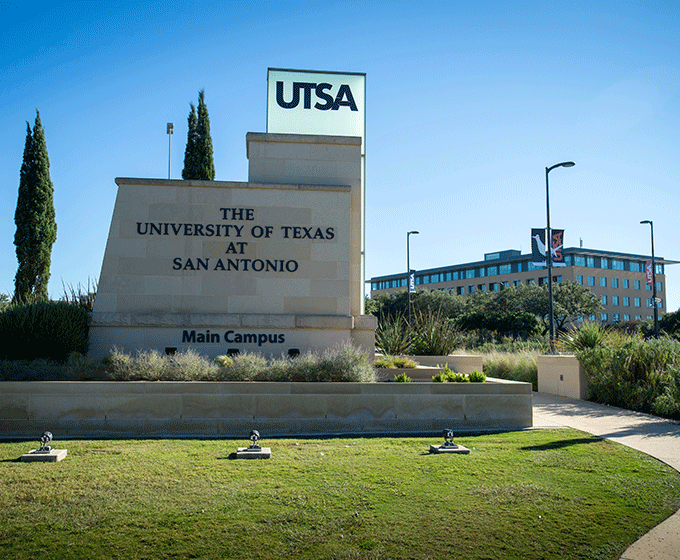 AUGUST 9, 2023 — Editor's note: The following message was sent today via email from President Taylor Eighmy, Interim Provost and Senior Vice President for Academic Affairs Heather Shipley, Senior Vice President for Business Affairs and Chief Enterprise Development Officer Veronica Salazar and Interim Vice President for Research, Economic Development, and Knowledge Enterprise JoAnn Browning to all faculty and staff:
It is with great pride that we share UTSA has met the State of Texas' eligibility criteria to participate in the National Research University Fund (NRUF) and successfully passed the audit by the State Auditor's Office. NRUF has provided a dedicated source of funding to enable emerging research universities in Texas to achieve national prominence. This milestone solidifies UTSA's position as a university capable of tackling society's grandest challenges on local, state and national scales.
Along with our Carnegie R1 designation, achieving NRUF was always a waypoint on our journey to become a great public research university. All of you—our faculty and staff—played an essential role in this accomplishment. We cannot thank you enough for your commitment to excellence and professional contributions to UTSA.
We'd especially like to thank the Research, Economic Development, and Knowledge Enterprise (REDKE) division; Vice Provost for Graduate Studies and Dean of the Graduate School Ambika Mathur and her team; the auditing team that crossed between the divisions of Business Affairs, Academic Affairs and REDKE; and the deans, department chairs, and all faculty who participated in each phase of the evaluation process.
It's important to note that—as a result of outcomes previously shared from the 88th Legislative Session—NRUF will now be eliminated to create the Texas University Fund (TUF). This transition, which must first be approved by a statewide referendum in November, will occur in fiscal year 2024. Although UTSA will not be eligible to participate in TUF, we will still receive our expected $5 million share of the fiscal 2023 NRUF fund.
Additionally, when the legislature eliminated NRUF, they also renamed the Core Research Support Fund (CRSF) to the National Research Support Fund (NRSF). NRSF is anticipated to bring additional resources to UTSA and the other three emerging research universities in the UT System—The University of Texas at Arlington, The University of Texas at Dallas and The University of Texas at El Paso—contingent upon legislative policy that requires UT System to match NRSF funding. We are currently working with UT System to better understand these additional funding opportunities. We will share updates as we learn more about projected increases over the next two years.
In the meantime, let's take a moment to celebrate our NRUF eligibility and the opportunities it brings to UTSA. Congratulations to all!