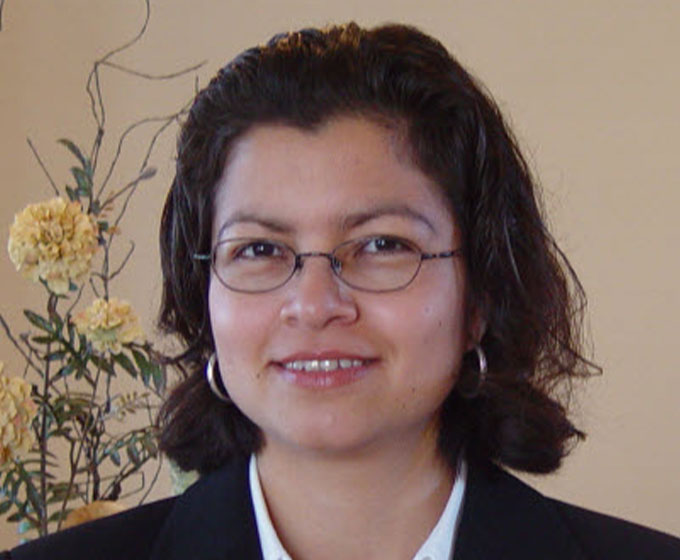 SEPTEMBER 14, 2023 — UTSA Associate Professor of History Gabriela Gonzalez specializes in U.S-Mexico borderlands history, Latino history and women's history. She is the author of "Redeeming La Raza: Transborder Modernity, Race, Respectability, and Rights" (Oxford University Press, 2018) and has written articles about several transborder activists, including Carolina Munguía and Emma Tenayuca.
Currently, Gonzalez is working on a book-length political biography of Jovita Idar, a Mexican-American journalist, activist, teacher and suffragist who was selected to be featured on the American quarter as part of the United States Mint's American Women Quarters Program.
UTSA Today recently sat down with Gonzalez to learn about her work and to explore the lessons that transnational activists are leaving for the next generation.
What initially drew you to study Latino and women's activism?
GG: I became interested in the histories of women and people of color even before I was a history student. My undergraduate degree is a bachelor's degree of science in advertising. While studying in this University of Texas at Austin program, I took a class titled "Advertising and Society," and the professor discussed the history of advertising using print ads from the past that illustrated various forms of racism and sexism in society.
Seeing groups of humanity degraded through the use of stereotypes upset me, but at the time there was little in my education to help understand how constructions of race and gender had operated in history. I completed my degree and worked for an advertising specialty company for one year, saving money and planning my return to school to study the histories of marginalized communities.
The following year, I enrolled in UTSA master's in history program and from there went on to pursue doctoral studies in United States history at Stanford University.
What are some distinguishing qualities of your work?
GG: My book "Redeeming La Raza: Transborder Modernity, Race, Respectability, and Rights" focuses on an array of ethnic Mexican activists who shared bilingual, bicultural, and transborder lives as well as shared the goal of creating a more fair and just American society; however, these women and men used different methods in pursuit of their noble vision.
That said, my book, is not simply focused on left-of-center or right-of-center activism. Rather, "Redeeming La Raza" engages a variety of political approaches, strategies and tactics that pre-date the Chicana/o movement of the 1960s and 1970s. In the process of doing this, the book examines various politicized communal bonds of family, religion, male and female voluntary associations, education, civil rights organizations and labor unions placed in the service of that noble vision of human rights and dignity for all.
How has your research evolved over the years?
GG: Over the years, I have paid more attention to historical events, not just in the United States, but also in Mexico because many of the historical figures I have studied had transborder personal and professional connections. This is in line with the significant shift in historical studies, moving us away from strict nation-state parameters to examinations of the complexity of people's lives, in particular those who live in borderlands communities such as Laredo and San Antonio.
Transnational histories and studies help us to understand the lives of people who may have had family, friends, and associates on both sides of the border and who may have engaged in transborder projects.
How have oral histories and storytelling impacted the narratives of Chicano/a communities and individuals in the borderlands?
GG: Oral history and storytelling are important in preserving and sharing narratives of Chicano/a communities and individuals because as members of historically marginalized communities, access to literacy and print culture may not have been available to all ethnic Mexicans. In particular, some lower waged workers, immigrants, and Mexican Revolution war refugees may have relied on the oral transmission of stories and other information. But even among more privileged, literate sectors of ethnic Mexican communities, oral histories and storytelling may have been preferred when transmitting certain information that for whatever reason the parties involved may have preferred not to put in writing.
Tell us about your next project to preserve and center the history of Jovita Idar. Why does she interest you? 
GG: I became interested in Jovita Idar because she operated as a servant-leader, using her knowledge, skills, and energy for the good of others. A pious Methodist, she lived out the Social Gospel mandate of applying her Christian beliefs and set of ethics to the social problems she witnessed, such as racism, discrimination, and poverty in the Juan Crow Texas of the early twentieth century. Her quest for a truly democratic society with liberty and justice for all flowed naturally from her Christian beliefs that humans are made in the image of God and of equal worth and dignity.
While my first book, "Redeeming La Raza," introduces readers to Jovita Idar and her world in its early chapters, the book also focuses on other activists such as Emma Tenayuca, the Munguia family (Henry Cisneros' maternal grandparents) and LULAC. Thus, "Redeeming La Raza" offers a portrait of the ethnic Mexican political culture from where the modern Mexican American Civil Rights movement evolved. This movement, where LULAC and the American GI Forum figured prominently, pre-dated the Chicana/o Movement.
My second book builds on the knowledge of the political culture examined in my first book to now focus on the life and work of Jovita Idar, offering more detail and analysis about this extraordinary woman.
Jovita Idar
Have you encountered any obstacles yet in your research about Jovita?
GG: After her death in 1946, Jovita Idar's papers were destroyed by a person who was extremely jealous of her. Some of her writings--a few letters plus her newspaper articles, have survived but had her personal papers survived in their entirety, it would certainly have made my historian's job easier.
The second challenge is actually Jovita's beautiful virtue of humility. She did not seek attention and that may have been the reason or one of the reasons she used pen names and may have written some articles anonymously. Historians know of a couple of her pseudonyms, but I do wonder if there were other names plus it may be impossible to figure out which of the many articles written anonymously in various Spanish-language newspapers may have been from her.
As you've studied activism in the Latinx, women's and borderlands communities, what lessons carry forward? What can we learn from Texas' pre-internet history about community, coalition-building and advocacy?
GG: From studying the pre-internet world, I have learned that human connections matter a great deal in the work of political activism as in elsewhere. Jovita Idar, her family, their associates, and allies often worked together. For example, running La Crónica, the family's Spanish-language newspaper engaged multiple members of the family, male and female in various capacities such as writers, editors, printers, bookkeepers, and correspondents. Besides the family, their friends and associates also worked for the newspaper and some served as guest contributors.
Organizing the First Mexicanist Congress, a human and civil rights conference, also involved the Idar family plus friends, associates, various organizations, and leaders from both sides of the border. 
From Alice Dickerson Montemayor, a pioneering woman who broke barriers by serving as a LULAC second national vice president, I learned about the importance of teaching and mentoring the next generation. She understood that LULAC's struggles against racial discrimination would not be solved overnight so she founded the Junior LULACs in the late 1930s to train and mentor the young people about their citizenship rights and responsibilities.