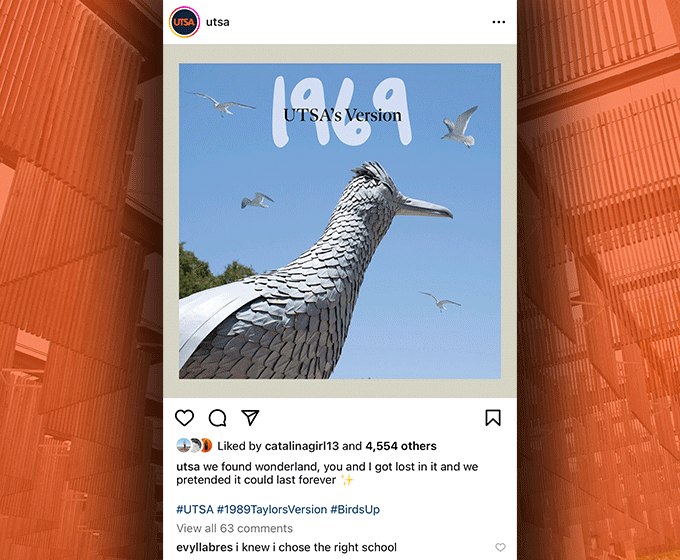 NOVEMBER 14, 2023 — UTSA's official social media channels have once again been ranked among the best in the nation for their engagement rates, according to U.S. social media listening leader Rival IQ. In the 2023 Higher Education Social Media Engagement Report, Rival IQ rates UTSA's official social media presence at No. 16 among the 364 Division 1 (D1) schools evaluated for their engagement rates on Instagram, Twitter, Facebook and TikTok.
In Texas, UTSA took the No. 3 spot among all colleges and universities and ranked No. 1 among UT System institutions. Other UT System schools on the list include Stephen F. Austin (No. 74), UT-Austin (No. 135), UT-El Paso (No. 266), UT-Rio Grande Valley (No. 274) and UT-Arlington (No. 322).
Engagement rates are based on the number of people who engage with a social media platform, compared to the number of followers. Thus, smaller schools with large engagement numbers may rank higher on the list, compared to larger universities. This year, Rival IQ assessed content posted between June 1, 2022 and May 31, 2023 on Instagram, Twitter, Facebook and TikTok.
In addition to receiving high marks overall, the @UTSA channels placed well individually. The university's official Facebook channel took the No. 12 spot, and its X channel, formerly known as Twitter, came in at No. 51. Meanwhile, the UTSA Instagram channel was ranked No. 67 and the university's TikTok channel was rated No. 65. UTSA has since ceased posting on TikTok under the directive of the governor that all state agencies and universities end their use of that platform.