Mustafa and teammates Josie Torres, Elijah Guzman, Caleb Champion, Rafael Robles and Damario Harris are presenting their technology at UTSA's 2023 Fall Tech Symposium. The semi-annual event will take place from 8:30 a.m. to 1 p.m. on Friday, November 17, in the H-E-B Student Union Ballrooms (HSU 1.104/106) on the university's Main Campus.
Hosted by the Margie and Bill Klesse College of Engineering and Integrated Design (Klesse College), the Tech Symposium offers students the opportunity to showcase their ingenuity, as teams from each of the college's engineering disciplines present their senior design projects.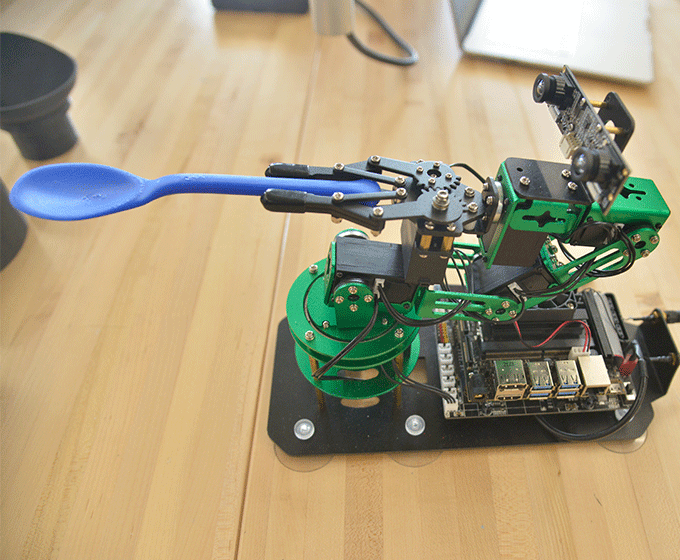 Optimized Meal Assistance Robot
"Throughout the process leading up to the Tech Symposium, one major lesson my team and I learned is the importance of interdisciplinary collaboration," Mustafa said. "Our team comprises individuals with diverse skills, including software, hardware and electrical engineering. Coordinating efforts across these disciplines required effective communication and a shared understanding of each team member's expertise. Furthermore, successful teams are built on open communication channels. This not only enhances efficiency but also fosters a collaborative spirit that is crucial for tackling complex projects."
More than 300 students from every engineering major are participating in this culminating experience for their degree programs. The Tech Symposium is an excellent opportunity for students to apply their knowledge toward real-word solutions and gain a competitive edge in the job market. It is also an effective way for students from the Klesse College to strengthen their relationships with the business community.
Presentations are divided into two sections. Senior Design I enables engineering students in the first semester of their senior year to present a scientific poster exploring a practical concept related to their major.
---
The team will be presented their project, Optimized Meal Assistance Robot, at the Tech Symposium on Friday, November 17.