FACULTY PROFILE: Harry Millwater
Associate dean hopes to lead the College of Engineering to new research heights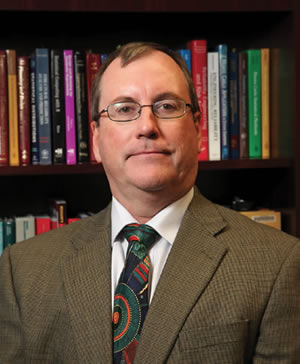 As a child growing up in Plainsfield, New Jersey, Harry Millwater Jr. was a typical boy who loved sports and Legos. But he was also a precocious 10 year old with an early interest in engineering that would oftentimes land him in hot water with his mother.
"I would take apart random electronics around the house and mom would get angry, especially when I couldn't put them back together again," he said. "But it helped that dad was also into electronics and he always had random parts around the house anyway."
Millwater's love of engineering hasn't faded over the years, and that interest he had as a child has evolved into a passion for engineering research. Because of this passion, and a stellar résumé filled with research funding successes, Millwater was named the associate dean of research and graduate studies in the College of Engineering. When he took on his new role, Millwater was determined to increase research grant funding for engineering faculty.
"We've started a formal mentoring program for professors, that coaches them on best practices to get funded," he said. "We teach them that life is not all technical. Networking and coaching are critical to success."
Providing support to faculty is key, Millwater added.
"These professors are very busy with research, committee work, as well as their teaching duties," he said. "Whatever we can provide for infrastructure helps us achieve our research funding goals as a university. We assist with research proposals and finding funding opportunities, so professors don't have to do everything themselves."
Millwater has a team of professionals dedicated to the goals of his office, including Liana Ryan, senior grant development coordinator; Li-Ping Bien, senior program coordinator; and Linda Lankford, senior administrative associate.
In addition to leading his team, Millwater meets with faculty in departments across the campus on various research projects and advises committee members about special projects, like a big conference on data analytics the university is hosting next spring. And if he didn't have enough on his plate, Millwater continues to teach classes including mathematics, solid mechanics, probabilistic methods, and computational methods.
"When students contact me after they are working (in a full-time, professional job) and tell me how valuable my class was in helping them land a job in a competitive market, that just makes my day," he said with a smile. "I always tell my students not to get discouraged with their classes because working in the real world is completely different. I encourage them to get through their courses and learn the material. It's definitely worth it at the end."
Juan Ocampo, a special research associate in COE, first began work with Millwater in 2007 as a master's student.
"I was looking for faculty working with aerospace structural research and learned about Dr. Millwater," Ocampo recalled. "I worked on my research with him and continued to work with him on my Ph.D. Today, as visiting faculty in the UTSA College of Engineering, I'm honored to continue working on research projects together."
One of their current projects is grant funding from the Federal Aviation Administration and the United States Air Force on structural risk assessment for aerospace structures.
"Working with Dr. Millwater has been extremely beneficial to my career. Researchers around the world recognize him as a leader in the field. But the best part of working with him is that he not only cares about his research work, but he genuinely cares about getting his students exposure for their work as well," he said.
Millwater believes two important factors will help other researchers become just as successful with getting their research projects funded.
"First of all, you have to get out of your office. If you stay in your office all day and expect money will come to you, you are not going to make it," he said.
"Second," Millwater continued, "excellent business communication skills are critical in obtaining more technical work and receiving funding. You have to write well, present well and interact well with other people on a consistent basis."
Ocampo recalled attending numerous research conferences throughout the years, including one in Australia and another in Canada as a visiting scholar with the National Research Council, all at Millwater's encouragement.
"We don't just work in a lab all day," Ocampo said. "We do a lot of networking and meet other people in our research area. Dr. Millwater is so well known in this research area that others want to know what we are presenting. He's a great mentor because he's always making sure you are making progress on your research."
As a mentor, the most important quality Millwater shares with his research associates are his interpersonal communications. "He not only cares about your research, but cares about you as a person, too," Ocampo said.
Meanwhile, Millwater said he has a personal philosophy of doing business that has served him well in his decades of work in both academia and research.
"Under-promise and over-deliver. That's my mantra," he said. "If you are always doing more than people are expecting from you, then you'll never disappoint."