Also in this issue
On the Cover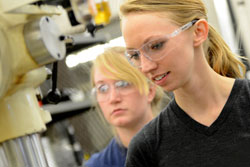 Mechanical Engineering majors Casey Bordelo and Jessica Lovelace use a milling machine to trim the length of a University of Texas at San Antonio hammer the students are making as part of their Manufacturing Engineering class. The class is held in the Machine Shop located on the UTSA Main Campus. Photographer: Deborah Silliman Wolfe
Editorial
A message from the Dean of the College of Engineering
Engineering and education are two aspects of life that are constantly changing and evolving. When UTSA was founded in 1969, there was hope that the university would evolve and flourish, but I doubt that anyone would have thought that a mere 45 years later, the university would be well on its way to becoming a Tier One institution.
The College of Engineering is contributing in UTSA's journey to Tier One and we here at the college level have implemented several comprehensive and integrated strategies that involve a variety of recognized educational best practices. Among our successful activities are summer immersion camps for high school students, expansion of undergraduate research activities, creation of an engineering residential hall, math tutoring for freshmen, and formative evaluations through "iClicker" technology. The data we have seen so far shows improvement in the college's retention and graduation rates, especially among under-represented groups.
As part of our evolution from being mainly a commuter school when the university opened its doors nearly a half century ago, to now having more than 29,000 students from all over the world, we have implemented new admission criteria in order to improve the likelihood of success of incoming students. The new criteria were put into place in 2012 and preliminary findings indicate that our first year retention rate has increased significantly. We believe our approach will improve the overall graduation rate considerably.
The College of Engineering has also implemented several strategies to improve the quality of graduate programs and enhance diversity among our students. We have been targeting qualified UTSA undergraduates for different programs, developing recruitment pipelines from other institutions of higher education, expanding recruitment of traditionally under-represented groups, and have established several new graduate programs. And we have even more program possibilities in the pipeline! From recent data, it looks like our efforts to improve the quality of our graduate programs have paid off. The College of Engineering has more than 100 graduate student applications for the fall 2014 semester than we had for fall 2013, with more applications coming in every day.
As always, our dedicated and innovative professors excel in the classroom and research laboratories. Dr. John Foster has developed a flipped classroom that is ideal for the material he is teaching to his Introduction to High-Performance Computing students. Professors and researchers like Dr. Bing Dong combine research and teaching, and provide opportunities for engineering students to be their best, both inside and outside of the classroom. Dr. Dong is currently leading a study that will set an international standard for measuring energy-related occupant behaviors in buildings, and his students are actively involved in the research being conducted for the study. Under the guidance of professor Corey Hallam, two biomedical doctoral students, Ramon Coronado and Tony Yuan, have developed the first of- its-kind mobile stem cell company which helps family pets live healthier and more productive lives. With outstanding professors and students like this, the College of Engineering is proud to have a positive effect on not only the university community, but the San Antonio community as well.
Research is an integral part to becoming a Tier One university. Fiscal year 2013-2014 grant dollars secured by the College of Engineering are well on the way to surpassing the total received in fiscal year 2012-2013. The current engineering active sponsored project awards total more than $18 million with an with an annual expenditure of about $12 million.
This is an exciting time to be a member of the UTSA community. As we grow and change as a college and as a university, we will continue to keep our focus on the aspects that make us the innovative and diverse institution we are. It is our goal to serve our students and provide them with the best education possible so that when they complete their studies, they will be ready to go out make an impact on the world.
For the past year, I have had the opportunity to serve as interim dean, and now, my time serving in the position is almost complete. It has been a pleasure working with and collaborating with the college's faculty and staff in this position, and I looking forward to welcoming our new dean, Dr. JoAnn Browning, when she joins our college later this summer. I know she has the experience and positive attitude to move the College of Engineering forward in our journey toward Tier One.
Mehdi Shadaram, Ph.D., P.E.
Interim Dean
Read More
---