International Presence
Two Semesters = A New Life Plan
Ilse Malagamba's family likes to travel: Europe, South America, the U.S. Originally from Mexico, Malagamba's parents settled in the United States so their daughters could attend school here.
She's been on family trips abroad. Her parents set aside some money to allow their children to travel. Her older sister has lived and studied abroad for years. But the travel bug hadn't really bit Malagamba, a junior Civil Engineering major.
Her older sister Regina, who has lived in seven different countries, and was studying in Science Po, Paris, encouraged her to consider taking time away from her civil engineering program at UTSA to study abroad.
"My sister pushed me to do it," Malagamba said with a laugh. "I wanted to travel somewhere different and I have always been interested in Australia."
Malagamba started doing her research. She first considered Sydney. After talking to another UTSA student who had studied abroad in Sydney, she learned Sydney was a lot like the U.S.
Malagamba wanted something different. Her sister suggested Melbourne, where a friend of hers at the Paris university was from. After talking with the friend, and reading up on the University of Melbourne, Malagamba knew she had found her study abroad destination.
The University of Melbourne is one of Australia's top universities, and has international scholars and Nobel Prize winners on its faculty. She could take core classes that would transfer into her civil engineering degree.
"I started telling myself, my family, my friends, 'I am going to go,'" she said. "There was no if. I was so determined; I did everything by myself."
"I wanted it to not be like America, and it wasn't," she said. She visited Cairns in Queensland on her breaks, wanting to explore as much of her adopted country as she could. She snorkeled at the Great Barrier Reef a week before her program started.
While at the University of Melbourne, she lived in student housing as a way to make more Australian friends and immerse herself in the Australian college experience.
Malagamba found it hard to make Aussie friends at first. She ended up hanging out with the European and other American international students, but when the Australian first semester started, she made lots of new Australian friends. In many cases, international or Australian, she was the first Mexican many of them had ever met. She was quizzed about both Mexico and the U.S., and cooked enchiladas for them.
"We became like one big family," she said. She roomed with Jess Wallace, an Australian from a small town near Melbourne. She spent Christmas with Wallace's family. They had beach time for Christmas, and did a Christmas barbeque rather than your U.S. turkey. She taught them how to make S'mores. They all visited St. Philip's Island to see penguins in their natural habitat.
One of the big surprises came during her course on American Politics, which was taught by a British national. Malagamba was surprised at how much more informed her Australian classmates were about U.S. politics than she was. They watched Jon Stewart's "The Daily Show," and while she had to explain some of the jokes, her Australian friends seemed to "get" U.S. politics more so than her or her American friends.
"It was shocking to me that someone on the other side of the world knew more about U.S. politics than I did," she explained. It pushed her to know more, and learn more about her home countries.
She loved her time in Melbourne, and she plans to try and move back after graduation on a work visa.
She credits studying abroad to help clarify what to do with her life.
"It helps so much," she said. "It helped me focus. So many people ask you where you are from, and why you are there, and what you are studying, and you have to answer it so many times, it makes you think about what you want to do, and why."
---
UTSA and Tecnologico de Monterrey System Establish Education, Research Partnership
The University of Texas at San Antonio (UTSA) and the Mexico- based Tecnológico de Monterrey System (ITESM) announced a 10-year agreement that will provide students and faculty from the universities the opportunity to participate in education, research and cultural exchange programs between the two institutions.
Under the agreement, each university will offer undergraduate and graduate students the opportunity to study and conduct research at the partner university. Faculty and staff also will be invited to participate in a variety of teaching and research activities.
Additionally, the two universities will carry out joint research and continuing education programs, organize symposia, conferences and short courses on research issues, and exchange best practices in teaching, student development and research at each institution.
UTSA first signed an agreement of cooperation with the ITESM campus in Monterrey in 1997. However, the new agreement includes the entire ITESM system, comprised of 31 campuses throughout Mexico.
"UTSA and the Tecnológico de Monterrey have very similar research interests and have been wonderful collaborators for some time now," said UTSA President Ricardo Romo. "Expanding this relationship will strengthen our ability to offer top-tier opportunities to students and scholars for pursuing education, research and collaboration abroad."
"Our strategic partnership with UTSA will facilitate and support our internationalization goals for faculty and students. We are honored to work together and to have new avenues of collaboration," said David Noel Ramírez, president at Tecnológico de Monterrey.
This summer, the UTSA Office of the Vice President for Research, the College of Engineering and the College of Sciences will host the Monterrey Institute of Technology Research Immersion Camp, allowing ITESM students to explore opportunities in some of UTSA's research strengths including integrative biomedicine, cloud and cyber computing, and sustainable communities and critical infrastructures. The camp will offer one- to six-week programs with ITESM students housed on the UTSA campus.
"ITESM has several strong engineering programs that complement our programs," said dean of the College of Engineering Medhi Shadaram. "I am excited to be working with ITESM because our institutions are relatively young with potential for higher achievements through partnership."
UTSA researchers and faculty already are traveling to ITESM, and a timeline for UTSA students is being developed now.
As part of its efforts to increase international visibility and foster collaboration in Latin America, UTSA has similar agreements with 14 Mexican higher education institutions including the Universidad Nacional Autonóma México (UNAM), as well as agreements with universities in Asia, Europe, Africa and South America.
---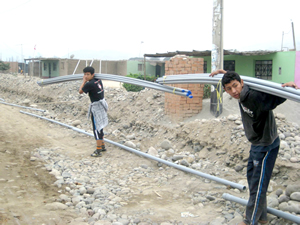 Engineers Without Borders Heads to Peru for Project Followup
In late May, the UTSA student chapter of Engineers Without Borders (EWB-UTSA) will take its fourth trip to the earthquake stricken area of Viña Vieja, Peru to support its ongoing effort to provide access to clean drinking water for those living in the region. The primary goal of the Viña Vieja water project is to facilitate the construction of a reliable, locally sourced water system owned and operated by the residents.
In 2007, the region was devastated by consecutive earthquakes, which left many of the residents of Viña Vieja without housing, while complicating the existing problem of obtaining potable water.
EWB-UTSA has been working on this project since 2012. The group has headed up the construction and operation of a universal water system for the 110 families in the community, as well as assisted with the election of a water system committee and educate the residents so they are able to sustain the work completed by EWB-UTSA. The project is part of a five-year agreement with the community in cooperation with Texas Partners of the Americas, a non-governmental organization
In the future, EWB-UTSA is planning to make two additional trips to finish the project. One trip to complete the implementation, and a monitoring trip in which the team – along with the local communities – will measure and assess how well the water system is working.