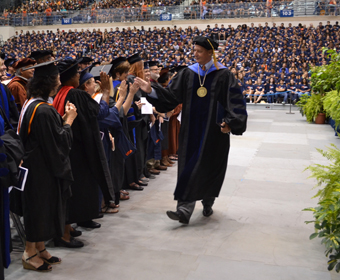 Good morning, and welcome to the class of 2021!
I can't tell you how honored I am to be with you today as you begin your academic journey.
This moment is particularly special to me as I am also starting my UTSA journey today. This is my first official appearance as the new president of this great university.
The fact that we are beginning our UTSA adventure together means I will always share a special kinship with the class of 2021.
………….
This is a unique time in your life – it's one of the only times you will have to explore your passions freely.
I always return to this quote from the German writer and statesman Johann von Goethe:
 "Dream no small dreams"
 Now is the time in your life to dream no small dreams.
I've spent much of my life in academia, and over time I've come to understand that there are a few key ways students can get the most out of their college years.
 So, if I may be so bold, allow me to share my Top Three Tips for success:
Number One: Find faculty mentors to inspire you.
Don't be shy – get to know your professors. One way you can really make an impression? Ask them about their research and if there's a way you can get involved. Their job is to help you have that "aha" moment.
Number Two: Seize the Moment. 
UTSA is full of experiential opportunities. You will find chances to spread your wings at every turn. Pursue an internship. Take on a leadership position in a student organization. Consider studying abroad. Engage in undergraduate research. Experience as much as you can.
Number Three: Take some risks. 
Now is the time to stretch yourself. Take a class that sounds intriguing, but also a bit scary. Pursue an artistic passion – even if you don't think you're artistic. Partake in a service activity that's outside your comfort zone. Know that failure is ok – it's part of the learning process.Don't waste any opportunities to connect with the community and engage your peers.

Above all, don't forget to enjoy the ride. 
………….
Today is about joining a community. A community of learners, teachers and researchers all working—in one way or another—to make the world a better place.
In just a moment, you will learn the Roadrunner creed with your Student Government Association President Marcus Thomas.
But—by way of laying the groundwork—I want to draw your attention to the core values of this fabulous institution:
We encourage an environment of dialogue and discovery, where integrity, excellence, inclusiveness, respect, collaboration and innovation are fostered.
These values provide a roadmap for us to follow. They illustrate the fundamental reasons why we are here: to learn, discover and engage.
In the months to come, you will hear more from me about this university and its role as a Hispanic Serving Institution and a discovery enterprise that tackles the grand challenges of today. These notions are fundamental to the mission and vision of UTSA as a vibrant, urban-serving learning community.
Ultimately, my hope is that your experiences at UTSA prepare you to contribute to the betterment of our society. Use this time to hone your talents so you can have an impact in your chosen field, whether it's business, education, technology, the arts, civic service, health sciences, engineering…or another area that doesn't even exist yet.
When you leave here with your degree, I want you to be ready to take on the world – and you will be.
Class of 2021…WELCOME to the Roadrunner family!
Taylor Eighmy, Ph.D.
UTSA President