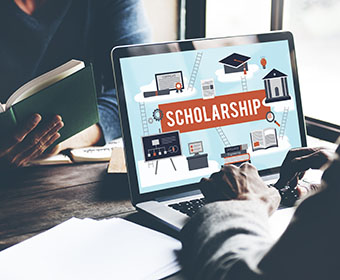 (Oct. 20, 2017) -- Attending college is a priceless investment. And students may not realize just how much free money is out there to help them pay for their education.
So where should they start? The University of Texas at San Antonio (UTSA) has many resources to make the process easier for current and prospective students.
The first step students should take is to complete the Free Application for Federal Student Aid (FAFSA) and send it to UTSA using UTSA's federal school code 010115. This application is what UTSA uses to determine if students qualify for grants, scholarships, work-study and loans. The federal form became available on October 1, and must be submitted each year. Apply by March 15, 2018 to meet UTSA's priority deadline.
Financial aid officers advise students that the earlier they complete and submit their FAFSA, the more likely they will secure a robust financial aid package based on their need. The priority deadline to submit a FAFSA application for students enrolling in Fall 2018 classes is March 15, 2018.
While student loans must be paid back, grants and scholarships do not. Grants are awarded based on an applicant's financial need, a threshold determined by the FAFSA.
Future Roadrunners applying for admission to UTSA should also complete the scholarship portion of their ApplyTexas application to be considered for UTSA General Scholarships. Once admitted, students will be evaluated based on merit, financial need or both to determine their scholarship award. Current students can access the General Scholarship Application beginning November 15 on ASAP.  
UTSA also offers competitive merit-based scholarships to incoming first-time freshman and transfer students. Learn more about the requirements for the Distinguished Presidential Scholarship and the Distinguished Transfer Scholarship.
Students are encouraged to seek as many scholarships as possible.  They can find out how to get started and about general scholarships, departmental scholarships and miscellaneous scholarship opportunities here. 
Students should also contact community organizations to apply and compete for scholarships. Great places to start include the UTSA academic department home to their area of study, national chapters of any student organizations they belong to, local community groups and corporate foundations.
Have a question or need help filling out an application? UTSA has staff ready to help at the UTSA One Stop Enrollment Center. Students are encouraged to call and to stop by UTSA's One Stop offices, located in the John Peace Library (JPL 1.01.04) on the Main Campus and the Frio Street Building (FS 1.500) on the Downtown Campus. Students who want counsel for complex financial situations are encouraged to schedule an appointment with a counselor for a one-on-one session.