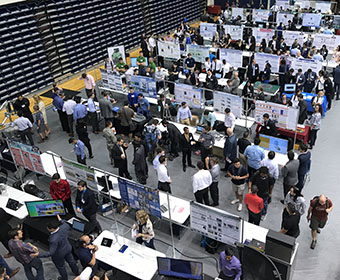 (April 19, 2018) -- UTSA seniors will present their inventions and compete for prizes at the UTSA College of Engineering Technology Symposium on April 24, 2018, in the Convocation Center on UTSA Main Campus. The engineering senior design projects are the culmination of engineering undergraduate studies, enabling all engineering students in their senior year to apply the knowledge and skills they have accumulated throughout their programs to design, develop and implement innovative and relevant engineering products.
The event is combined with the annual UTSA Center for Innovation, Technology and Entrepreneurship $100K Student Technology Venture Competition, where students pitch innovative student projects and research across multiple disciplines including engineering, science and business and compete for $100,000 in cash and business-related services to launch a start-up company built around their invention.
Projects this year include:
The Flex-X, an assistive device that improves knee rehabilitation by increasing patient engagement and interaction for prime therapy experience, without the bulkiness or the manual intervention that products on the market currently include. 
In Vivo Malaria, a medical device to diagnose malaria without drawing blood from a patient. 
Musical Instrument Teacher, a design that will help students overcome reoccurring mistakes when practicing finger placement on a musical instrument, therefore allowing them to master an instrument in less time. 
LumbarLogic, a corrective posture device that alleviates back pain in patients sitting for long periods of time. 
Automated Cold Brew, a machine that provides fully automated cold brew coffee, from bean to coffee. 
The ReguTemp, a smart device blanket that incorporates Phase Changing Material technology to passively modulate the temperature of individuals that are at risk of hypothermia and whose thermoregulatory processes have been compromised. 
Battery Accumulator for a Formula Electric SAE Race Car, a battery pack for an electric car that is scheduled to compete in a worldwide electric FSAE race team competition in June 2018. 
Building Upper-Floor Fire Rescue System (BUFFRS), a A device that was engineered to provide a safe and reliable means for firefighters to evacuate persons from the upper-floors of buildings by utilizing a tandem zip-line system, paired with an emergency braking trolley.
Students will display their projects from 8:45 a.m. until noon in the UTSA Convocation Center. At 1 p.m., the five finalists will pitch their business plan to a panel of judges from the San Antonio business and technology community. Winners of both the Tech Symposium and CITE 100K competition will be announced shortly afterward.
Sponsors of the competition include Boeing, CACI, H-E-B, the San Antonio Economic Development Foundation and Union Pacific.
Since the competition's inception, more than 800 UTSA students have participated, and more than 125 company ideas have been pitched. Following the 2016 competition, the winners received a $50,000 National Science Foundation grant to support the development of their vein-finding device for the market. Other winning teams from previous competitions have demonstrated steady progress toward commercializing their products.