Let's Talk About Parking
Posted November 2016, by Clay Haverland
This semester brought a higher than usual amount of concern and feedback about parking at UTSA's Main Campus. I'd like to shed light on what happened and let you know what Campus Services is doing to enhance your parking experience moving forward.
So, what happened?
Providing necessary parking is paramount to Campus Services' mission. While I believe everyone understands there won't always be front row parking available—we are, after all, a campus of nearly 30,000 students and 5,000 employees—parking congestion can add undue stress to your day. We looked to see what changed this semester, searching for differences that may have affected parking behavior. We determined the influx of vehicles on campus came from a myriad of smaller changes leading to a snowball effect.
Student population shifted from the Downtown Campus to the Main Campus, while overall enrollment saw a slight increase.
A nearby apartment complex reduced their self-operated shuttle service, causing an increase in their residents driving to campus.
The Recreation and Wellness Center pool project ran long due to heavy spring rains, keeping a section of Brackenridge Lot 2 (BK2) blocked off to house construction equipment.
More students in class at peak enrollment times, primarily on Tuesday/Thursday.
These factors mean more students drive to campus, especially at peak enrollment times, and available parking becomes strained.
What is Campus Services doing to help?
Good news: we now see more than 100 available parking spaces during Tuesday/Thursday peak times on the Main Campus, and several hundred on Monday/Wednesday/Friday peak times.
More good news: the Rec Center's pool project is complete. The section of BK2 previously housing construction equipment is available for student use, adding approximately 60 parking spaces.
In response to the heavy parking congestion at the start of the semester, we offered temporary remote parking at UTSA's Park West complex with service on The 'Runner. As parking strain eased and more spaces became available, the need for and use of this service dissipated and was therefore discontinued.
In addition, Campus Services is currently in the design and planning stages of bringing new surface parking lots to the Main Campus. Two areas were identified that will provide nearly 400 parking spaces on campus--which translates to more availability in student lots. Through the addition of these new lots and subsequent reallocation of spaces in existing lots, both Commuter and Housing permit holders will see an increase in available parking.
What can I do right now?
If you arrive mid-day, go straight to Brackenridge Lots 4 and 5 or the East Campus Lots and ride The 'Runner. We do not encourage "sharking," i.e. driving around the first few rows of the closest lots to snag a prime parking spot. Sharking rarely yields parking and only increases frustration.
We also encourage alternative transportation:
Ride The 'Runner from outer parking lots.
Bike to campus, but remember to be safe. UTSA provides bike racks across campus, and you can register your bike with Campus Services.
Develop a carpool or use San Antonio's VIA bus service. Both options save time, money, and frustration. Let someone else do the driving while you kick back and relax.
Some final thoughts…
While this semester got off to a rough start, I know we can continue to enhance your parking experience. We appreciate the creative solutions suggested by our students, and whenever possible—and whenever our budget allows—we further explore your ideas.
On behalf of the dedicated team at Campus Services, I thank you for your patience and understanding.
Sincerely,
Clay Haverland, CASP
Assistant Vice President for Campus Services
---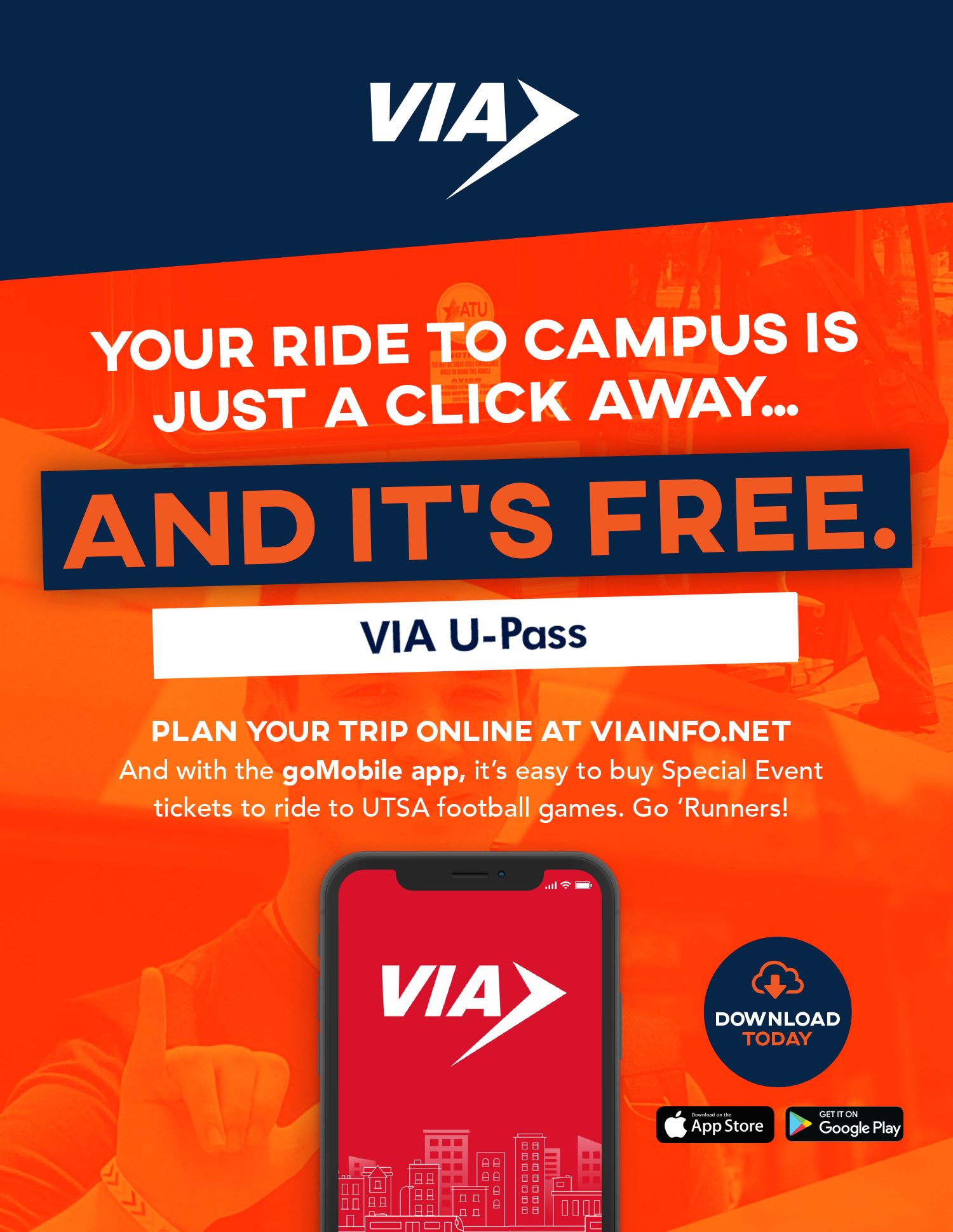 Current UTSA students and employees ride VIA for free. Learn more, then watch how to use VIA U-Pass.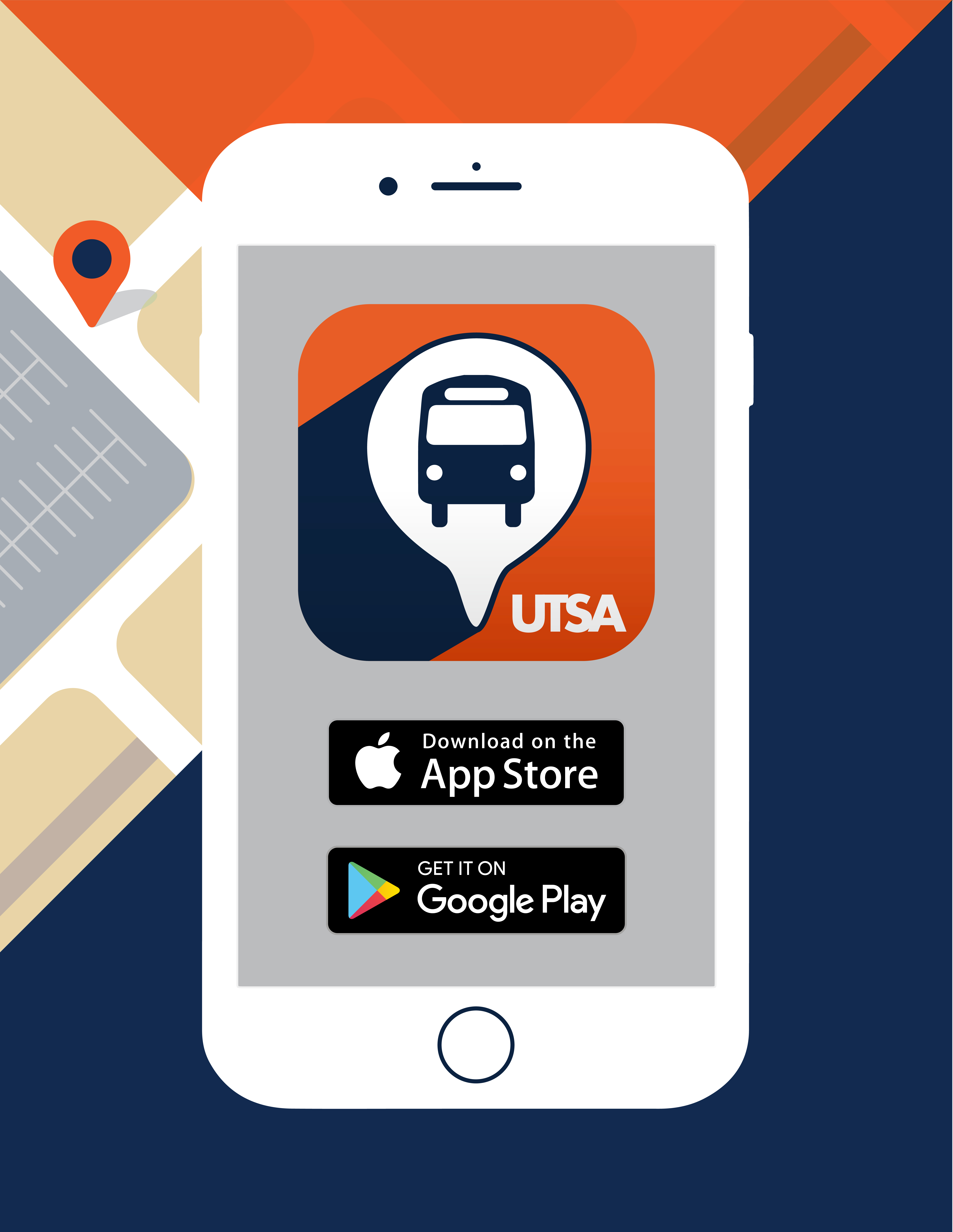 Track your on-campus shuttle in real-time and receive live updates. Download for free on the App Store and Google Play.
Find parking availability on campus.