Parking: The Only Constant is Change
Posted May 9, 2017, by Clay Haverland
---
Changes are afoot for parking at UTSA.
This summer brings the addition of new spaces and parking lots, and the not-so-temporary loss of others. During this process, we will also reallocate various spac types to best serve the campus community. Add it all up, and you can expect a different UTSA parking landscape at the start of the 2017-18 academic year.
Last fall demonstrated that a perfect storm of seemingly benign factors can result in a large-scale quagmire. Read more about what happened here. This upcoming academic year poses its own challenges, including those spurred by exciting new developments at UTSA: construction of new facilities. Two science-related buildings, the Science and Engineering Building (SEB) and the Large-Scale Structural Testing Facility are set to begin construction shortly, necessitating construction fences that will close off some parking spaces. The addition of new parking lots—and reallocation of existing spaces—will mitigate some of the expected loss.
Science and Engineering Building
The SEB will be located on the northern end of Bauerle Road Lot 1 (BR1) and partially on the hillside directly east of the Biotechnology, Sciences, and Engineering building (BSE). Construction is scheduled to begin this summer with an expected completion in summer 2020; during this time, the site will offer a few challenges in terms of parking.
Planned summer work includes utility trenching and infrastructure installation that requires taking parts of the Ximenes Lot, Ford Lot, and BR1 offline throughout the fall semester, totaling approximately 325 spaces. To accommodate this construction project, we will reallocate spaces throughout campus.
For the safety of workers and pedestrians, there will be alternate paths from Ford Lot or BR1 directly to campus buildings
Large-Scale Structural Testing Facility
This facility will be partly located in what is now known as Resident Lot 4, soon to be named Barshop Lot 2, and partially in the adjacent grassy area. This project results in a loss of approximately 50 spaces throughout the expected construction time of Summer 2017 through January 2019.
What this Means for You
What is the bottom-line impact to students and employees? The new parking lots will more than offset the spaces used for construction. While students may not immediately realize the expected gains in commuter parking until the first phase of construction is completed in fall 2017, UTSA will see additional spaces not in our inventory last year.
Our office works closely with the talented construction team in the Office of Facilities to minimize impact to the campus community--and more directly, the parking experience. Collaboratively, we continue to explore options to reduce the amount of space needed for safe construction of these exciting new facilities, with a goal of making additional parking spaces available for use.
You can view the 2017-18 parking map, including new lots and parking space reallocations.
We strive to make your parking experience as seamless as possible. Our hard-working team is always on the lookout for new and innovative parking solutions to enhance your campus experience.
Sincerely,
Clay Haverland, CASP
Assistant Vice President for Campus Services
---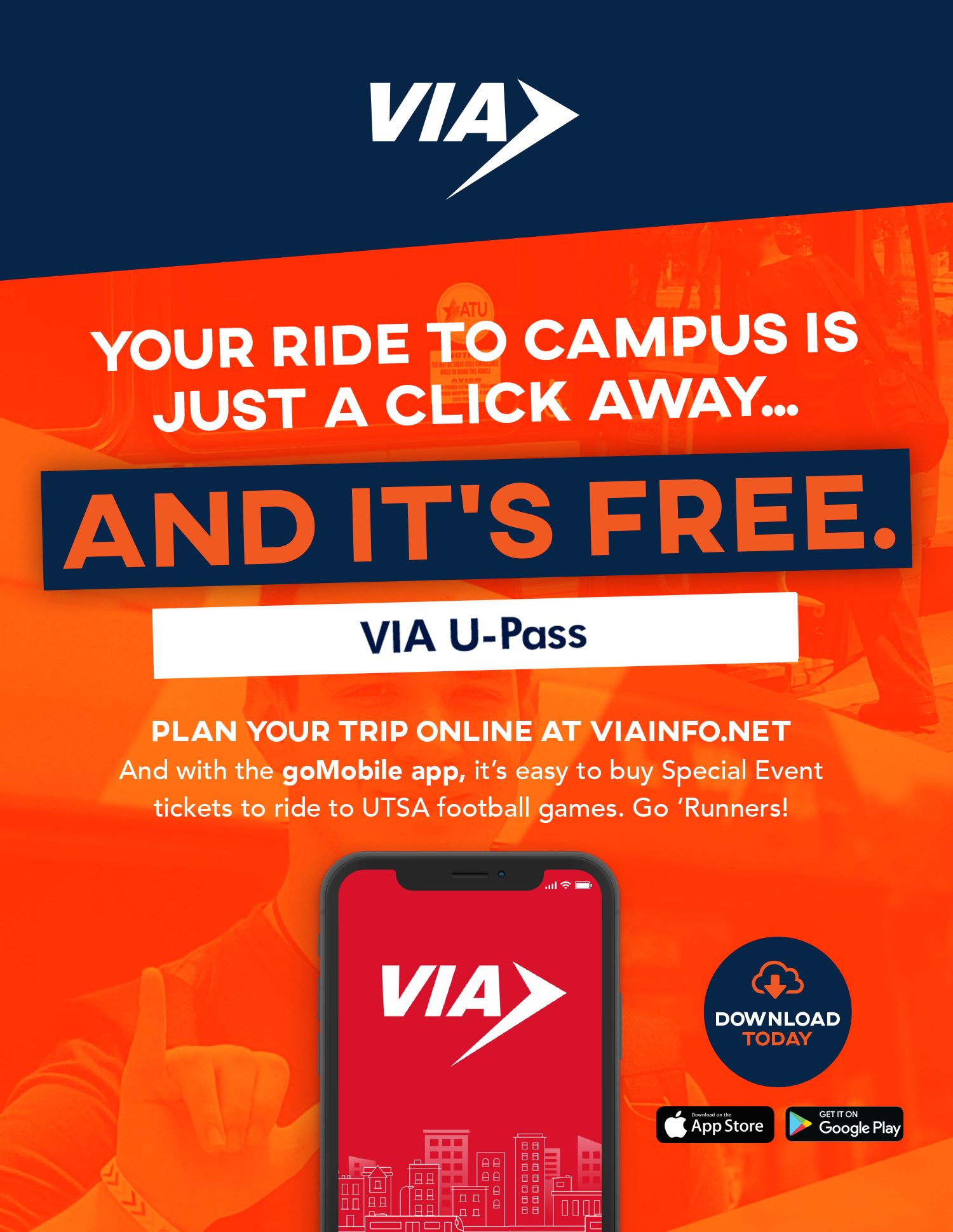 Current UTSA students and employees ride VIA for free. Learn more, then watch how to use VIA U-Pass.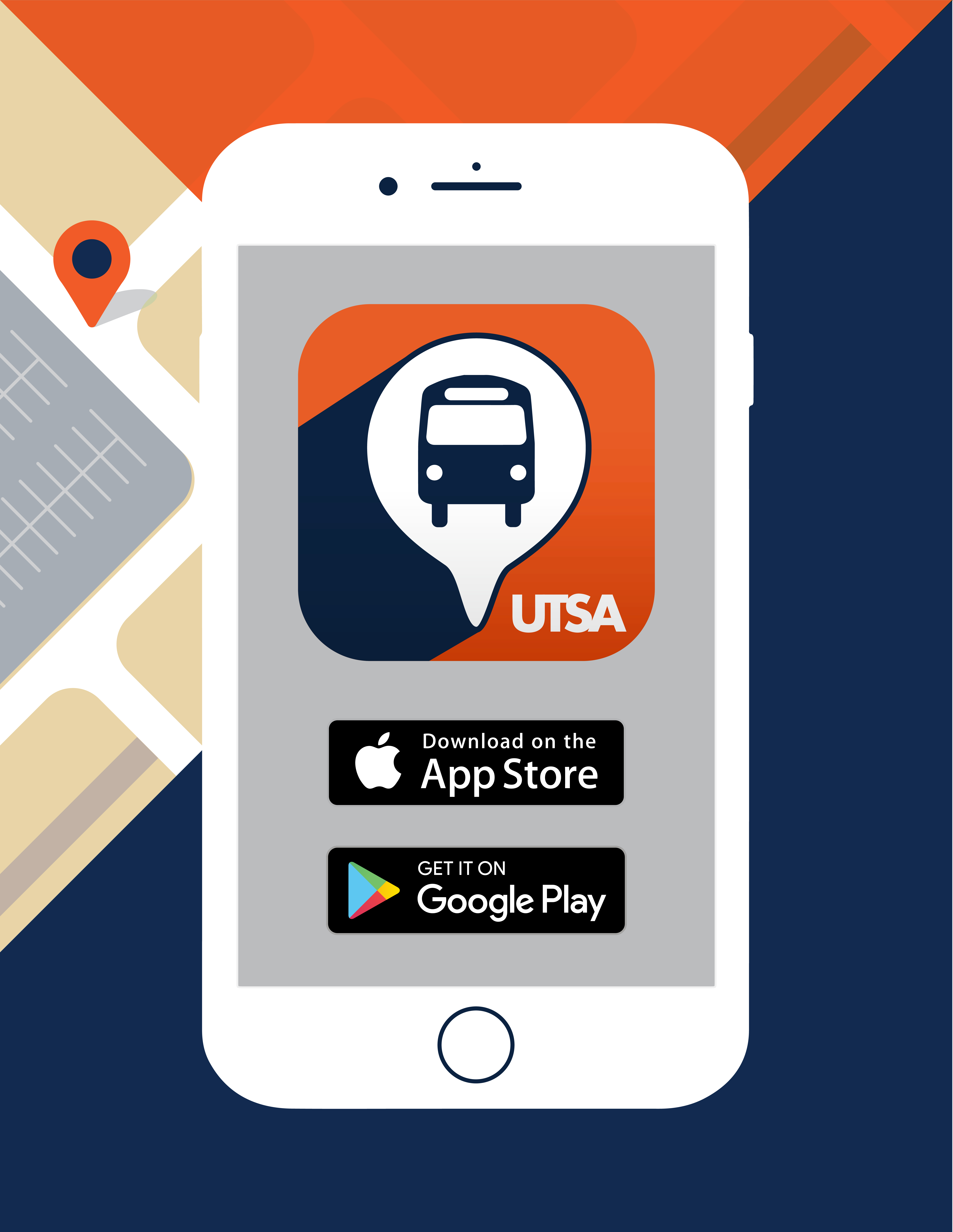 Track your on-campus shuttle in real-time and receive live updates. Download for free on the App Store and Google Play.
Find parking availability on campus.