Fiesta UTSA Food Drive Wrap-Up
Posted May 4, 2018, by Sara Flores
---
Thanks to all who stopped by the Campus Services booth for our first annual Campus Services & Roadrunner Pantry Fiesta UTSA Food Drive on Friday, April 20 at the Sombrilla Plaza!
We had an overwhelming turnout from students, employees, and visitors who helped stock the Roadrunner Pantry. With your help, we received 996 non-perishable food items and 289 non-food items, for a total of 1,030 pounds. Your donations will help reduce food insecurity at UTSA.
Giving Back to the UTSA Community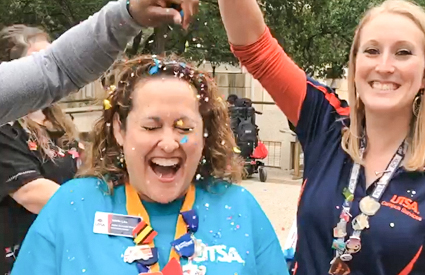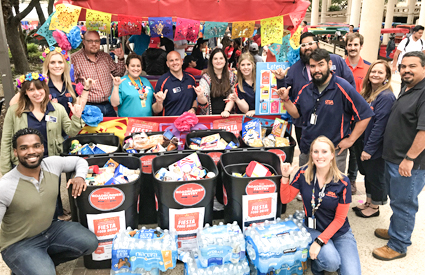 Nikki Lee, Senior Associate Director of the Student Union, and representatives from the Roadrunner Pantry helped with our donation drive and joined in on the fun. This drive helped build awareness of the Roadrunner Pantry and how it supports the student community at UTSA, as well as educating customers on alternative transportation options through Campus Services. With seven bins full of donated non-perishable food and hygienic items, the Roadrunner Pantry currently has a well-stocked pantry for students in need!
---
Roadrunner Pantry Support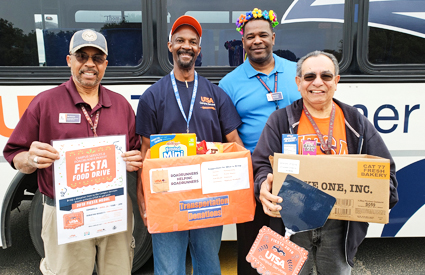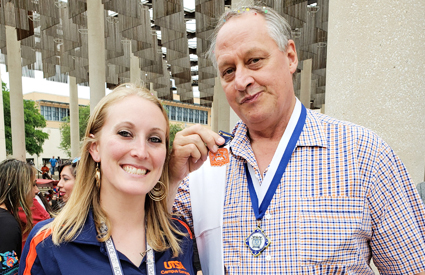 The university showed its support for our first-ever Fiesta UTSA event. Several members of the UTSA community donated full boxes or bags of items. Check out our transportation team with their contributions! President Eighmy stopped by to celebrate with us and showed off our 2018 Fiesta medal.
---
Loteria-inspired Giveaway and Refreshments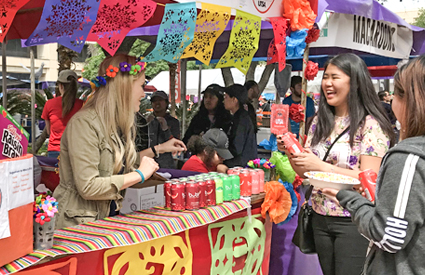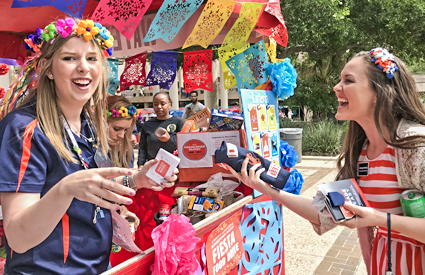 Visitors who stopped by the booth celebrated with us by playing a Loteria-inspired game for a chance to win Campus Services swag. They also received complimentary Bubly, a fruity-flavored sparkling water beverage courtesy of our partners at PepsiCo.
---
Fiesta Medals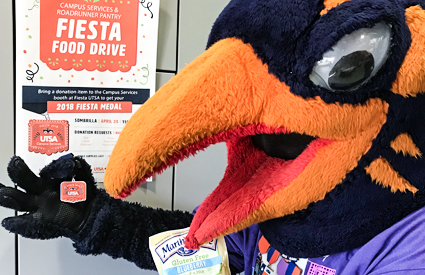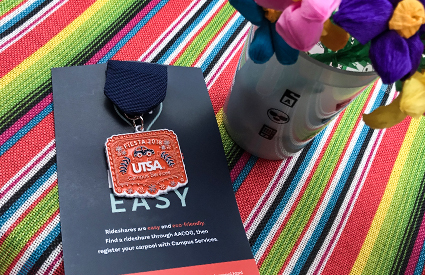 The first 200 people to stop by our booth with a donation received one of our first ever Campus Services medals. The postcard backing helped spread the word about AACOG's rideshare tools and Campus Services' carpool registration. Show off your Fiesta medal, and share your ride!
---
Thanks again to all our participants, donors, and volunteers!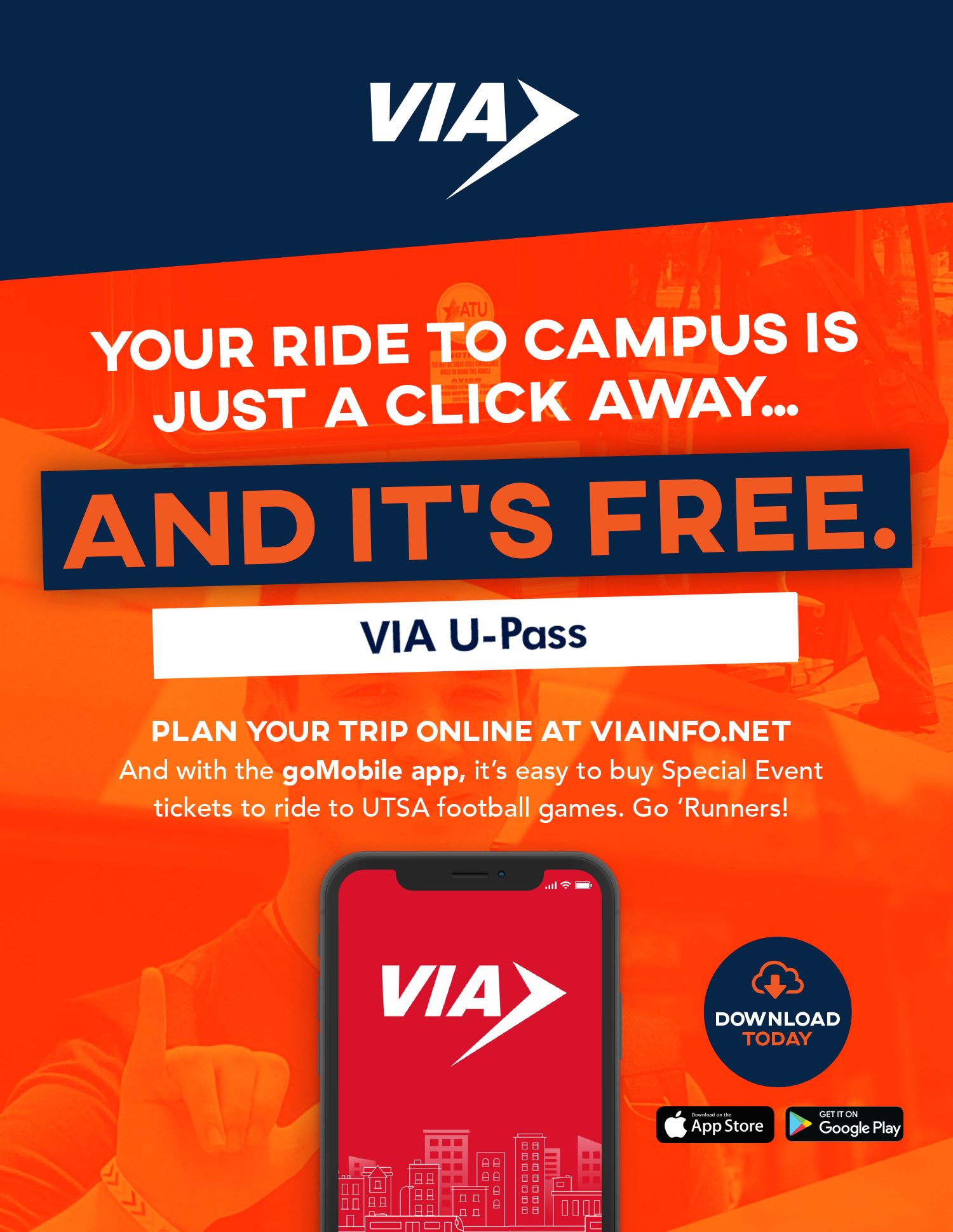 Current UTSA students and employees ride VIA for free. Learn more, then watch how to use VIA U-Pass.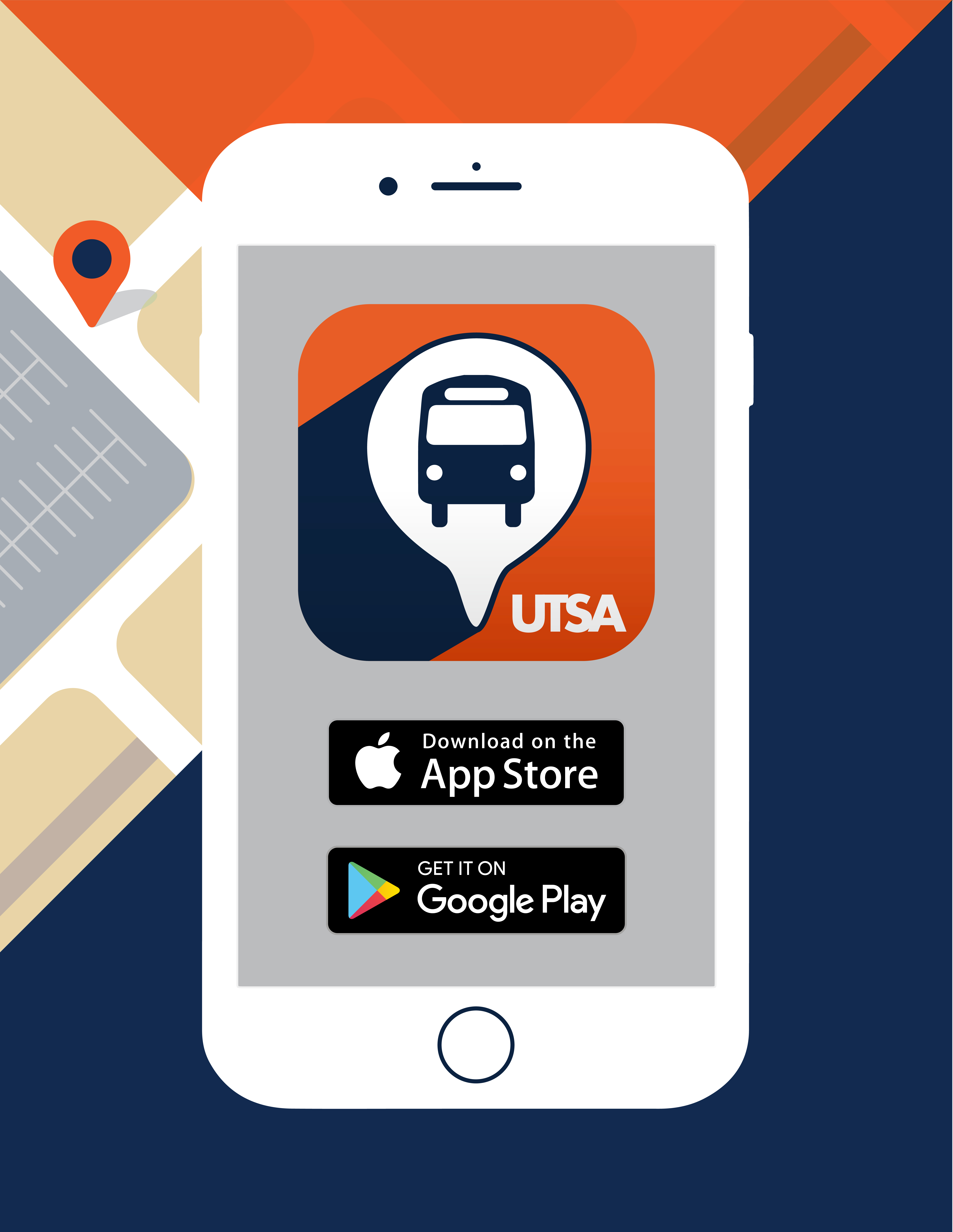 Track your on-campus shuttle in real-time and receive live updates. Download for free on the App Store and Google Play.
Find parking availability on campus.