Transportation Fee Referendum
NOTICE: The Transportation Fee Referendum passed. Thank you to everyone who supported the vote and for continuing to support The Runner.
Your vote matters during the Transportation Fee Referendum. Learn how The Runner provides easy transit on the Main Campus and how you can positively impact its operations. Students can vote on RowdyLink from March 3-4.
What is the transportation fee and why is it important?
The Runner, UTSA's Main Campus transit system, provides service to and from on-campus parking lots and select nearby apartment complexes. The Runner operations are subsidized each year by funds from other accounts as the total received from student fees no longer fully covers operations. If the proposed rate passes, it will prevent significant cuts to shuttle service. Your vote matters.
Current Rate
Established in 2008
Cost per term
$20 per term (fall, spring, and summer).
This rate began in 2008, and has not been increased.
Ridership in 2008
Total Ridership: Approximately 800,000
Drivers in 2008
Services in 2008
Proposed Rate
Would begin fall 2020
Cost per term
$35 per term (fall and spring)
$20 per term (summer)
Ridership in 2019
Total Ridership: 1,755,235 (more than double the 2008 ridership)
Drivers in 2019
Over 55 full and part-time drivers
Services in 2019
On-campus routes
Off-campus routes
Shuttle tracking through The Runner GPS app
Route optimization
"Slip-seat" process to decrease the number of buses utilized during operating hours and reduce the amount of bus idle time
If the Rate Doesn't Increase
Elimination of Routes
No service to route 13 from the East Campus lots and potential elimination of one or more off-campus routes from nearby apartment complexes.
Less Route Frequency
Decreased route frequency to all current routes, especially route 43 servicing the outer campus parking lots.
Reduction in Force
Reduced routes and shuttle frequency results in fewer employed drivers.
Longer Wait Times
Longer wait times on remaining routes. Riders will need to walk to and from
East Campus outer lots
and the central part of campus.
Benefits of the Proposed Rate
Keep Your Service
Your vote matters. Help prevent significant cuts to shuttle service for UTSA students.
Support Growing Ridership
Since ­2008, ridership has more than doubled without a change to the transportation fee. As UTSA grows, ridership will continue to increase.
Reduce Vehicles on Campus
Riding The Runner prevents approximately 3,000 personal vehicles from parking on campus at peak times, increasing parking availability.
Ride and Go Green
Reduce CO2 emissions and boost sustainability by riding The Runner instead of driving. In 2019, The Runner saved an estimated 1,664,488 personal vehicle miles.
How do I vote?
Voting is open on March 3 and 4 through RowdyLink.
Go to the RowdyLink website (http://utsa.edu.campuslabs.com/engage)
On the RowdyLink home page, click Sign In in the upper right corner
Login with your MyUTSA ID and passphrase
Click the Vote Here button
Submit your vote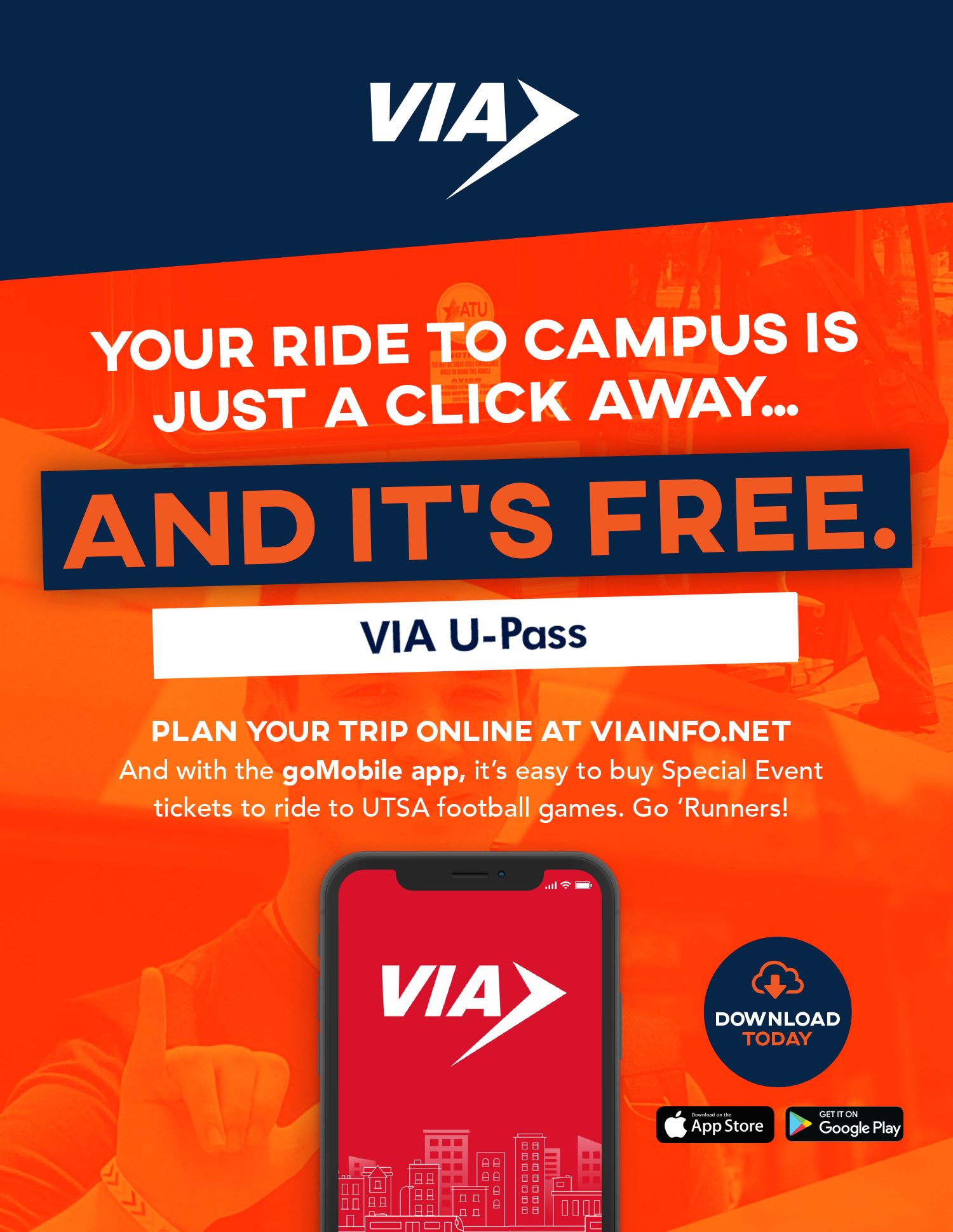 Current UTSA students and employees ride VIA for free. Learn more, then watch how to use VIA U-Pass.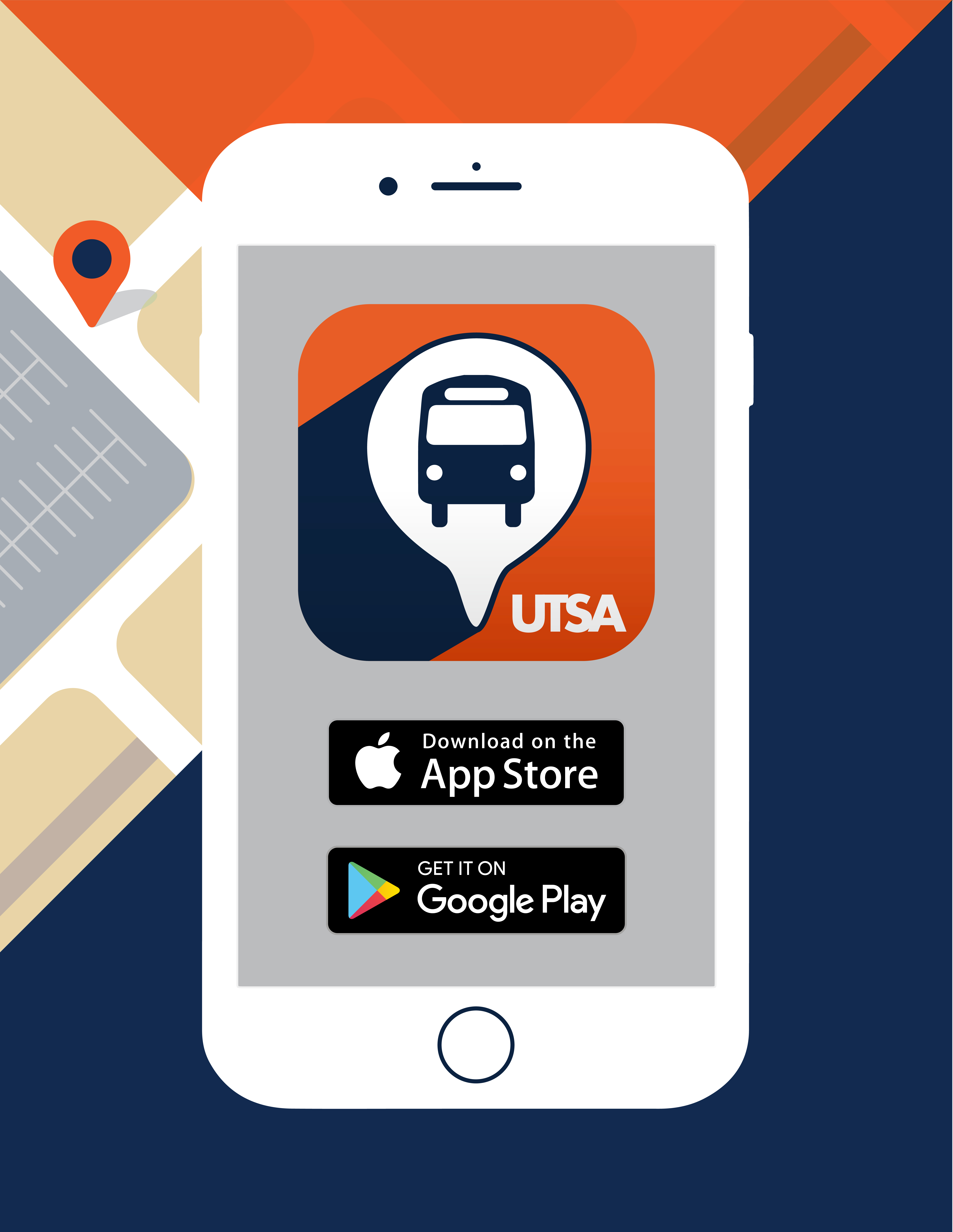 Track your on-campus shuttle in real-time and receive live updates. Download for free on the App Store and Google Play.
Find parking availability on campus.