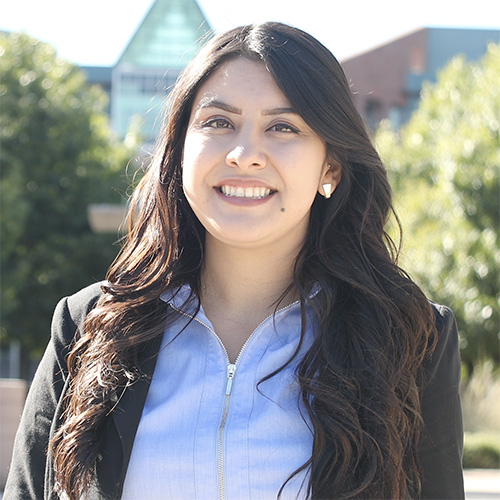 Kassandra Morales
---
Transfer student Kassandra Morales is eager to use her construction science and management degree to help San Antonio grow.
---
Meet Kassandra Morales. She plans to use her leadership skills to advance construction projects in the Alamo City.
Born and raised in San Antonio, Morales knew she wanted to stay close to home when she went to college. After earning her associate's degree in architecture from San Antonio College, she chose to further her education at UTSA, majoring in construction science and management.
"UTSA offered the degree plan I was looking for," Morales said. "I liked the idea of smaller class sizes and one-on-one interaction with professors."
While pursuing her bachelor's degree, Morales has been living under the same roof as her mom and stepdad, who both have been going to college, too.
"It's been really special to share this experience with them," she said. "Seeing my mom work so hard to earn her bachelor's and master's in nursing really motivated me through my academic career."
Morales says she also got a lot of encouragement from her UTSA professors and advisors.
"My professors want me to succeed. They offer advice and send connections my way to get exposure in the field," Morales said. "My advisor helped me get through different courses and showed me the steps I needed to take to be successful."
One of her most rewarding experiences came after a UTSA career fair where she met several San Antonio general contractors. She landed a seven-month paid internship with Joeris General Contractors.
"I worked on a construction site and got to see the project from start to finish," she recalled. "It really allowed me to embrace what my degree entails before graduating."
Morales strengthened her leadership skills at UTSA as well. She is the president of the Associated Builders and Contractors student chapter at UTSA and was inducted into the National Society of Leadership and Success. She's also a select member of Sigma Lambda Chi – Epsilon V, an international honor society exclusively for students in the top 20 percent of the UTSA Department of Construction Science.
"UTSA offers so much interaction and so many things to be involved in. There's always something going on and something to be a part of," Morales said. "UTSA is more than just a place to get your degree. It's an experience."
After Commencement, Morales plans to work for a general contracting company in San Antonio. She wants to contribute to the city's growth, continuing her experience at UTSA.
"The construction science and management program is still fairly new and there are a lot of innovative ideas going on now to make it even better," Morales said. "It's an exciting time for anyone interested in construction science to be at UTSA."
--Courtney Clevenger
Fall 2017 Student Spotlights
---
Are you graduating in May 2018? Share your photos with us on Facebook or Twitter (@UTSA). #utsagrad18

Do you know a fascinating UTSA student who is planning to graduate in May 2018? Share that story with us at news@utsa.edu.