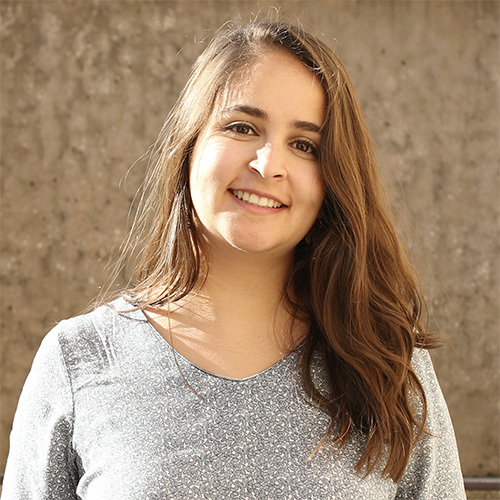 May Mzayek
---
Drawing upon her Syrian roots, UTSA graduate student May Mzayek conducted research to help others understand the challenges faced by refugees.
---
Meet May Mzayek. She's using her studies at UTSA to take on the refugee crisis.
Born in Aleppo, Syria, Mzayek immigrated to the United States with her parents and sister in 2000, when she was just 10 years old. Mzayek's father was motivated to move his daughters to U.S. so they could have as many opportunities as possible.
"It was very difficult at first for us," she said. "My mother was very unfamiliar with the Western world and took on a few jobs to help her learn English."
Mzayek's father, previously a medical doctor in Syria, worked to obtain his Ph.D. in public health, instilling a deeper respect for higher education in his children. Then, just one year after their arrival in the U.S., terrorists attacked the nation on September 11. In the wake of the tragedy, Mzayek began to experience Islamophobia.
"My sister and I were bullied and told awful things," she said. "We were afraid, but my parents were there for us and kept us going with their strength."
Mzayek was inspired by how hard her parents worked to bring the family to the U.S., and believes that gave her the conviction to change the world's perspectives on Arabs and Muslims like herself.
After completing her undergraduate studies in Tennessee, Mzayek set her sights on the master's program in archaeology at UTSA.
"I was really interested in Maya archaeology," she said. "The anthropology department at UTSA is just so impressive and I was really thrilled to be accepted."
Shortly after Mzayek arrived at UTSA in 2014, the Syrian Civil War, which has been ongoing since 2011, began to escalate. She found herself struggling to focus, with her thoughts constantly straying to her family back home in Syria, many of whom became refugees as a result of the intensifying conflict.
"UTSA is an amazing place," she said. "Everyone was very sympathetic to what I was going through and did everything they could to help me out. It was like having a second family. My parents and sister were all I had here in the U.S., but at the same time I had a family here at UTSA."
As a result of those challenges, Mzayek was drawn to a new academic project that gave her a stronger sense of purpose. She switched the focus of her studies to cultural anthropology so that she could work with Syrian refugees in the U.S.
"I think there is a negative stigma to refugees," she said. "I wanted to give a voice to refugees and show the true, human side to these people. I knew I could do that because I know the Syrian people."
Mzayek worked with the Syrian American Refugee Aid Organization in Austin, which aids Syrian refugees, to study the well-being of refugees in Austin.
"I felt very connected with the refugee community in Austin," Mzayek said. "It was so welcoming, and UTSA was very supportive of my work. My professors encouraged me to do this project and really represent the population."
As Mzayek prepares to graduate with her master's degree, she's now working on completing a study on the well-being of Syrian refugees in the U.S., and hopes to publish it soon. She's also reminding herself to keep in touch with the UTSA family that supported her through such a difficult time.
"My faculty advisor, Jill Fleuriet, was someone I could always go to when I felt I was in crisis," she said. "I admire her so much. She helped me to improve my writing and research skills, and I feel I owe a lot to her."
Mzayek has plans to eventually pursue a Ph.D., but for now is interested in working with a non-profit, possibly in the Middle East, so she can continue to work with refugees.
"It's going to be hard leaving UTSA," she said. "It's a big community and it's accepting of everyone. Seeing so many people from different backgrounds made me feel so at ease, and I'll always be grateful for that diversity because it taught me to think from different points-of-view."
--Joanna Carver
Fall 2017 Student Spotlights
---
Are you graduating in May 2018? Share your photos with us on Facebook or Twitter (@UTSA). #utsagrad18

Do you know a fascinating UTSA student who is planning to graduate in May 2018? Share that story with us at news@utsa.edu.