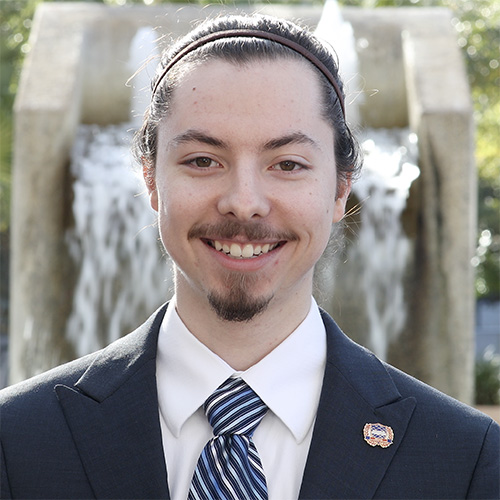 Shane Becker
---
Opportunities in high school helped Shane Becker develop his passion for computer science.
---
Meet Shane Becker. He found his calling as a natural leader while at UTSA.
Born in Needville, Texas, just south of Houston, Becker grew up with a passion for computers.
"When I was in high school, I had a computer science teacher that really pushed me to reach my potential," he said. "She got me involved in a few competitions, and succeeding in those really showed me that this was what I wanted to do."
Becker was immediately attracted to the world-class cybersecurity programs at UTSA, but he wasn't completely won over until he visited campus.
"It was just really beautiful," he said. "It was widespread and open, and I just felt like I really belonged here. I knew I wanted to spend my college years here."
Once enrolled at UTSA, Becker quickly dove into his studies, which he found both challenged him and fulfilled his passion for computer science.
"I love the challenge," he said. "There's always a new problem to be solved. It's like a puzzle that requires logic and math to solve. It's always different."
He took on a computer science major with a concentration in computer and information security. After finding himself surrounded by students with similar passions, Becker immersed himself in student organizations.
"I'd advise any UTSA student to get involved," he said. "College is an adventure, and being a part of these organizations gives you a support system and lifelong friends."
Becker served as the president of the Association for Computing Machinery at UTSA. The nationwide organization encourages computing research and collaboration among scientists. He also served on the UTSA Career Center Student Advisory Board and the College of Sciences' Dean's Student Board.
"It's been an enriching experience," he said. "I feel that I've made a large impact on other students' time here at UTSA."
Becker's greatest challenge has been time management and making sure his ambitions don't overtake the amount of time he has to balance his studies with his extracurricular activities.
"There are so many opportunities at UTSA," he said. "If you want to do something here, you can do it. There are so many different avenues to help you accomplish what you set out to do. Really, the sky is the limit."
Becker has accepted an offer to be a software developer at USAA after he graduates. He credits UTSA lecturer Larry Clark with mentoring him during his time at UTSA and helping him decide where to go after graduation.
"I've gone to him for personal, professional and academic advice, and he's always been there for me and helped me go in the right direction," Becker said. "That's really characteristic of my time here at UTSA. Every step of the way, I've had guidance and support, and it's been such a rewarding experience."
--Joanna Carver
Fall 2017 Student Spotlights
---
Are you graduating in May 2018? Share your photos with us on Facebook or Twitter (@UTSA). #utsagrad18

Do you know a fascinating UTSA student who is planning to graduate in May 2018? Share that story with us at news@utsa.edu.