May 2015 Student Profile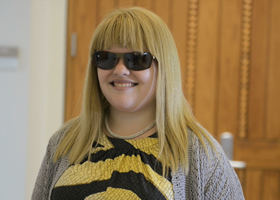 Alyssa Minwell
---
Honors student Alyssa Minwell is eager to build a career in tech sales
---
Meet Alyssa Minwell. She's a UTSA honors student with serious sales smarts.
She's also the owner of Alyssa's Beads for Life, a small jewelry company born out of an interest in beads that dates back to the age of three, when Minwell was diagnosed with a cancerous brain tumor. An eight-hour surgery to remove the tumor was unsuccessful. In addition to permanently taking away her sight, it led to 66 weeks of chemotherapy, treatment that called Minwell to a local hospital every Friday.
"The hospital had a playroom," she recalls. "You know how a lot of kids would play with a train set. Others would play doctor. I would always go for those beads that you string on a shoelace. You string them on a shoelace then take it apart…string them on, then take it apart. It was something that kept me busy at the hospital."
Her interest became a hobby, and her hobby became a business.
As she aged, Minwell began making jewelry with pony beads. As she gained experience, her jewelry became more and more detailed, and the beads she used got smaller and smaller.
When Minwell was in the eighth grade, one of her teachers took an interest in her jewelry. She recommended that Minwell attend a local bazaar to sell some of her pieces. That was the start of Alyssa's Beads for Life.
"I started with a peg board with my jewelry on it," she recalls. "I did okay for what I had. I learned from my mistakes."
And learn she did.
Today, Minwell attends conferences and her jewelry display takes up three entire tables. She also has a website, AB4Life.com, through which she markets to young professionals and their friends.
As Minwell travels, she's building a network with some of the best salespeople in the business.
"My dream job is to work for companies that sell technology to the visually impaired," she says. "I want to travel from city to city with the technology, set it up and explain it at different events. I'm very interested in presenting at trade shows."
Ideally, Minwell would like to exhibit products for the visually impaired, like the pieces of technology that has helped her navigate school and daily life since the third grade. These products allow her to connect to the online community through braille and voice output, and they let her to take notes and download files.
With her assistive technology in hand, Minwell is leveraging many of the opportunities that UTSA has to offer, including dedicated advising through the Honors College.
Outside of class, Minwell has volunteered her time with For the Kids, a UTSA student organization that raises funds to help local families of children with cancer. She currently serves as a tutor for UTSA athletes.
"I love how personable UTSA is," she says. "You walk into the Business Building and everyone knows you."
Today, Minwell is wrapping up one of her favorite UTSA classes, an entrepreneurship capstone that is teaching her how to launch a start-up company. Minwell is among a group of students working to launch a web hosting company that was created by one of their peers. The team has an opportunity to compete in April at UTSA's $100K Student Technology Venture Competition. Winners of the competition receive cash and prizes to pursue their start-ups following graduation.
Not too long ago, Minwell received an enticing a job offer from Dell, an opportunity that would have allowed her to sell technology.
"I literally had to hold my mom's hand when I turned it down," she recalls. "It was my dream job, but I wasn't done with college yet."
Of course, that soon will change. After completing four years of coursework in just three years, Minwell will cross the commencement stage to receive her bachelor's degree in entrepreneurship. In addition to graduating with honors, she will share the moment with Adella, the purebred yellow lab who literally has guided her through college.
It'll be a bittersweet moment for the 21-year-old, whose love of sales was born more than a decade ago following time in a small hospital playroom outfitted with an ordinary tub of beads.
– Christi Fish
Spring 2015 Student Spotlights
---
Are you graduating in May 2015? Share your photos with us on Facebook or Twitter (@UTSA). #utsagrad2015

Do you know a fascinating UTSA student who is planning to graduate in December 2015? Share that story with us at news@utsa.edu.