May 2015 Student Profile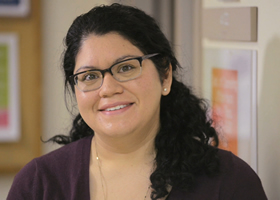 Angelica Tello
---
First-generation student helped by mentors now looks to counsel others
---
Meet Angelica Tello. As a first-generation college student from an underprivileged family, Tello faced obstacles throughout her academic career. But she overcame them to earn a doctoral degree in counselor education and supervision. Now she is eager to help students who face similar challenges.
Originally from Austin, Tello attended UT-Austin for her undergraduate degree in psychology. She attended classes with the help of scholarships and had to work to support her mother and siblings. It often seemed that a college degree was out of reach.
"For a first-time college student from a low-income background, it was really difficult," Tello said. "I felt like dropping out. Being the first in my family made me feel out of place."
Tello made it through UT with the help of mentors, but it wasn't the first time in her life that she benefitted from counseling. When she was in elementary school, a counselor helped her work through a family crisis. After graduating from UT, she heard about UTSA's master's program in multicultural counseling and diversity and decided to pursue an advanced degree.
"I had lots of support from faculty members, and the diversity at UTSA definitely helped in my graduate career," Tello said. "I felt here that I could use my voice to bring change."
As part of her doctoral work, Tello and her fellow doctoral students completed their graduate assistantships and supervised master's level students at the Sarabia Family Counseling Center. The center also has a neuro feedback training program that teaches graduate students how to control brainwaves linked to anxiety, Post-Traumatic Stress Disorder, Attention Deficit Hyperactivity Disorder and other mental health conditions.
Tello credits Heather Trepal, associate professor in the Department of Counseling, for helping her with issues related to being a first-in-the-family college student.
"She provided lots of information and support," Tello said. "She was a mentor and a colleague at the same time. It was very special. It's a whole different journey in a doctoral program. With her help and support, I was able to bridge both worlds."
Tello wants to help students overcome the same obstacles that she faced as a first-time college student with limited resources, while pursuing an academic career as a college faculty member.
"Counseling is empowering people who feel like they have no control over their lives," Tello said. "It helps them discover a direction that brings about positive changes. I feel empowered as well, knowing that they have accomplished so much. It's really a great feeling. This is where I belong."
The trail that Tello blazed for herself gave direction to her own family as well. Tello may be the first in her family to attend college, but she's not the last. One of her younger sisters has graduated from UTSA. The other is working on her degree.
– Mark Langford
Spring 2015 Student Spotlights
---
Are you graduating in May 2015? Share your photos with us on Facebook or Twitter (@UTSA). #utsagrad2015

Do you know a fascinating UTSA student who is planning to graduate in December 2015? Share that story with us at news@utsa.edu.