May 2015 Student Profile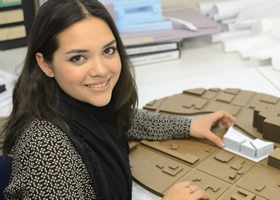 Barbara Warren
---
Architecture major aims to knock down the invisible walls separating society
---
Meet Barbara Warren. Exposed at an early age to the ways in which communities can be segregated through inequality, the Master of Architecture student wants to connect people through architecture.
As a young girl growing up in Matamoros, Mexico, Warren says that she would spend hours at home playing with different manualidades – crafts – that would have her constructing, painting and sketching with a variety of mixed-use materials. Naturally creative, Warren said those problem-solving exercises served as a major source of joy to her as a child.
"I would love to do arts and crafts as a girl," says Warren. "It felt only right for me to turn my love for creative endeavors and problem-solving into a career. Architecture was a natural extension of my desire to create."
In high school, Warren worked as a volunteer firefighter and EMT. At that job, she met many people whose entire world would go up in flames. Mostly low-income families, they would often lose everything. Recovery was challenging. Well-off but not wealthy, Warren was shielded from the income disparities that existed in her hometown. But the job opened her eyes. With a career in architecture in her sights, Warren focused her studies on the ways that architecture can promote human connections to integrate society.
"If you were to outline a map of any major city in the U.S., you can literally see how different populations have been corralled into specific parts of the city and surrounding suburbs," said Warren, who completed her Bachelor of Science in Architecture. "As I completed studies at UTSA, I was able to dig deeper and deeper into the ways that this has happened, both naturally and by design. It's been profoundly fascinating and a little scary."
As a UTSA master's student, Warren has spent many hours researching ways to tackle this problem. She hopes to eliminate the separation of citizens by income and class through an integrated approach to designing buildings and cities.
"I'd love to create places where people could once more be integrated as citizens of humanity through mixed-use buildings and mixed-income living," Warren says. "But the true challenge is learning how architecture plays a role in reinforcing the connections made by integrations of diversity."
Beyond her drive for social equality through architecture, Warren's love of architectural design and management has shone through during her time at UTSA as both an undergraduate and graduate student. She worked on several design-build projects, including the award-winning Three+1 Project. Last year, she received the UTSA College of Architecture, Construction and Planning Designer of the Year award.
In April, Warren represented UTSA at the CriticalMASS Graduate Research Symposium hosted by UNC Charlotte, an event that brings graduate students from around the country to present their work with distinguished and prominent architects. She is also the recipient of the UTSA Presidential Scholarship and the San Antonio Masonry Contractors Association Endowed Scholarship.
"Barbara has been a very sophisticated, hard-working and talented student of architecture during her time here at UTSA. Her critical thinking and problem solving capabilities are second-to-none," said Sedef Doganer, assistant professor of architecture and the architecture program's graduate advisor of record. "I see her accomplishing great things to advance social progress though architecture, planning and design."
While studying at UTSA, Warren has also held a full-time design position at a local design firm for the last four years. In her time there, she has done everything from designing building remodels to managing the construction of new projects.
After graduation, Warren plans to become licensed to practice architecture in Texas; she currently has half the necessary hours needed to obtain the license. She is also considering pursuing a Ph.D. in architecture.
Warren sees herself as a lifelong student of architecture and social progress.
"I'm perpetually feeling like I don't know enough, that I still have a lot to learn," she says. "I want to continue to train and grow under the mentorship of other architects, and I want to continue serving mankind. My story is just beginning."
– Jesus Chavez
Spring 2015 Student Spotlights
---
Are you graduating in May 2015? Share your photos with us on Facebook or Twitter (@UTSA). #utsagrad2015

Do you know a fascinating UTSA student who is planning to graduate in December 2015? Share that story with us at news@utsa.edu.