May 2015 Student Profile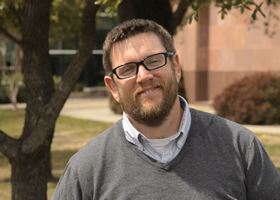 Bryce Boddie
---
Social work graduate looks toward a future of service
---
Meet Bryce Boddie. When this master's graduate in social work looks at the world, he sees a lot of need. At UTSA, he learned how to respond.
"It's been the best educational experience of my life," said Boddie, who started a community garden in Boerne and worked with special needs students at Northside ISD as part of his course work.
Boddie, who also works part-time at St. Helena's Episcopal Church in Boerne, didn't always know what he wanted to be.
"When I was a kid, a friend said he wanted to be a fireman and asked me what I wanted to do. I had no clue," Boddie said. "I finally said 'garbage man' because they get to ride around on the back of a truck and stop and play basketball with people."
Boddie earned a Bachelor's of Science in Geography and Urban Planning at Texas State University in 2001, but he wasn't passionate about the degree. He started a rainwater collection business, but discovered that running a small business wasn't much fun.
"I had to reexamine what I was doing and what I wanted out of life," he said. "I realized it was about people. Social work kept making its way to the front. That's what I was born to do. It just took me a long time to figure that out."
Much of that realization came from a life-changing experience. Five years ago, Boddie and his wife adopted two girls from Ethiopia. Their daughters, now six and eight, "are the most important things in our lives," he said. He has been back to Ethiopia twice, raising funds for an orphans' program.
"The place we support takes these kids and pairs them with widows, six to eight kids in a house," Boddie said. "It makes a family. The widows need someone to love and to be loved, and the kids are the same."
Boddie sees a lot of need right here at home. Earning a master's degree at UTSA gave him the skills to help others. He founded Cultivar, a community garden, with two other students. By building bridges and making connections with public and private entities, Boddie transformed a two-acre site next to the Hill Country Mission in Boerne. The garden and community kitchen now provide fresh produce and donated pastries to low-income residents in Kendall County.
In March, Boddie received the Student of the Year Award from the Alamo Branch of the National Association of Social Workers for his community service in Boerne.
Boddie has plenty of options for the future. He plans to earn his clinical license for social work and may someday pursue a doctoral degree. He would also like to get a job.
"It really doesn't matter what I do. I am just happy that I have a vocation," he said. "Whatever I do will always evolve around being a servant."
– Mark Langford
Spring 2015 Student Spotlights
---
Are you graduating in May 2015? Share your photos with us on Facebook or Twitter (@UTSA). #utsagrad2015

Do you know a fascinating UTSA student who is planning to graduate in December 2015? Share that story with us at news@utsa.edu.