May 2015 Student Profile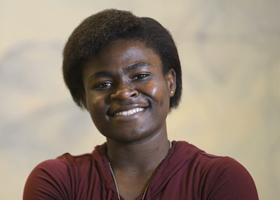 Happy Orere-Amadu
---
Soccer star dreams of a professional sports career in Europe
---
Meet Happy Orere-Amadu. Upon graduation, the UTSA soccer star aims to go professional.
The only girl in a family of four children, Orere-Amadu grew up playing soccer with the boys. She played with her three brothers, the neighborhood kids, the local boys' team – anywhere she could play.
As a teenager, her family moved to New York from their native Nigeria and a few years later, she enrolled into New Rochelle, N.Y.-based Monroe College. All the while, she played soccer.
Toward the completion of that program, a UTSA coach called her to see if she might be interested in playing Division I soccer. His offer piqued her interest.
"I visited UTSA and I just loved it," she recalls. "It was like, 'I belong here.' I toured the campus. They took me downtown. Everyone was so kind."
While in San Antonio, Orere-Amadu met UTSA professors and some of the athletes on UTSA's women's soccer team.
"The girls on the soccer team were like family to me. It was like home. I thought, 'Why not Texas?'"
So she enrolled, declaring a Multidisciplinary Studies major with focus areas in health, sociology and education.
When Orere-Amadu arrived at UTSA, her teammates taught her the ropes. They taught her how the soccer program worked, and they taught her how to balance her time wisely between classes, practices and games. Likewise, her UTSA coaches encouraged success on and off the field.
Today, Orere-Amadu serves as a mentor to new teammates, passing along many of the same lessons that were shared with her.
She and other UTSA soccer stars also mentor kids at Jefferson Middle School, a role she loves, because "the kids are so motivated to learn."
Orere-Amadu and her teammates talk regularly with Jefferson students about life, going to college and what it means to be a great sport. They also provide tutoring to give the kids a boost academically.
That opportunity to meet new people and to build meaningful connections inspires the 21-year-old.
"When I'm having a bad day or I see somebody having a bad day, I think, 'There is somebody who is having a worse day than you. There are people who can't walk.' But you have two legs. You have something. If they had the two legs, they wouldn't have that bad today. They would go forward."
That zest for life has, in large part, shaped Orere-Amadu's life goals. After graduation, she'll move to Ohio to play soccer for the Dayton Dutch Lions. Ultimately, she wants to play for a professional soccer club in Europe. She's looking for opportunities that will allow her to coach children and teens in the off-season.
"Once you're on the field and you see what you're doing for kids, they're just seeing you play – the passion, the love, it's something you can't describe," she says. "It's just something so powerful."
She adds, "To get up every day and to play; it's a blessing. I just love it."
– Christi Fish
Spring 2015 Student Spotlights
---
Are you graduating in May 2015? Share your photos with us on Facebook or Twitter (@UTSA). #utsagrad2015

Do you know a fascinating UTSA student who is planning to graduate in December 2015? Share that story with us at news@utsa.edu.