May 2015 Student Profile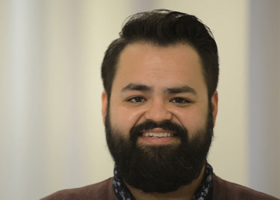 Julian Chavez
---
Environmental science major juggled full schedule of school, work and mentoring
---
Meet Julian Chavez. He grew up in the tiny Central Texas town of Abbott, a community of about 300 residents. The expectation for him, as was the case for many of his classmates, was that he would finish high school and take on a job working in a local factory.
But that wasn't good enough for Chavez. He wanted more.
As the first member of his family to graduate from high school, he craved a better life, so he enrolled at a local community college with the assistance of financial aid.
Chavez enjoyed the college experience and moved to San Antonio with his teenage brother. He attended Northwest Vista College and earned an associate's degree in science while working his way through school by providing directory assistance at a local call center. He also provided the support and encouragement that helped his brother graduate from Holmes High School.
With his associate's degree behind him, Chavez enrolled at UTSA in 2011 and began pursuing a degree as an environmental science major.
He engrossed himself in the discipline. As an undergraduate, he assisted UTSA researchers in New Mexico studying the re-vegetation of plant life after forest fires.
"I attacked it as a job in which we had to get our research completed in 10 days," said Chavez. We mapped it out and counted all our sites. Basically, I was on the ground counting plants for eight hours a day."
In addition to juggling school and a job waiting tables, Chavez served as an environmental science peer mentor. He mentored three freshmen and a transfer student, helping them succeed academically and adjust to a new campus environment.
"I would text or email them once a week so we could meet and I could serve as their support system," said Chavez.
Chavez attributes his success to UTSA's close-knit environmental science faculty.
"They are a wonderful group with a big heart that was always there for me when I needed them."
In the future, Chavez plans to pursue master's and doctoral degrees so he can eventually teach at a university.
The 29-year-old's ultimate dream, though, is to return to the rural life and buy a piece of land that he and his family members can farm and maintain.
– Kris Rodriguez
Spring 2015 Student Spotlights
---
Are you graduating in May 2015? Share your photos with us on Facebook or Twitter (@UTSA). #utsagrad2015

Do you know a fascinating UTSA student who is planning to graduate in December 2015? Share that story with us at news@utsa.edu.